Tool and Process Monitoring System
GENIOR™ MODULAR
In the factory of the future, there is a permanent exchange of information. GEM is an autonomous intelligent Tool and Process Monitoring System providing an automatic real-time image of a current production process. Safe and reliable metal cutting processes are essential for economically-efficient mass production. Thanks to its reliable identification of process anomalies like tool breakage, missing and wear, GEM makes a major contribution to achieving this aim. GEM multi criteria analysis allows a mostly automatic adaption to the process. This means that the system records all relevant signals and sets the limits based on special algorithms. During the following cutting cycles, GEM adjusts the automatic limits as sensitively as possible. Of course, the limits can be changed and fixed manually from experts as well and as needed.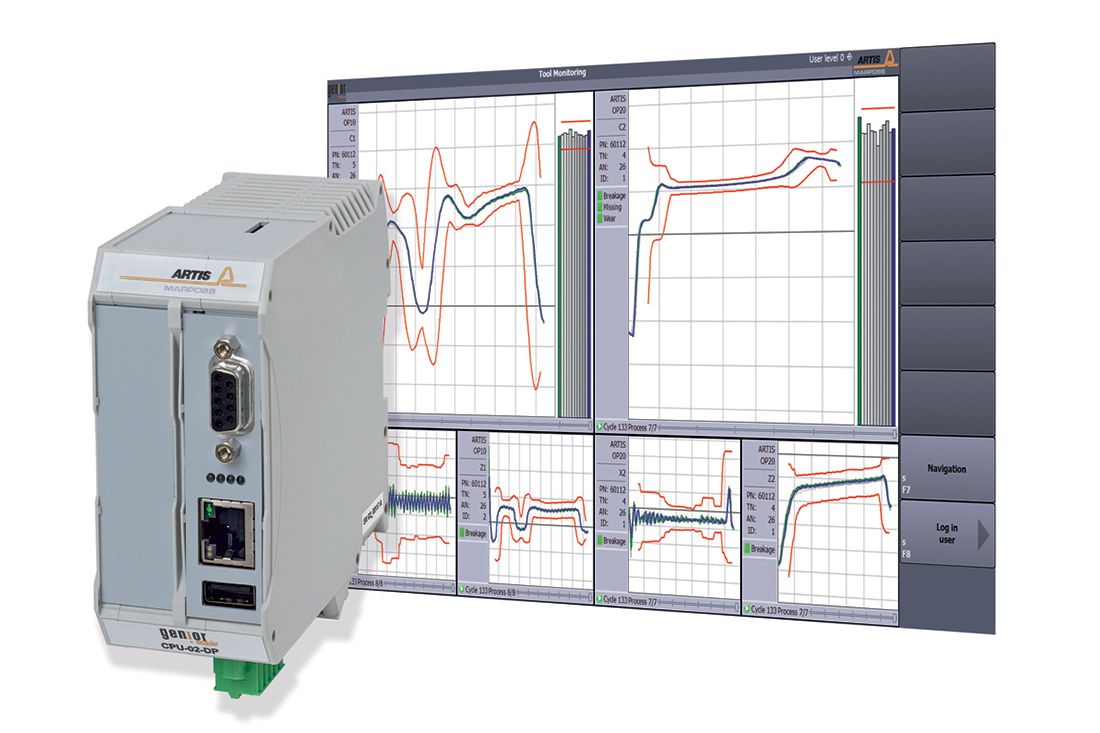 DESCRIPTION
The modular system makes use of all relevant process signals and data from machine tools. It reacts in real-time after an event occurs. The system captures the measurement data digitally via fieldbus interface or via sensors and then evaluates the data based on multiple criteria and visualizes the processes in a transparent way. Trend or Alarm reports support the users to optimize processes and allow to produce much more efficient.
Besides the above, (big) data are collected and converted into smart data (information) which can be stored locally or on network devices for further evaluations like analysis, trend curves, statistics or reports.
The option Adaptive Control adjusts the programmed feed rate of the cutting cycle, so that the effective power of a tool is as steady as possible. A reduction of cycle time can be the result of this feed rate optimization.
GEM can also control the wear of a brushing tool. The value for lining the tool is calculated and communicated from GEM to the machine control for readjustment of the feed axis.
The modularity of the system is one of the core features needed to adapt the monitoring system to dedicated systems and machines. It is easy to integrate additional function modules, for example for Dynamic Collision Detection (VM-02) or FFT Analysis (VM-01 FFT).
The MultiView process visualization gives an overview about all parallel monitoring processes. Additionally, zooming, back tracing and filtering of different cycles is possible as well.
Via PlugIns (Apps) additional and/or customized functions can be activated, like csv export, trend curves or statistics.
The condition monitoring option shows variations in vibration and torque. An alarm will be performed if the changes are marginal and reaching set limits.
BENEFITS
 Up to 24 real-time measuring channels distributed in up to 10 NC Channels (optional)
Adjusts the alarm levels automatically as possible
Optimum tool utilization by evaluating the set wear limits (optional)
Modular structure, scalable system adaptable to most machine types, easy to install on DIN rail
Additional analytic functionalities, data processing for Industrial Internet of Things surroundings
Interconnection with other systems
MultiView and PlugIn-technology to support users to optimize the processes
Expert Mode for individual adjustments
Process monitoring including tool breakage, missing, wear (optional), AC (optional), CBM (Machine Condition Based Monitoring, optional) "Fingerprint"
TECH SPECS
Repeatable processes -> Mass production machines
Reliable drive data (DTA) or external sensors
Utilize as many sensors as there are available, based on machine layout and configuration including respective measuring transducers
Machine Integration / Control via Profibus, I/O, Profinet, or FOCAS
Siemens Compile cycles (8 signals) or Synchronous actions (up to 16) including required control release codes
Fanuc FOCAS Manager with respective release codes plus Fast Ethernet card, or Profibus or IO
Visualization on Windows OS or on SINUMERIK 840D SL TCU (LINUX)
VERSIONS
GEM CPU-02-DP/F: processor unit with Profibus and for FOCAS (FANUC controls)
GEM CPU-02-PN: processor unit with ProfiNET (coming soon)
Various modules:
IO-01: Input / Output Module for parallel wiring
TP-01: True Power module to connect up to 3 hall sensors
FM-01: Force module to connect various ARTIS / MARPOSS Force Sensors
(1 sensor per module)
AM-01: Acoustic Emission module to connect AE Sensors (1 Sensor per Module)
VM-01 FFT: Special Vibration module to connect and Vibration Sensors
(1 sensor per module)
VM-02: Dynamic Machine protection module to connect Vibration Sensors providing exclusive
machine protection but also the signals for Process monitoring (1-3 sensors per module)
TF-01: Torque Module to connect DDU Torque Sensor technology (1 sensor per module)
Via the Ethernet connection, the visualization can be performed on a PC like ARTIS panel IPC7 or IPC10, on any Windows or Linux based PC in the machine or Network
Top
Contact us