Machine Protection for Machine Tools, Robotic and Handling Systems
CMS
An essential property of machine tools is  reliable process protections  Collisions between moving axis and other components like fixtures, tables or workpiece cause longest machine downtimes and highest repair costs among all process disturbances. Consequential damage after a collision frequently amounts up to five-digit. Outage of machine tool is accompanied by unsatisfied customers, because delivery deadlines must be considerably postponed.
Typical reasons for collisions are
Wrong definition of the applied tool
Wrong tool changed in
Improper process preparation, e. g. zero offset
DESCRIPTION
Brankamp CMS is a simple but highly effective tool for minimizing damages caused by collisions. Integrated overload systems based on electric components are too slow to avoid damages, as collisions have to be detected during the first milliseconds.  Electric fallback systems lie at the end of a chain, consisting of tool, spindle, ball screw and drive. Stopping the drives thus takes up to half a second. The response time of a machine operator lies in the range of a few seconds. CMS reduces the crash detection time to 1 millisecond. Valuable time is gained, the stop command will be executed much quicker.
BENEFITS
Immediate detection of rapid force changes
Special sensor enables detection of hard and soft collisions
Minimizing of subsequent damage caused by programming, setup and operating errors
Extends the machine lifetime
Increases the machine availability
Allows multiple machine operation and running machines unattended
Easy retrofit possible – regardless of machine type and control
Protection from the very first part: No teach cut required
Log book storing last 100 events with time and date
TECH SPECS
Voltage supply: 24 VDC
Housing: Sturdy housing for control panel installation
Dimensions: 182x144x72 mm / 7.16x5.66x2.83 in (WxHxD)
Dimensions housing: 187x200x72 mm / 7.36x7.87x2.83 in (WxHxD)
Inside dimensions: 138x67 mm / 5.43x2.63 in (WxH)
Weight: 1 kg (3 kg incl. housing)
Sensor: BRANKAMP Special Sensor
VERSIONS
CMS works as one channel or two channel system.
Standard layout of Brankamp CMS 1 channel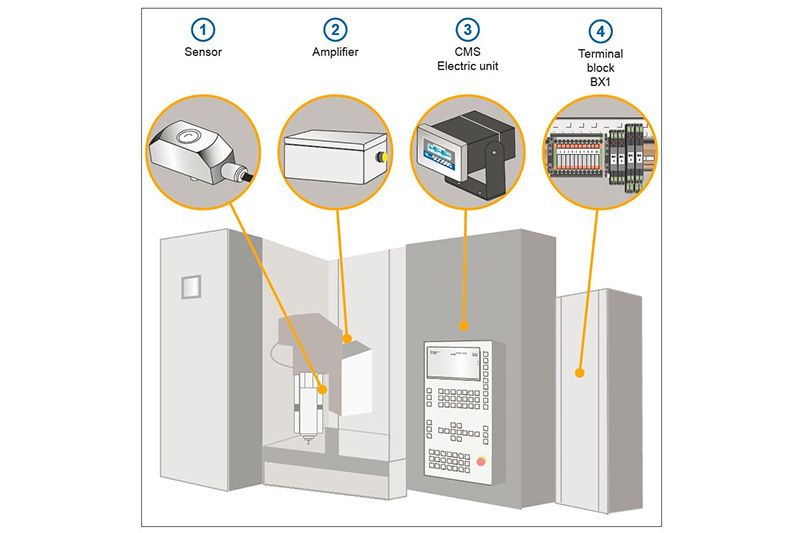 2nd channel allows monitoring of additional tool carrier (2nd spindle, turret).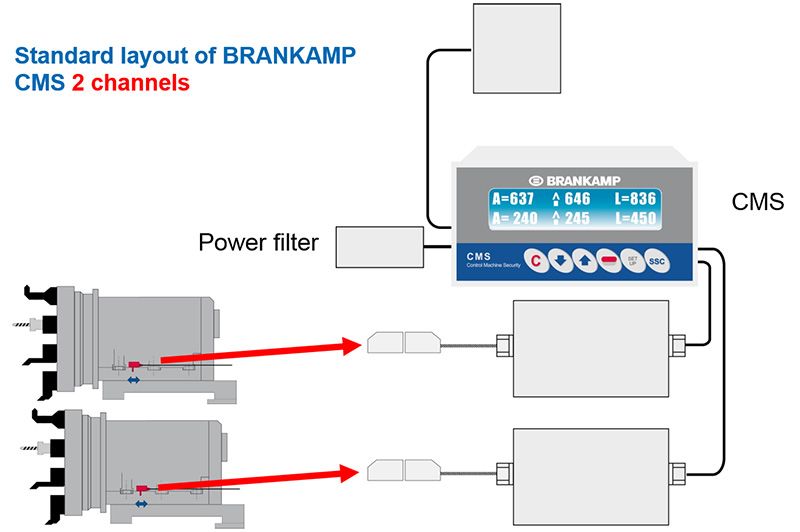 CMS Tool Plus and CMS XL Pro with profibus interface (profinet gateway available) enable HMI integrated visualization and tool related limits via fieldbus communication.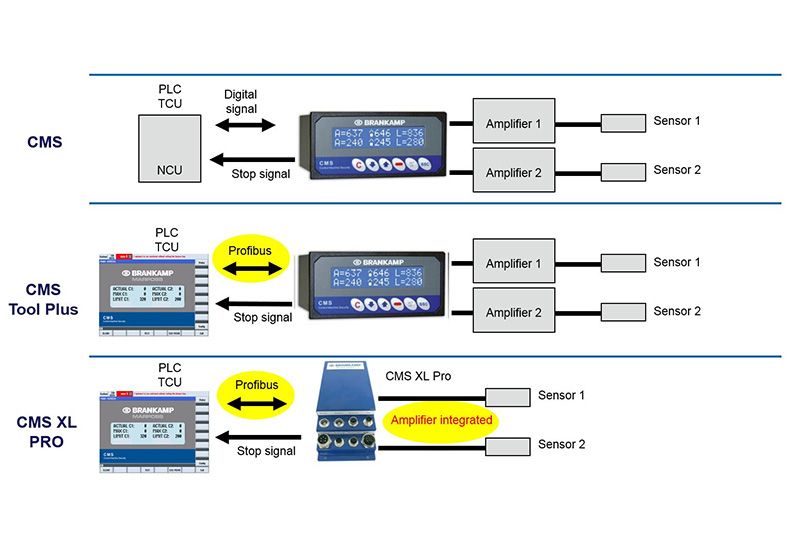 Top
Contact us