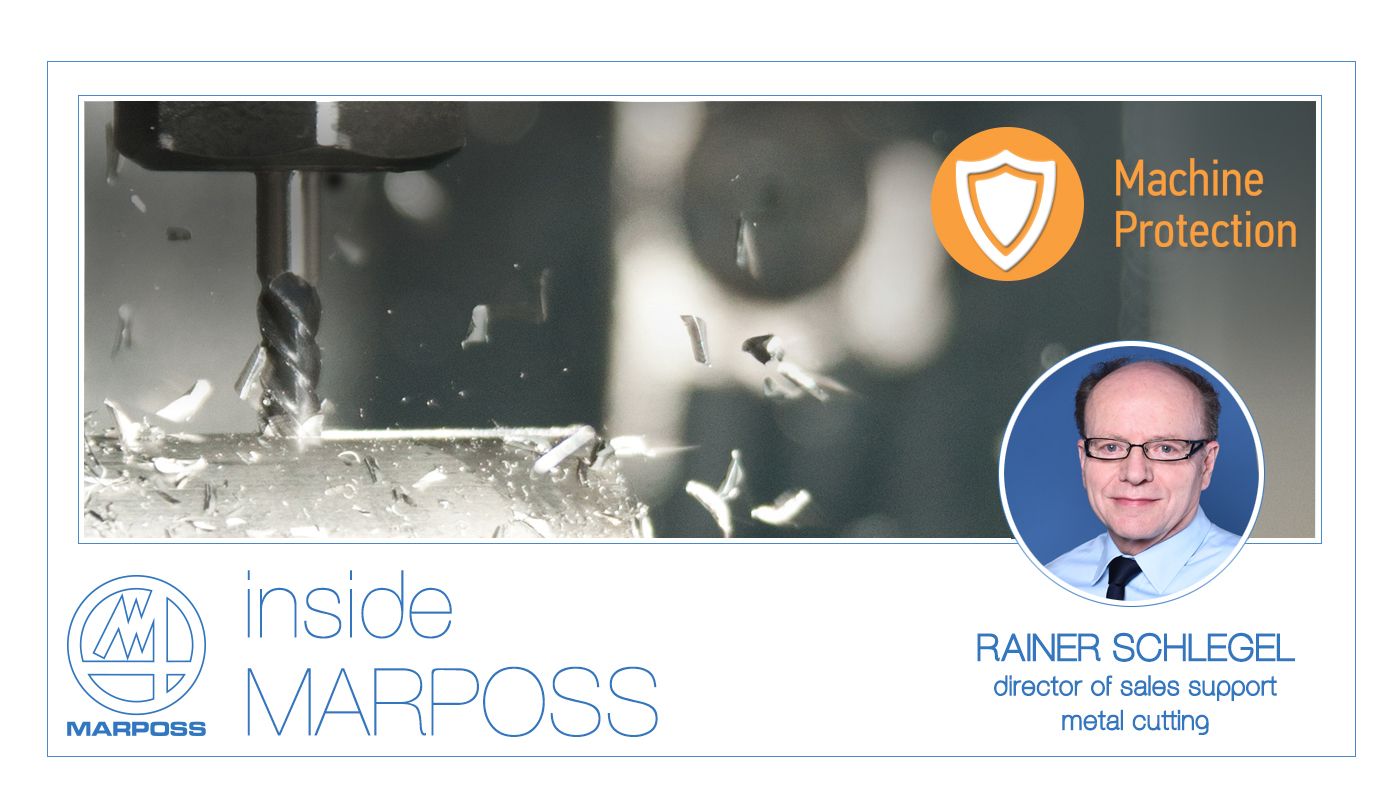 Marposs offers full module-based systems for Machine Protection.
In addition to covering the requirements of the manufacturing process, the focus here is on a smart and cost-effective installation and scalability with a uniform operating structure. Many years of experience have been incorporated into innovative, top-class solutions to permanently monitor and improve the availability of machines and equipment. In this way, changes in the performance of the machines can be detected and appropriate measures taken.
The Genior Modular CMS02 Machine Protection System from Marposs reliably detects collisions and crashes and can stop the relevant drives immediately.
Massive damage due to collisions and crashes
Collisions and crashes that occur in machines, devices or robots can often lead to massive damage with high consequential costs. The extent of the damage can quickly become significant and can lead not only to a component being unusable, but to a crucial part of the machine becoming damaged. The repair is expensive and, above all, production comes to a standstill.
The main causes of failure are wear of components and operating errors. Two categories of causes can be identified: geometric collisions (between moving components within the machine), and technological collisions (due to overload situations during the work intervention of the tool cutting edge into the workpiece). Common reasons are wrong cutting parameters, wear or inclusions in the material, but also, as mentioned before, operating errors such as wrong tool or manual movement of the axes.
Measures for damage avoidance or damage reduction
A production machine comes to a standstill and even if an employee reacts immediately, several seconds can elapse before it comes to a final stop. This is often far too long to avoid consequential damage. You have to react quickly!
The GEMCMS02 Machine Protection System detects errors immediately and initiates the stop of the axes and spindles. The reaction time is less than one milli-second (<1ms). Damage is drastically reduced or even prevented by using our system. Those using the machine protection system are rewarded by at least one major European insurance company, which offers a 25% discount on the insurance rate because the risk of damage is considerably reduced.
Modular and simple
The new compact Genior Modular CMS02 Machine Protection System consists of an electronic module, a sensor and a software package for configuration, visualization and data management. Integration into new or existing machines and systems is simple. The module is installed on a DIN rail in the control cabinet or in a field housing. The piezoelectric strain sensor is mounted at a suitable location in the structure of the device. The handshake with the machine control is carried out via IO-connection and can therefore be used independently of control type. Access and data visualization is carried out via the Ethernet connection from a WINDOWS-based system, such as an industrial PC or machine control panel, but can also be performed directly on a SIEMENS TCU (LINUX) controller.
Functions and advantages at a glance:
The sensor
Surface strain sensor for a simple installation and retrofitting
Mounted in the machine structure in order to measure proportional strains (compression and elongation) caused by reaction forces (large and small) of the spindles and axes
Detection of collisions using very slow (quasi static), as well as very fast feeds. Especially this wide monitoring range is unique and distinguishes the system
Direct connection to the module or via an external charge amplifier (> 20m cable length)
The module
Simple installation and integration into the existing electrical system via I/O coupling
Network integration and visualization via Ethernet (TCP/IP)
PROFINET or PROFIBUS for CNC connection via optional converters
The monitoring strategy
Clear menu structures and easy to set up without special knowledge
3 different operating modes
Up to 3 limits for alarms
Tool-specific limits can be set via the fieldbus modules, which ensure simple tool monitoring ("ToolPlus" function).
The visualization
Via delivered WINDOWS plug-in
Several modules can be integrated into the MULTIVIEW software via the respective plug-ins
Besides WINDOWS (from XP on) the system can be connected directly to SIEMENS TCU (LINUX) controls
Via a IPC4 4.3" screen (LINUX) for easy operation (similar to the proven CMS system visualization) for connection of up to 4 modules
Data management
Event recorder (black box) for a reliable recording of collisions
CSV output of the signal and event data for storage and further evaluation
Remote control via network connection
Integration via CAN bus in GENIOR MODULAR system. This allows extended data management to be used
Operation with GENIOR MODULAR tool and process monitoring system
The GEMCMS02 System was developed for stand-alone use, but can be easily integrated into the ARTIS GENIOR MODULAR Tool and Process Monitoring System. The measurement data is then used in parallel in the dedicated automatic monitoring strategies (MultiCriteria strategies).
Summary of the GEMCMS02 benefits
The machine reliably detects overloads, collisions and crashes in automatic and manual operation - from very slow to very fast axis speeds
The response time of the system is < 1ms
Easy integration into new or existing machines, fixtures or robots
The system runs permanently in the background. Operating interventions are only necessary in case of alarm (Hard Stop)
The event recorder (Blackbox) reliably records the relevant alarm data with date, time and values and can be used for further evaluation and analysis
The sensor data and the event data can be evaluated via CSV data
Positive feedback from users and insurers substantiate the unique features of the system
At least one major European insurance company estimates the risk of damage considerably lower when a GEMCMS02 is installed and grants the operating company a 25 % discount on the insurance policy!
Do you want to find out more?
Discover Marposs Machine Protection
Top
Contact us