Control Panel with Integrated Computer Unit and Touch Screen
IPC7 - IPC10
IPC7 and IPC10 are compact industrial PCs for the visualization and operation of ARTIS tool and process monitoring systems. They are particularly suitable for applications where no Windows or LINUX operating system is available.
The devices can also be used independent of the machine control to relieve the load on the system. IPCs can be integrated into existing machine housings or used in specially designed EL-IPC-x housings from ARTIS. The USB port on the front is protected by a protective cover.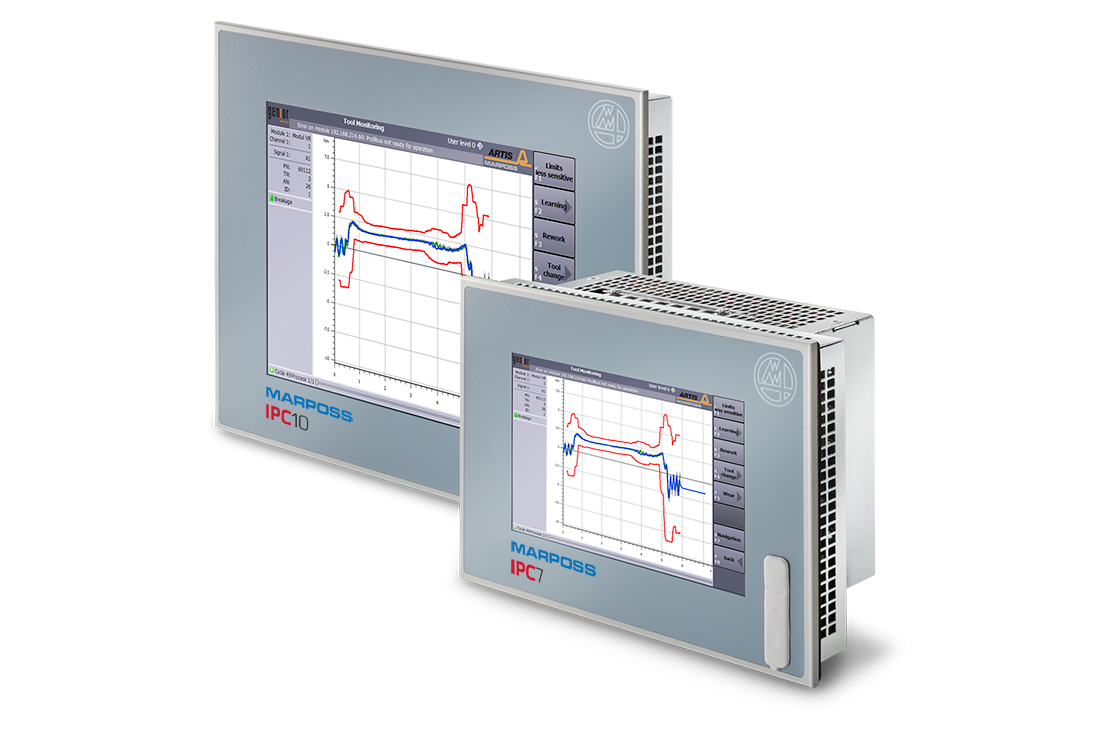 BENEFITS
Compact fan-less design
Reliable operating system WINDOWS 7 or WINDOWS 10
Touchscreen with IP66 (front)
USB connection integrated in the front
Ready for operation with CTMVisu, GEMVisu and TMView – as well as with plug-ins GEMVM02, GEMCMS02 and GEMVM03
DESCRIPTION
With a 7" or 10" screen size, the ARTIS IPC series offers two product variants for almost all applications. Operation is possible via the touchscreen or alternatively with an externally connected keyboard and mouse. By using energy-saving components and an intelligent, compact housing design, the devices do not require a fan. This makes them particularly quiet and insensitive to dirt inside.
The IPC7 and IPC10 devices are suitable for visualization and data management of the process monitoring systems CTM, GENIOR MODULAR, GEMTMUTP, GEMVM02, GEMCMS02 and GEMVM03.
TECH SPECS
3x USB (1x front / 2x back)
2x Ethernet, RS232 and DVI
LCD TFT Display in IP66 (front) protection with touchscreen: 7 (800x480 WVGA) or 10.4" (800x600 SVGA)
SATA socket (half size) with 32 GB memory module
Operating system Windows Embedded Standard 7 or Windows 10 Enterprise 2016 LTSB
Softkeyboard
TightVNC Server
Optional external housing in IP65 (EL-IPC-7 or EL-IPC-10)
VERSIONS
IPC7 with 7" display
IPC10 with 10.4" display
Top
Contact us