Tool and Process True Power Monitoring Module
GEMTP
The stand-alone module GEMTP is the entry-level solution for detecting anomalies in the machining process of machine tools. By measuring the active power of drives, GEMTP is able to detect and report the following events real time:
Tool breakage
Missing tool
Overload
Tool wear
GEMTP is the perfect complement to increase the added value for any machine tool and therefore the right solution for:
Avoidance of workpiece damage due to problems in the machining process
Tool status diagnosis
Permanent process information through visualization and analysis functions
Process control (machine, tool, workpiece) and documentation
Event recording (black box) for logging messages
Manual or automatic export of data in CSV format for industry 4.0 applications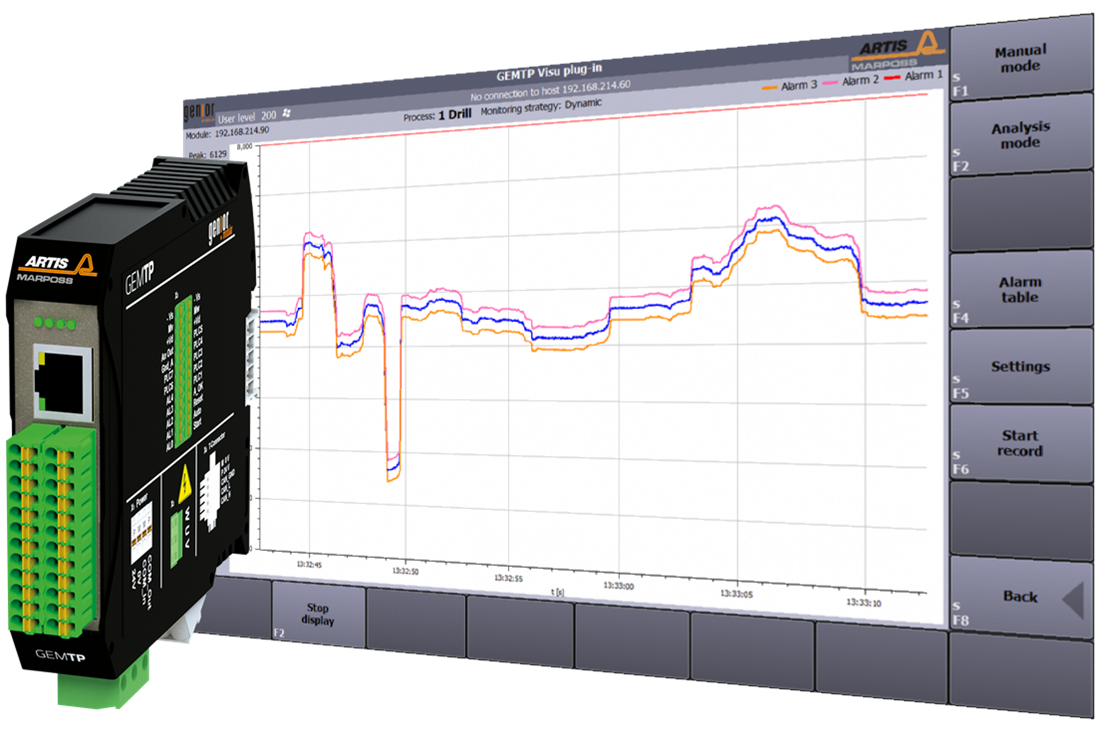 DESCRIPTION
Placed in the electrical cabinet, GEMTP is a highly effective stand-alone module for identifying the tool status. Marposs Hall sensors CT-100 (100 A) or LA-205S (200 A) measure the true power values absorbed from the spindle during the machining process.
GEMTP provides 3 different monitoring strategies and it can handle up to 127 different cutting cycles with 4 types of limits (e.g. tool breakage/missing, overload and tool wear) for each cycle. All events trespassing pre-fixed limits are recorded in a log-file.
The compact GEMTP module is designed for easy installation and operation and can easily be installed in cabinets and housings of machines, robots or other performance-controlled devices. All necessary functions and interfaces are integrated in the module.
Thanks to its hardware I/O interface, GEMTP is independent of the NC type and can be triggered by any PLC, allowing a discrete connection to the module connections.
GEMTP can be used in stand-alone mode with operating software running in Windows (Win 7/10) based controls. In case of non-Windows controls the operating software can be installed on Marposs 7"/10" terminal units or on any PC (Win 7/10).
As a part of the GENIOR MODULAR product family, GEMTP can be easily connected to the GEMCPU and become a part of the high-end GENIOR MODULAR system. The acquired measurement signal is then additionally used by the GEMCPU unit for automatic monitoring strategies. In parallel the module can still be operated in stand-alone mode.
Thus, Marposs offers an extremely flexible solution, which can be adapted to changing needs by adding any GENIOR modules (Operation with GENIOR MODULAR: Interface CAN bus).
BENEFITS
Avoids workpiece damage due to problems in the machining process
Detects tool problems and tool wear
Accelerates production through permanent process information
Performing complete process control through visualization and documentation
Process 'comparison function' for process analysis
Event data recording (black box function)
Analysis and identification of the collected data via Excel (CSV data)
Suitable for all types of machine tools, robots, assembly or handling systems, etc.
For stand-alone use or as part of the GENIOR MODULAR process monitoring system
Visualization and operation via Ethernet (TCP/IP) in standard PCs with MS Windows.
TECH SPECS
Control cabinet module for standard mounting rails
Power supply: 24V DC
Static I/O-interface
HMI for Windows (Win 7/10)  operating system
PC connection: Ethernet