Torque and Force Contactless Sensor System
DDU
Together with a rotor and a stator, the DDU-4 measuring transducer forms a sensor system for contactless torque and axial force monitoring. The sensor of the system, which is designed as a cylindrical rotor based on the application of strain gauge technology, is attached to the tool-holder and firmly connected to it. It measures continuously and simultaneously torque and axial force values.
The preprocessing of measurement data and the tool-breakage monitoring both take place in the measuring transducer, which is the analyzing unit of the sensor system.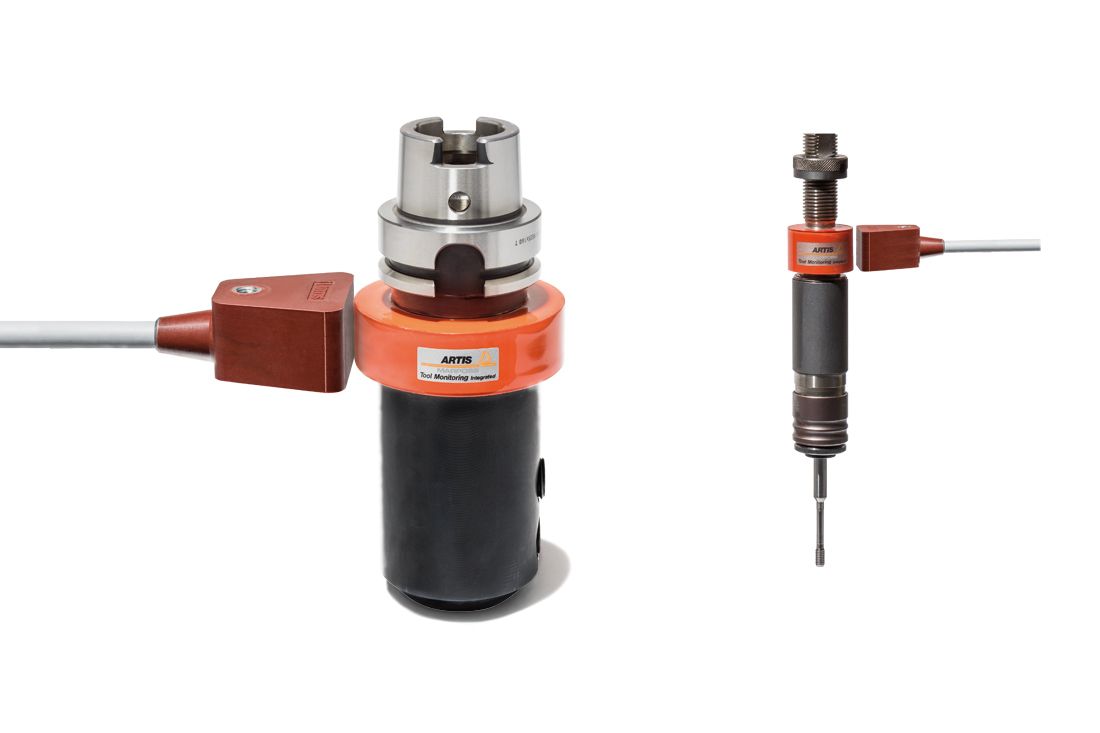 DESCRIPTION
DDU-rotor and DDU-stator constitute a sensor system for contact-free monitoring of rotating and rigid tool holders. The sensor system is based on DMS technology. The rotor continuously measures the torque values acting on the tool as well as the feed forces. The transmission of the energy supply and the measurement data to the attached measuring transducer is carried out inductively via an air gap located between the rotor and a stator (telemetrie).
Together with a measuring transducer, the DDU sensor system can be used in combination with CTM and Genior Modular monitoring systems.
BENEFITS
Highly sensitive measuring of torque and feed force on rotating and rigid tool holders
Identifies force deviations in tapping, drilling or threading processes
Generates alarms in case of broken, missing or worn tool (DDU stand-alone)
Can be used as a post-process measurement (go / no-go gage) to ensure the quality of threads
Used in stir friction welding applications or deburring processes (different industries)
Measures process forces in rotating assembling applications
3 ranges for vertical force and 3 ranges for torque are calibrated
TECH SPECS
Strain gage sensor technology
Three measuring ranges for torque and 3 ranges for axial force calibrated and therefore suitable for quality processes (QM)
Re-calibratable
For single or multi spindle applications
VERSIONS
Inductive signal transmission (standard)
Radio-based signal transmission (WISY)
Portable version of the DDU WISY system for mobile testing purposes
Top
Contact us