Non-contact measurement with chromatic confocal technology
IRIX™
IRIX™ is a family of non-contact sensors based on chromatic confocal technology capable of measuring distances and thicknesses on any material transparent to white light.
IRIX™ is capable to measure simultaneously up to five layers of material. The controller can be used in combination with a large family of optical probes with different measurement ranges, mechanical dimensions and metrological specifications to best meet the most diverse application needs.
The controller is available in two models: with integrated 7" display or in a blind version with DIN guide connection for the cabinet.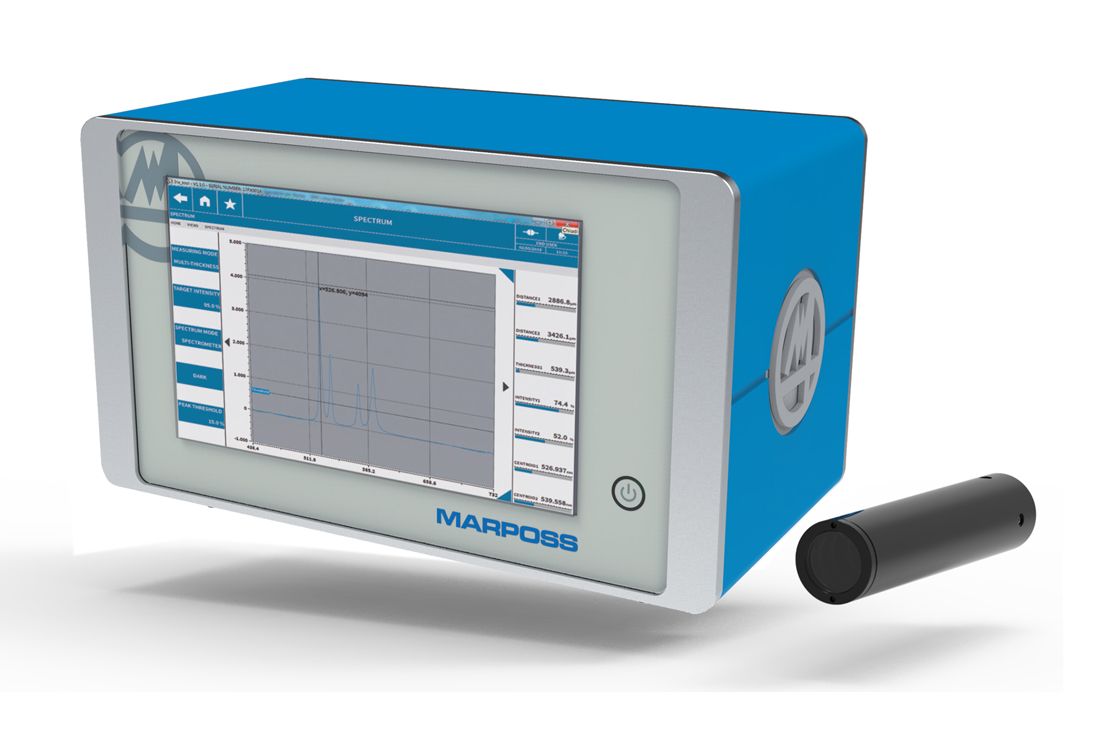 DESCRIPTION
IRIX™ family of controllers is composed of different models (one or two synchronized channels) which, combined with the wide variety of optics (Marposs and STIL), offer excellent metrological performance (down to the nanometer).
Built to the highest quality standards, IRIX™ is a robust and reliable product, suitable for use in an industrial environment.
All STIL confocal probes are compatible with IRIX™.
BENEFITS
Chromatic confocal technology can measure any material capable of reflecting white light (e.g. metal, glass, plastic, paint films, liquids)
Non-contact measurement is suitable in all cases where it is necessary to measure without touching the target
Up to five transparent layers can be measured simultaneously with one optical probe.
High measurement accuracy
Interchangeable sensors: IRIX can store up to 32 cards to allow the most appropriate probe to be used
Integrated 7" display
Passive optical probe not affected by heat and electrical noise
Availability of SDK and protocol commands for easy integration into any system
Small measurement spot
Synchronized measurement with encoder for dynamic acquisitions
Roughness measurements
TECH SPECS
Optics with tilting angle up to ± 45 ° for profile measurement
Optics with reduced diameters Ø4mm, Ø6mm and Ø8mm for use in equipment with reduced dimensions
7" Integrated display, with easy to use graphical interface for laboratory use
2 synchronized channels for thickness measurement of non-transparent targets in roll to roll applications
Synchronized measurements with encoder for precise profile reconstruction.
3 encoders Inputs (TTL and HTL models)
2 analog outputs (0 ÷ 10V)
Up to 32 calibration maps
Saving data in CSV format
VERSIONS
IRIX™ is available in two versions: one for the electrical cabinet with DIN guide connection and the other with integrated 7" display.
Both versions are available with one channel or with two synchronized channels.
APPLICATIONS
The chromatic confocal technology of IRIX is suitable for a variety of applications in many fields:
Automotive glass
Glass containers and packaging industry
Electrical vehicle industry (batteries)
Applications for measuring roll-to-roll, transparent and non-transparent films (e.g. EV battery covers, flexible electronics)
Electronics Industry (PCB)
Semiconductor industry (silicon wafer)
CCC industry
Medical
Micromechanics
Aviation/Aerospace
Watchmaking
Robotics