Database Management System for Artis Tool, Process and Machine Condition Monitoring
C-THRU4.0
C-THRU4.0 is a database management system for Artis tool, process and machine condition monitoring. With C-THRU4.0, each individual machining step can be viewed in detail and comprehensively. The software also provides information on process quality. C-THRU4.0 permits fast error diagnosis, provides indirect quality evidence for each individual workpiece and each machining step and represents an excellent basis for optimization processes and industry 4.0 applications. Resource efficiency can be achieved perfectly with consistent process monitoring and continuous documentation. Using the software, detailed trend sequences can be generated which reveal weak points and, in combination with event messages, enable a focused reaction.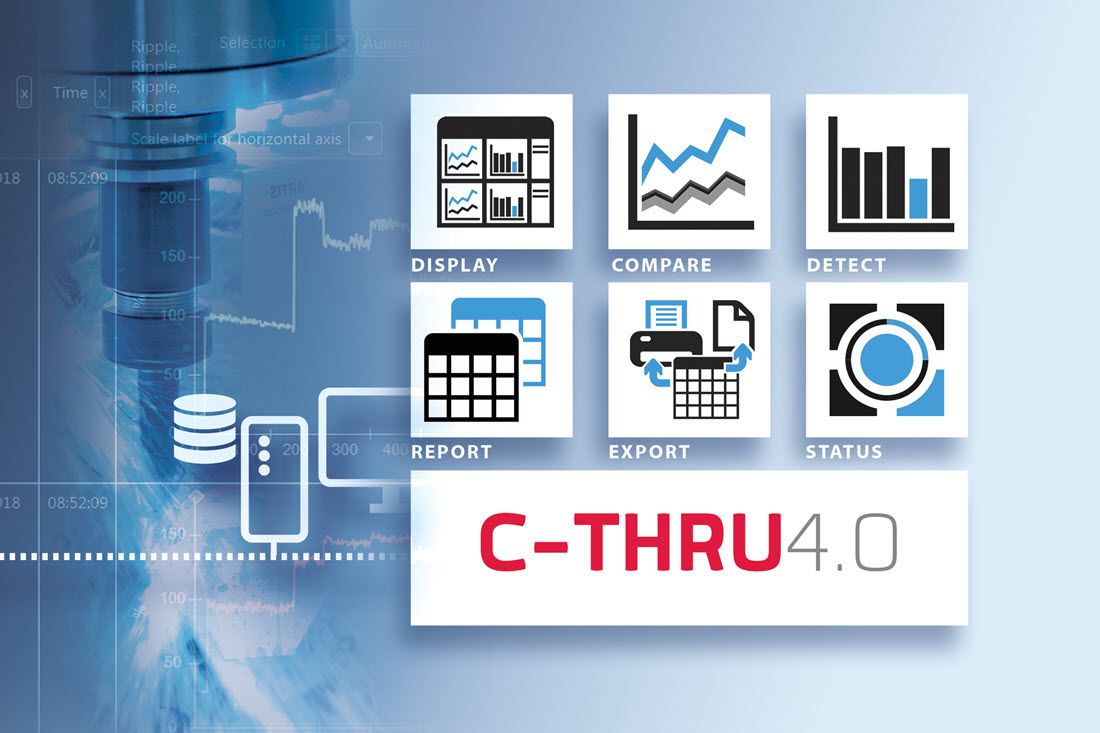 DESCRIPTION
Artis monitoring systems gather digital and analog sensor data in realtime and turn it into actionable information. Emergency shutdowns in situations, when limits are violated can be activated. The stored data can be used to subsequently identify the causes of damage and evaluate them using the monitoring system or the long-term recordings of C-THRU4.0. The continuous analysis of the stored data provides information, e.g. on the condition of the machine or tool. Comparisons, trends and limits identify future tendencies and help to take decisions to achieve better results.
The basic request for condition-oriented predictive maintenance of machines is permanent monitoring of the machine condition. Only in this way can predictive maintenance be carried out on the basis of the stored data. This makes it easier to plan setup and maintenance work on machines and contributes to the highest possible machine availability and efficiency.
A large amount of data is continuously generated during machining in machine tools, but this data often remains unused or is even lost.
C-THRU4.0 collects this process data from the following sources:
Artis process monitoring
Machine control
and makes it useable for further analysis, evaluation and documentation.
The monitoring systems CTM or GENIOR MODULAR provide the data for C-THRU4.0. This data is transmitted and stored by different services. The software required for this is installed on a PC or a file server. The CTM and GENIOR MODULAR process monitoring systems in the machine tool remain autonomous and active in realtime.
C-THRU4.0 transfers all relevant collected data to the PC/file server and stores it in an SQL database. The amount of data collected varies depending on the configuration. The calculation of the required disk memory results from the number of networked monitoring systems and the planned storage time.
C-THRU4.0 fully stores tool, process and machine data and generates relevant information as a basis for optimization, evaluation and planning. With the "ReportGenerator" and the information system C-DASHBOARD, there are two software tools available for pointing out the correlations by visualization, set filters and link data.​
BENEFITS
Costs can be planned due less scrap and less machine downtime: Right and fast decisions based on relevant data and facts
Predictive maintenance: Status information about machines, processes and tools
Optimization: Analysis to detect current weak points and avoid similar problems in the future
Simple, intuitive operation: Interactive and clearly structured to get individual information
Web based (C-DASHBOARD): Remote access, scalable and easy to update
TECH SPECS
Set-up: C-THRU4.0 can be set up in a centralized manner on a local device e.g. the GEMBOXHP (option) or a notebook. The decentralized setup option involves installing the software on a file server or in the Cloud.
License: A license is needed for every PC. The license for the permanent use of the DataImporter is linked to the PC (MAC address).
Option C-DASHBOARD: Artis C-DASHBOARD is an information system for production management. It provides an overview of all machine, tool and process conditions.