Flexible Gauging for Gear Inspection
M62 FLEX
M62 Flex is a manual use bench gauge for the inspection of the most traditional toothing parameters of gears. Provided with highly precise tools and a robust design, M62 Flex is the most appropriate solution, suitable for the shop floor environment, for monitoring the quality of gears during their manufacturing process.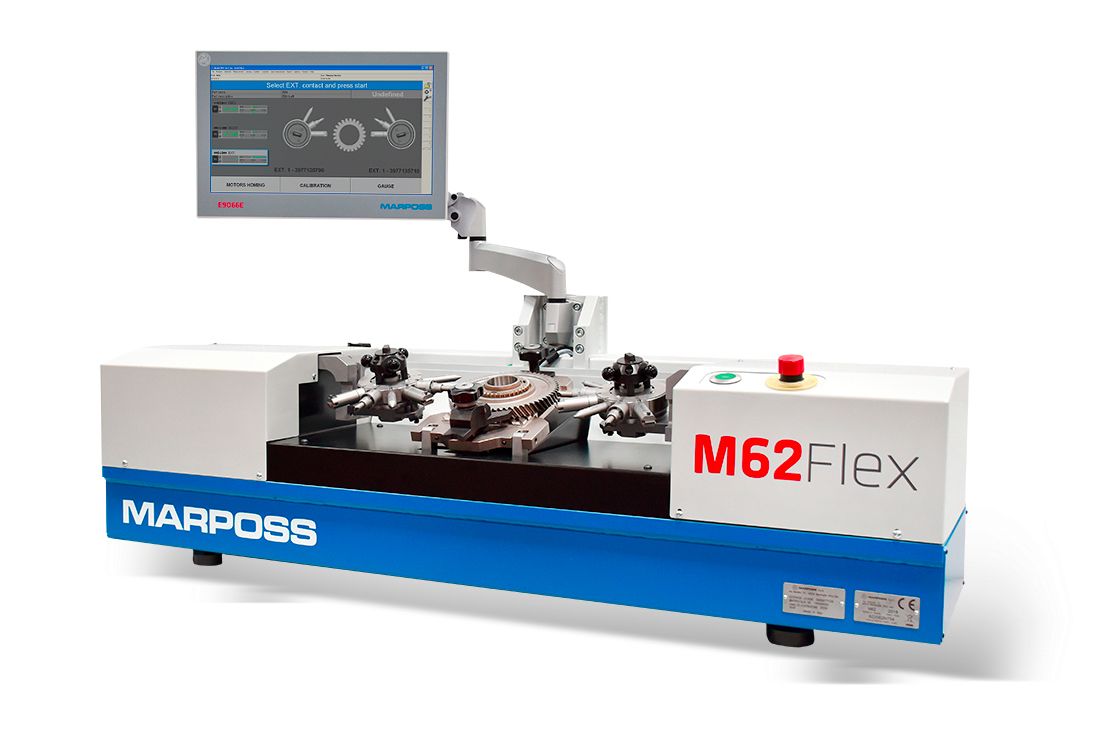 DESCRIPTION
M62 Flex has been designed as a precise and robust solution for the quick inspection of gear teeth after the main manufacturing operations along the production line, such as hobbing, shaving, grinding and honing. Two multiple-contact turrets makes M62 Flex capable of measuring OBD (Over Ball Dimension), Root Diameter and Major Diameter on different types of external gears.
The contacts are driven by moving coil actuators that are freely programmable in position, velocity and force, making the gauge smart and easy at the same time.
To know more read the article about the Gear Manufacturing Inspection.
BENEFITS
RANGE OF APPLICABILITY
The use of moving coil actuators gives the possibility to measure, in one gauge, gears with external diameter in the range of 30 ÷ 180 mm without any mechanical retooling nor additional components.
SOFT-LAND TECHNOLOGY
The use of an appropriate software allows the measuring groups to approach the surface of the teeth with a controlled low force while monitoring their position error. This is identified as the proper solution to avoid damages and marks on parts.
EASE OF USE
The system is extremely easy to use and provided of a guided interface that makes operation of the automated system very simple and intuitive.
PRECISION and ACCURACY
M62 Flex becomes part of Marposs family of gear measuring instruments, for which accurate standards of metrological quality have been defined to meet the level of precision required for the most demanding applications in the transmission sector.
TECH SPECS
TECHNICAL FEATURES:
Gear External Diameter (De): 30 ÷ 180 mm
Gear Height (H): 15 ÷ 40 mm
Gear Module (m): 1 ÷ 4
Number of Contacts per Turret: Up to 12