Distributed Data Acquisition System
GAGEPOD™
The Marposs GagePod™ is a modular, Distributed Data Acquisition system designed for simple manual gauging up to fully automatic measurement and inspection systems. It connects to any Marposs E9066™ industrial computer or commercial PC running Marposs Quick SPC™ (Statistical and Quality Control software).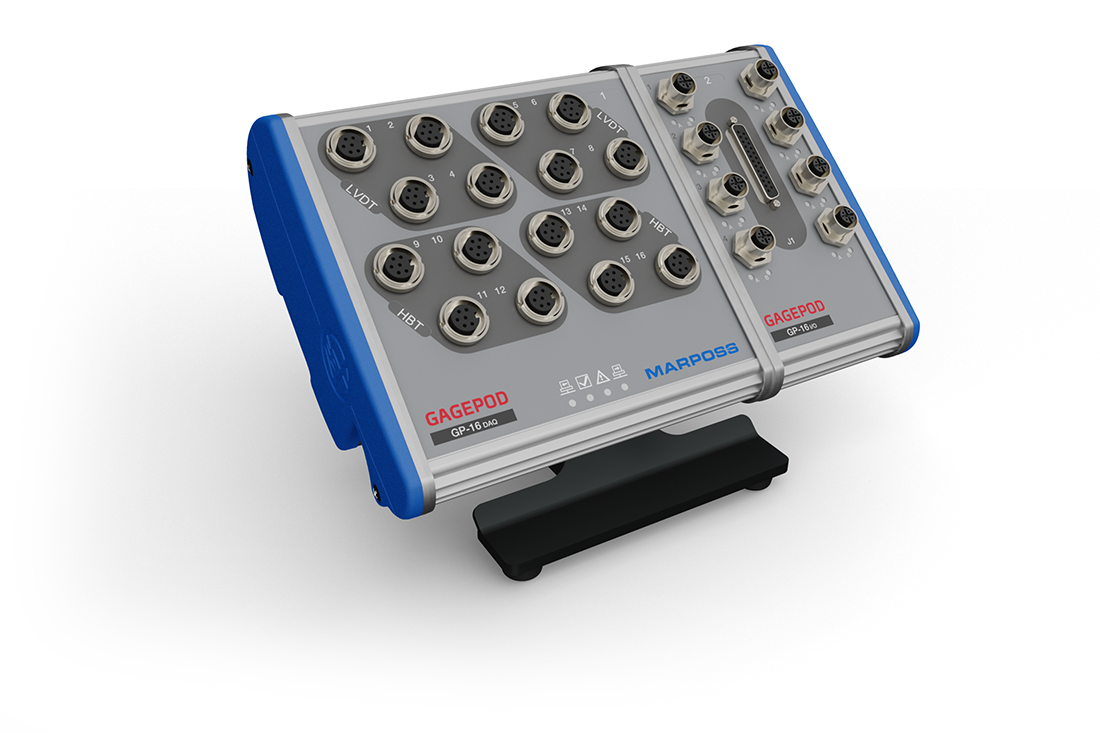 DESCRIPTION
GagePod™ modules are based on ARM9™ RISC technology and snapped together without interconnecting cables, so they can be easily combined and tailored to any application need.
The system is composed of dedicated, interconnected, and fully synchronized modules to manage the following:
analog and digital sensors
digital input/output signals
encoders
DC motors
fieldbus communication protocols
The GagePod system also connects to a computer via USB, Ethernet cable, or wirelessly: via Bluetooth® or a WiFi connection.
When bundled with the Marposs QuickSPC™ Measurement, SPC software suite, and any Marposs E9066™ Industrial Computer, it offers highly scalable and flexible solutions with unparalleled performance. It offers real-time data acquisition & measuring applications, Process & Quality Control, real-time SPC, and closed-loop machine tool control.
This system can be provided with a bench-mount stand integrating DIN-rail mounting for industrial cabinets or custom-made solutions, and is designed to IP54 standards.
BENEFITS
The GagePod™ system provides an economical yet powerful measuring system and can be used with a wide range of applications. These applications range from simple manual gauging, to fully automatic measurement and inspection systems.
Its modular design is intended as part of a "building block" system that is easily tailored to your application needs, providing all the functions that you need, only when they are needed.
It can also be deployed as a distributed system by separating its modules, ultimately adopting its layout to your own workspace, whether it be a new application or an upgrade from previous technologies.
TECH SPECS
Main technical characteristics and features:
ARM9™ RISC technology
24-bit A/D resolution for high speed data acquisition and sampling
data signals, data synchronization and 24Vdc power supply are channeled through an internal Ethernet connection for maximum efficiency
All modules are synchronized, for even the most demanding dynamic measurements, including management of linear and rotary encoders
Connectivity to E9066T™ / E9066E™ or any commercial PC, using industry standard interfaces: USB, Ethernet, Bluetooth, WiFi
GagePod modules include:
16 channel DAQ, configurable to various types of sensors
Opto-insulated 24Vdc digital I/O (16 I/O, 32 I/O)
9 channel Encoder module with sync in/out
Motor driver module for 24Vdc motors
Fieldbus module
Download
BROCHURES AND MANUALS
DRAWINGS
CERTIFICATES