Displacement sensors
REDCROWN 2™
RedCrown2™ is the latest generation of pencil probes developed by Marposs, to provide the highest metrological performance levels in any application.
The compact shape, measurement precision, sturdy design, ease of clamping make this type of sensors the basic element for creating customised solutions.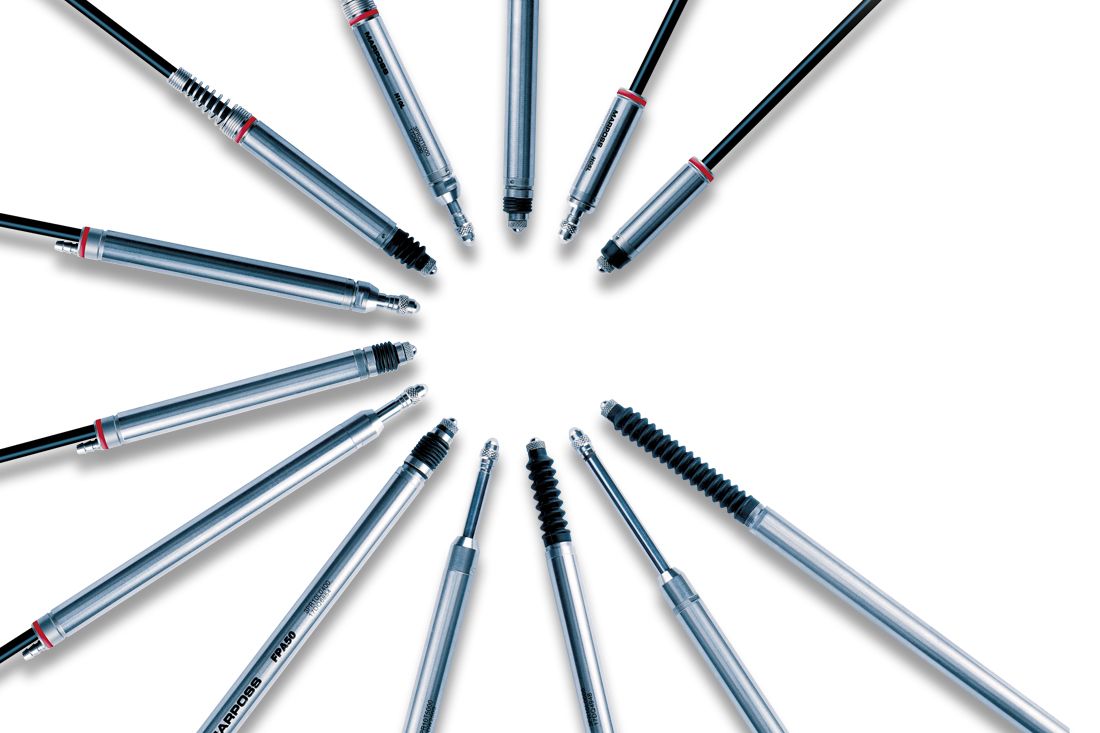 DESCRIPTION
Red Crown2 is a line of measurement pencil probes with high precision ball movement and various connection options. They can be used in numerous applications and combined with various interfaces.
The range also allows for a high level of customisation based on the customer's specifications, to provide optimal solutions for every requirement.
The analogue Red Crown2 version, with LVDT or HBT transducer, can be used with standard Marposs electronic units as well as with other electronic units available on the market.
These measurement devices are also available without connector (UNPLUGGED), so that the user can X his preferred connector.
The Red Crown2 USB version, integrates all the interface electronics of the transducer inside the USB connector.
The measurement can be displayed with Marposs electronic units (Nemo, Merlin, E9066) or with a direct connection to a device with a USB port, that sees the Red Crown2 USB as a virtual COM port.
Marposs has developed software for the measurement acquisition (U-Com, Easy Acquisition and QSPC); or a list of simple protocol commands can be used to integrate the measurement in other third party programming environments.
Both static and dynamic measurements can be performed (maximum sampling frequency: 1000 acquisitions/s).
The digitised Digi Crown2 version, combined with the Digi Crown Network System, guarantees high levels of measurement accuracy thanks to the linearisation data stored in the connector memory. The network interface box can read the error map and perform an automatic compensation.
The information stored in the connector guarantees the connection to the  Digi Crown Network System without having to program the individual probe (plug&gauge).
Both static and dynamic measurements can be performed (maximum sampling frequency: 4000 samples/s).
Even though designed for the Digi Crown Network System, the Digi Crown2 probes can be connected to the standard Marposs LVDT interface devices.
The new RedCrown2 Smart, digitalises and linearises the measurement signal. It integrates a LED and Ø8mm feedthrough connector to simplify the application layout ensuring a quick connection to the SmartNet modular network.
BENEFITS
easy to install
reliable and sturdy
excellent precision measurement
easy maintenance
suitable for workshop use (IP65)
the interchangeable contact ensures that the probe can be adapted to the most disparate applications
wide range of customisable configurations (specifications and layout)
easy to integrate in third party systems thanks to the specific TOOL SW
TECH SPECS
For all technical characteristics, please refer to the brochure in the DOWNLOAD section.
VERSIONS
Red Crown2 analogue, with full-bridge (LVDT) or half-bridge (HBT) transducer, for connecting with Marposs amplifiers and interfaces or in a version compatible with other manufacturers' amplifiers
Red Crown2 USB, with USB connector for 'plug&play' connection to commercial and industrial computers
Digi Crown2, digitised version for connecting to the Marposs Digi Crown Network System
RedCrown2 Smart, digitised version with LED and Ø8mm feedthrough connector for connecting to SmartNet
All the version are available in the following models
with axial or radial cable outlet
five measurement ranges: 1mm, 2mm, 5mm,10mm and 20mm
Soft-Touch and Ultra-Soft-Touch with very low measurement force for delicate surfaces and materials
spring, pneumatic or vacuum actuation/retraction
with various connectors and cable lengths
OEM "private label": version with customised graphics, special marking, customer's logo and special packaging
APPLICATIONS
Marposs provides a wide range of measuring armsets (Ama and Quick Block) and components (Quick Set) to create applications for any requirement.
Automotive Industry
Transmissions
Bearings
Containers and packaging
Glass containers
Automotive Glass 
Aerospace
Consumer electronics
VIDEOS
Marposs introduces Red Crown2: the pencil probe for your measuring solutions
The perfect mix of measuring ranges, electrical compatibilities and extremely high accuracy in its analog and digitised versions, makes Red Crown 2 pencil probe family the ideal solution for any gauge and fixture maker.
Download
BROCHURES AND MANUALS
DRAWINGS: STANDARD probe (with seal) ± 0.5 mm range
DRAWINGS: STANDARD probe (with seal) ± 1 mm range
| | - Drawing [PDF] - | - Drawing [STEP] - | - Drawing [DWG] - |
| --- | --- | --- | --- |
| - SPRING - AXIAL CABLE - | __F10-H10-D02: (169.45kB) | __F10-H10-D02: (2.38MB) | __F10-H10-D02: (417.03kB) |
| - SPRING - RADIAL CABLE - | __FR10-HR10-RD02: (166.18kB) | __FR10-HR10-RD02: (2.55MB) | __FR10-HR10-RD02: (418.34kB) |
| - PNEUMATIC - AXIAL CABLE - | __FPA10-HPA10-PAD02-FVA10-HVA10-PVAD02-VAD02: (102.52kB) | __FPA10-HPA10-PAD02-FVA10-HVA10-PVAD02-VAD02: (353.74kB) | __FPA10-HPA10-PAD02-FVA10-HVA10-PVAD02-VAD02: (217.57kB) |
| - PNEUMATIC - RADIAL CABLE - | __FP10-HP10-PD02-FV10-HV10-PVD02-VD02: (180.59kB) | __FP10-HP10-PD02-FV10-HV10-PVD02-VD02: (2.67MB) | __FP10-HP10-PD02-FV10-HV10-PVD02-VD02: (461.79kB) |
DRAWINGS: STANDARD probe (with seal) ± 2 mm long range
DRAWINGS: STANDARD probe (with seal) ± 2.5 mm range
| | - Drawing [PDF] - | - Drawing [STEP] - | - Drawing [DWG] - |
| --- | --- | --- | --- |
| - SPRING - AXIAL CABLE - | __F25-H25-D05: (174.97kB) | __F25-H25-D05: (2.15MB) | __F25-H25-D05: (421.81kB) |
| - SPRING - RADIAL CABLE - | __FR25-HR25-RD05: (170.82kB) | __FR25-HR25-RD05: (2.82MB) | __FR25-HR25-RD05: (427.19kB) |
| - PNEUMATIC - AXIAL CABLE - | __FPA25-HPA25-PAD05-FVA25-HVA25-PVAD05-VAD05: (109.30kB) | __FPA25-HPA25-PAD05-FVA25-HVA25-PVAD05-VAD05: (340.50kB) | __FPA25-HPA25-PAD05-FVA25-HVA25-PVAD05-VAD05: (235.48kB) |
| - PNEUMATIC - RADIAL CABLE - | __FP25-HP25-PD05-FV25-HV25-PVD05-VD05: (186.55kB) | __FP25-HP25-PD05-FV25-HV25-PVD05-VD05: (2.99MB) | __FP25-HP25-PD05-FV25-HV25-PVD05-VD05: (475.61kB) |
DRAWINGS: STANDARD probe (with seal) ± 5 mm range
| | - Drawing [PDF] - | - Drawing [STEP] - | - Drawing [DWG] - |
| --- | --- | --- | --- |
| - SPRING - AXIAL CABLE - | __F50-H50-D10: (174.19kB) | __F50-H50-D10: (2.19MB) | __F50-H50-D10: (423.85kB) |
| - SPRING - RADIAL CABLE - | __FR50-HR50-RD10: (169.09kB) | __FR50-HR50-RD10: (2.89MB) | __FR50-HR50-RD10: (425.00kB) |
| - PNEUMATIC - AXIAL CABLE - | __FPA50-HPA50-PAD10-FVA50-HVA50-PVAD10-PVD10: (115.51kB) | __FPA50-HPA50-PAD10-FVA50-HVA50-PVAD10-PVD10: (466.80kB) | __FPA50-HPA50-PAD10-FVA50-HVA50-PVAD10-PVD10: (252.40kB) |
| - PNEUMATIC - RADIAL CABLE - | __FP50-HP50-PD10-FV50-HV50-PVD10-VD10: (188.98kB) | __FP50-HP50-PD10-FV50-HV50-PVD10-VD10: (3.09MB) | __FP50-HP50-PD10-FV50-HV50-PVD10-VD10: (478.14kB) |
DRAWINGS: STANDARD probe (with seal) ± 10 mm range
| | - Drawing [PDF] - | - Drawing [STEP] - | - Drawing [DWG] - |
| --- | --- | --- | --- |
| - SPRING - AXIAL CABLE - | __F100-H100-D20: (178.30kB) | __F100-H100-D20: (13.09MB) | __F100-H100-D20: (438.52kB) |
| - SPRING - RADIAL CABLE - | __FR100-HR100-RD20: (172.91kB) | __FR100-HR100-RD20: (14.77MB) | __FR100-HR100-RD20: (430.73kB) |
| - PNEUMATIC - AXIAL CABLE - | __FPA100-HPA100-PAD20-FVA100-HVA100-PVAD20-PVD20: (140.21kB) | __FPA100-HPA100-PAD20-FVA100-HVA100-PVAD20-PVD20: (403.88kB) | __FPA100-HPA100-PAD20-FVA100-HVA100-PVAD20-PVD20: (319.55kB) |
| - PNEUMATIC - RADIAL CABLE - | __FP100-HP100-PD20-FV100-HV100-PVD20-VD20: (198.00kB) | __FP100-HP100-PD20-FV100-HV100-PVD20-VD20: (15.27MB) | __FP100-HP100-PD20-FV100-HV100-PVD20-VD20: (529.41kB) |
DRAWINGS: SOFT TOUCH probe (without seal) ± 0.5 mm range
| | - Drawing [PDF] - | - Drawing [STEP] - | - Drawing [DWG] - |
| --- | --- | --- | --- |
| - SPRING - AXIAL CABLE - | __F05L-H05L-D01L: (97.43kB) | __F05L-H05L-D01L: (489.67kB) | __F05L-H05L-D01L: (207.00kB) |
| - PNEUMATIC - AXIAL CABLE - | __FPA50L-HPA50L-PAD10L-FPVA50L-HPVA50L-PVAD10L: (92.03kB) | __FPA50L-HPA50L-PAD10L-FPVA50L-HPVA50L-PVAD10L: (165.84kB) | __FPA50L-HPA50L-PAD10L-FPVA50L-HPVA50L-PVAD10L: (186.30kB) |
| - PNEUMATIC - RADIAL CABLE - | __FP50L-HP50L-PD10L-FPV50L-HPV50L-PVD10L: (167.49kB) | __FP50L-HP50L-PD10L-FPV50L-HPV50L-PVD10L: (9.36MB) | __FP50L-HP50L-PD10L-FPV50L-HPV50L-PVD10L: (423.31kB) |
DRAWINGS: SOFT TOUCH probe (without seal) ± 1 mm range
| | - Drawing [PDF] - | - Drawing [STEP] - | - Drawing [DWG] - |
| --- | --- | --- | --- |
| - SPRING - AXIAL CABLE - | __F10L-H10L-D02L: (173.64kB) | __F10L-H10L-D02L: (8.56MB) | __F10L-H10L-D02L: (441.13kB) |
| - SPRING - RADIAL CABLE - | __FR10L-HR10L-RD02L: (167.33kB) | __FR10L-HR10L-RD02L: (9.23MB) | __FR10L-HR10L-RD02L: (437.22kB) |
| - PNEUMATIC - AXIAL CABLE - | __FPA10L-HPA10L-PAD02L-FPVA10L-HPVA10L-PVAD02L: (100.11kB) | __FPA10L-HPA10L-PAD02L-FPVA10L-HPVA10L-PVAD02L: (263.45kB) | __FPA10L-HPA10L-PAD02L-FPVA10L-HPVA10L-PVAD02L: (437.51kB) |
| - PNEUMATIC - RADIAL CABLE - | __FP10L-HP10L-PD02L-FPV10L-HPV10L-PVD02L: (174.42kB) | __FP10L-HP10L-PD02L-FPV10L-HPV10L-PVD02L: (9.34MB) | __FP10L-HP10L-PD02L-FPV10L-HPV10L-PVD02L: (458.79kB) |
DRAWINGS: SOFT TOUCH probe (without seal) ± 2 mm long range
DRAWINGS: SOFT TOUCH probe (without seal) ± 2.5 mm range
| | - Drawing [PDF] - | - Drawing [STEP] - | - Drawing [DWG] - |
| --- | --- | --- | --- |
| - SPRING - AXIAL CABLE - | __F25L-H25L-D05L: (177.63kB) | __F25L-H25L-D05L: (8.66MB) | __F25L-H25L-D05L: (442.44kB) |
| - SPRING - RADIAL CABLE - | __FR25L-HR25L-RD05L: (172.73kB) | __FR25L-HR25L-RD05L: (9.40MB) | __FR25L-HR25L-RD05L: (445.18kB) |
| - PNEUMATIC - AXIAL CABLE - | __FPA25L-HPA25L-PAD05L-FPVA25L-HPVA25L-PVAD05L: (101.28kB) | __FPA25L-HPA25L-PAD05L-FPVA25L-HPVA25L-PVAD05L: (273.00kB) | __FPA25L-HPA25L-PAD05L-FPVA25L-HPVA25L-PVAD05L: (220.47kB) |
| - PNEUMATIC - RADIAL CABLE - | __FP25L-HP25L-PD05L-FPV25L-HPV25L-PVD05L: (177.28kB) | __FP25L-HP25L-PD05L-FPV25L-HPV25L-PVD05L: (9.47MB) | __FP25L-HP25L-PD05L-FPV25L-HPV25L-PVD05L: (455.63kB) |
DRAWINGS: SOFT TOUCH probe (without seal) ± 5 mm range
| | - Drawing [PDF] - | - Drawing [STEP] - | - Drawing [DWG] - |
| --- | --- | --- | --- |
| - SPRING - AXIAL CABLE - | __F50L-H50L-D10L: (164.93kB) | __F50L-H50L-D10L: (8.35MB) | __F50L-H50L-D10L: (406.22kB) |
| - SPRING - RADIAL CABLE - | __FR50L-HR50L-RD10L: (158.99kB) | __FR50L-HR50L-RD10L: (9.08MB) | __FR50L-HR50L-RD10L: (406.34kB) |
DRAWINGS: SOFT TOUCH probe (without seal) ± 10 mm range
| | - Drawing [PDF] - | - Drawing [STEP] - | - Drawing [DWG] - |
| --- | --- | --- | --- |
| - SPRING - AXIAL CABLE - | __F100L-H100L-D20L: (163.71kB) | __F100L-H100L-D20L: (13.01MB) | __F100L-H100L-D20L: (411.12kB) |
| - SPRING - RADIAL CABLE - | __FR100L-HR100L-RD20L: (158.40kB) | __FR100L-HR100L-RD20L: (17.68MB) | __FR100L-HR100L-RD20L: (403.09kB) |
| - PNEUMATIC - AXIAL CABLE - | __FPA100L-HPA100L-PAD20L-FVA100L-HPVA100L-PVAD20L: (93.31kB) | __FPA100L-HPA100L-PAD20L-FVA100L-HPVA100L-PVAD20L: (145.67kB) | __FPA100L-HPA100L-PAD20L-FVA100L-HPVA100L-PVAD20L: (190.27kB) |
| - PNEUMATIC - RADIAL CABLE - | __FP100L-HP100L-PD20L-FPV100L-HPV100L-PVD20L: (162.34kB) | __FP100L-HP100L-PD20L-FPV100L-HPV100L-PVD20L: (14.94MB) | __FP100L-HP100L-PD20L-FPV100L-HPV100L-PVD20L: (417.32kB) |