Digital Column Display Unit
E4N
The Marposs E4N Column Display Unit provides a simple, intuitive and fast indication of the measurement. Because of the exceptional visibility of the measurement result, even at significant distances, this product represents the ideal solution for use in production facilities, and provides excellent value for the money. The E4N unit is also compatible with the entire range of Marposs measuring devices, including air controlled systems, which means it is suitable for a large variety of applications.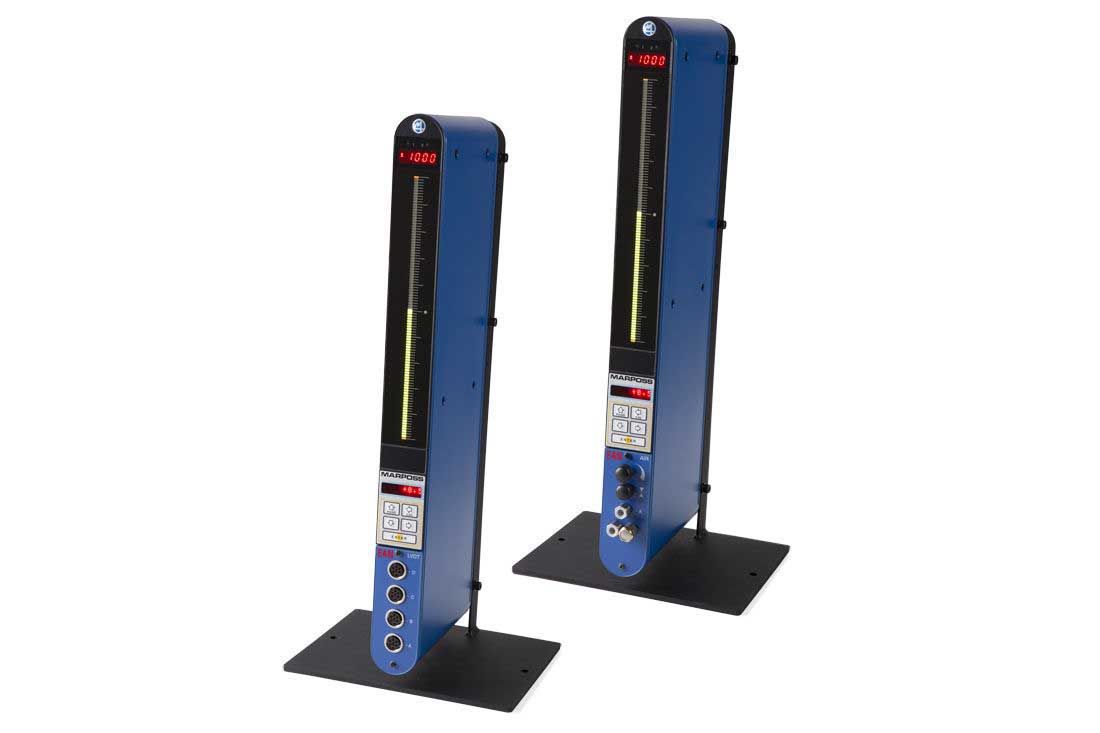 DESCRIPTION
The E4N Column is used to display the results of static and dynamic shape and dimensional checks, acquired using measuring gauges or cells. It provides the operator with information regarding the measurement values, the tolerance limits, scale, resolution and measurement status. The information can be displayed in analogue format on a 3 color LED bar graph, or digitally on an 8 digit display. In the latter case, the measurement can be comparative or absolute, and the device is capable of memorizing the last measurement cycle, irrespective of the display format.
E4N is available with a wide range of interfaces, which can be used to transmit the data to data collection devices, Personal Computers, or control alarms, indicator lamps etc. via a series of relays. The device may also be connected to a machine tool PLC in order send feedback regarding the checks that have been performed.
The Column may also be programmed via a Personal Computer, which can be used to collect the data.
BENEFITS
fast, simple to read measurement display
versatility, due to the configuration and programming functions, which are also available remotely
top of the line Marposs measurement display solution
analogue and digital display of static and dynamic measurements
flexibility (number of channels and pneumatic measurement) allowed by the interchangeable front masking panels
can be used to communicate the part or measurement conditionto the machine PLC
compatible with manual bore, diameter, distance and depth gauges
TECH SPECS
power supply: 85/265 VAC 50/60 Hz
voltage variations: ±10%
max. power consumption: 40 VA
fuses: 2 A Slow-blow
electromagnetic sensitivity: Standard Lev.4 in accordance with the Standard IEC 801.2/4
protection rating: IP 50
operating temperature range: 0/+50°C
weight: 3.7 kg
transducers: up to 8
transducer programming: standard measurement range up to ±1 mm (.04")
transducer programming: large measurement range up to ±5 mm (.2")
arms ratio: from 0.3 to 3.0 resolution 0.001
sensitivity adjustment: from 0.95 to 1.05 resolution 0.001
accuracy at 20°C: ±0.5%
measurement thermal drift: ±150 ppm/°C
measurement/channel thermal drift: ±50 ppm/°C
scale: up to 10 programmable scales from ±0.005 to ±5mm (.00025" to .2")
scale resolution: 1/100 of the range, from 0.1 to 100 µm (.000005" to .004")
units of measurement: Millimetres, inches, grams and degrees
interfaces: Digimatic, RS232-C, BCD
VERSIONS
The device can be configured, based on the specific application requirements, by using the various transducer management modules that are equipped with 1, 2 or 4 inputs. These may be:
full-bridge (LVDT) or half-bridge (HBT) with 1, 2 or 4 inputs
MRT (Marposs Resistance Transducer) with 1, 2 or 4 inputs
AIR, pneumatic to electronic converter with 1 input
When fitted with this module, the E4N display column represents a simple, cost-effective way of upgrading and enhancing a wide variety of air controlled measurement applications. The converter module is fully compatible with the other modules LVDT, HBT, MRT).