Universal Gauge Block
QUICK BLOCK™
Quick Block is a universal measurement unit, featuring high precision linear guides for checking inside and outside diameters and distances.
The wide range of accessories render this measuring instrument extremely versatile and suitable for the most disparate applications. Its solid and compact structure ensure that it can perform static and dynamic measurements in demanding environments, protecting the transducer and guaranteeing a high degree of repeatability. .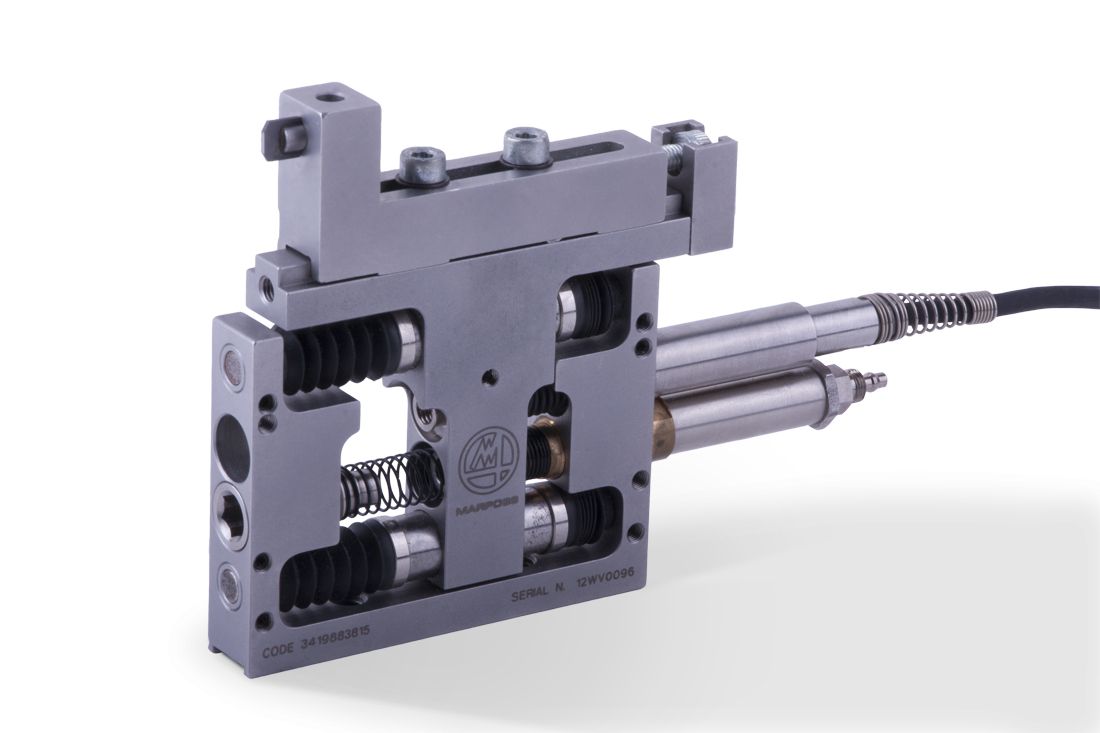 DESCRIPTION
Quick Block is a compact, universal measurement unit. It is available with a built-in measuring transducer or as a mechanical transmission to be used with measuring probes.
It features a ball cage anti rotation system that guarantees  a repeatability range value (max-min) of less than 0.5 μm with direct contact. The ±5 mm version can be supplied with an axial or radial cable outlet for the transducer and pneumatic cylinder.
It can be installed with the measurement axis positioned in any spatial direction and the contact support has a retooling range of 20 mm.
The pneumatic actuation version is particularly suited for post-process applications on measuring stations with automatic loading/unloading.
It can also be fitted on Quick Set stations with the relative interface to measure diameters up to 90 mm.
A wide range of spring, measuring arms and contacts is available to reach any measuring position whilst maintain the arm ratio unchanged.
A special version with dovetail guide, compatible with TESA supports and contacts, is also available.
The new QuickBlock Smart, digitalises and linearises the measurement signal. It integrates a LED and Ø8mm feedthrough connector to simplify the application layout ensuring a quick connection to the SmartNet modular network.
BENEFITS
easy to install
reliable and sturdy
wide measuring range thanks to the retooling of the contact support
high degree of protection (IP65)
suitable for workshop use
it can be used with all electronic units by Marposs and by other manufacturers, and with industrial/commercial PCs
range of accessories ensure that Quick Block can be adapted to numerous applications
TECH SPECS
measuring range from 2 to 10 mm
measuring force from 1 to 1.7 N (± 20%) with standard spring
operating pressure for the pneumatic cylinder version: 3 ÷ 6 bar
actuation: spring, pneumatic cylinder
transducer and pneumatic cylinder cable outlet: axial or radial
repeatability < 0.5 µm
degree of protection IP65
thermal drift at zero < 0.25 µm/°C
connector: Lumberg SV50/6 (analogue versions), Lumberg 0332/06 (digital versions) or standard USB
cable length 2 m
compatible with all Marposs and other manufacturers' electronic units
VERSIONS
It is available in the following versions:
Analogue with built-in transducer [measuring range ±1 mm (±0.04"), ±5 mm (±0.2")] LVDT or HBT, compatible with all electronic units available on the market
Digital with built-in transducer [measuring range ±5 mm (±0.2")], which can be connected to the Marposs DigiCrown Network System network
Digital with built-in transducer [measuring range ±5 mm (±0.2")], with USB connector for use with industrial/commercial PCs
Digital with built-in transducer [measuring range ±5 mm (±0.2")], with SMART connector for use with SmartNet
Mechanical transmission [measuring range ±3 mm (±0.12"), ±5 mm (±0.2")] for use with other measuring instruments with clamping diameter of 8mm or 3/8" such as Red Crown and Quick Digit