Gauge Computer
MERLIN™
Merlin is the benchmark product in the gauge computer sector and represents a tried and trusted solution when collecting data used to optimise industrial production analysis and monitoring processes.
Based on a Windows embedded operating system, Merlin forms the basis of a range of compact, easy-to-use devices that are ideal for use in manual gauging applications. It is capable of executing SPC checks, with in line Cp and Cpk calculation's, complete with histograms and control charts. It can be used to manage several production batches and users, and includes multi-lingual support.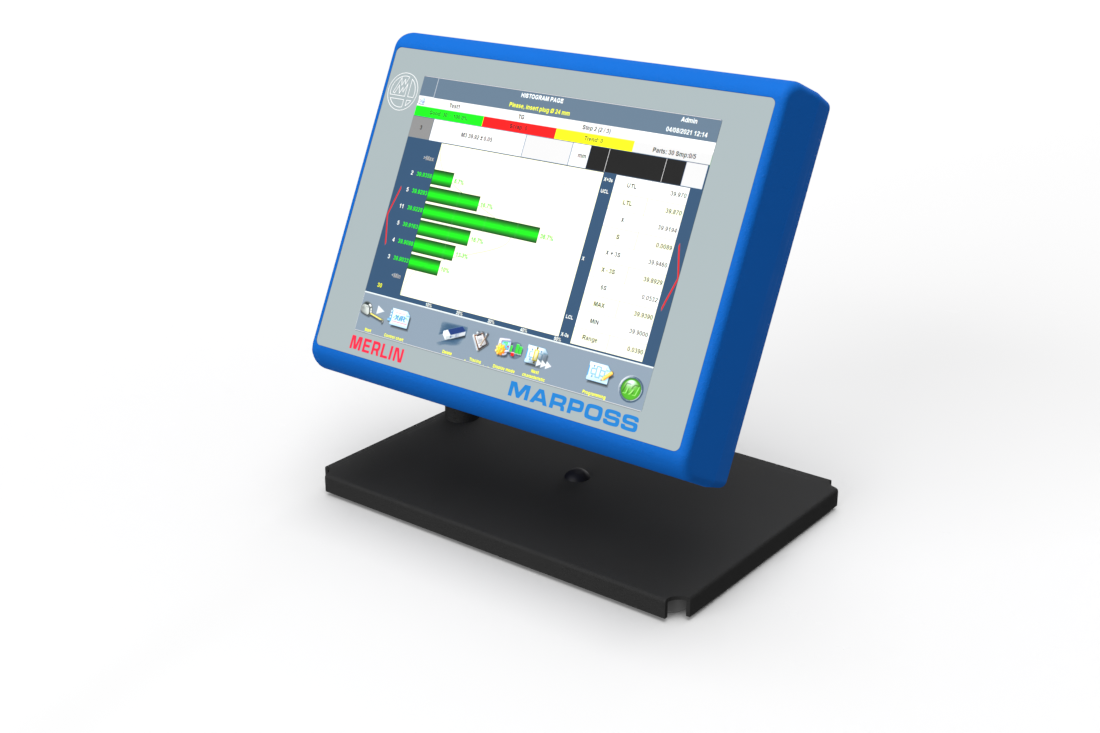 DESCRIPTION
Merlin can be used to manage numerous part types and define measurement batches in order to simplify production certification and monitoring.
The specially designed user interface greatly simplifies system setting, program definition and batch management procedures.
Merlin was specifically designed for simple manual operations and supports all the main Marposs measuring devices, as well as several third party devices, and features RS232, USB, Ethernet and Bluetooth connection options.
With Merlin it is possible to carry out statistical process control by analysing the data associated with the variables in real time (control chart, machine and process capacity) and save data in CSV and qs-STAT® compatible formats.
BENEFITS
easy to set-up and use
production process quality control by means of in line SPC or by exporting single cycles or batches
step measurement cycle management
production batch management, including automatic closing and opening
multi-lingual and multi-operator support
manages complex measurement formulas
TECH SPECS
Main hardware features

Container

Plastic

Protection rating

IP65 (front panel)

Touch screen

4-wire resistive

LCD Display

8.4" SVGA – 4:3 TFT

Storage media

eMMC 4GB

Lan Ethernet

1 x 10/100 Mbps RJ45 connector

USB ports

4 + 1 protected host

Serial Ports

1xRS232C

Support

Tilting type – Vesa 75 compliant

Power supply

24 Vdc (18 - 36 Vdc)

Relative humidity

5 - 80 % (non condensing)

Operating temperature

0 to 50 °C

Dimensions LxHxD

230x180x45 mm

(9''x7''x 1.8'')

CPU

ARM9TM 1 GHz
VERSIONS
Basic version for European languages and dedicated versions for Japanese, Chinese and Korean