Embedded Industrial PC
E9066E-bb™
The E9066E-bb Embedded Industrial PC is a highly compact, totally fanless and maintenance-free PC box, provided in a shop-floor proof enclosure.
It runs on an INTEL® quad-core 64-bit platform and on the Microsoft® Windows 10-IoT Enterprise operating systems and the Marposs Quick SPC™ Measurement, SPC and Quality Control software suite.
The system is particularly suitable for integration with the Marposs GagePod™ Distributed Data Acquisition System, along with several other data acquisition systems as well.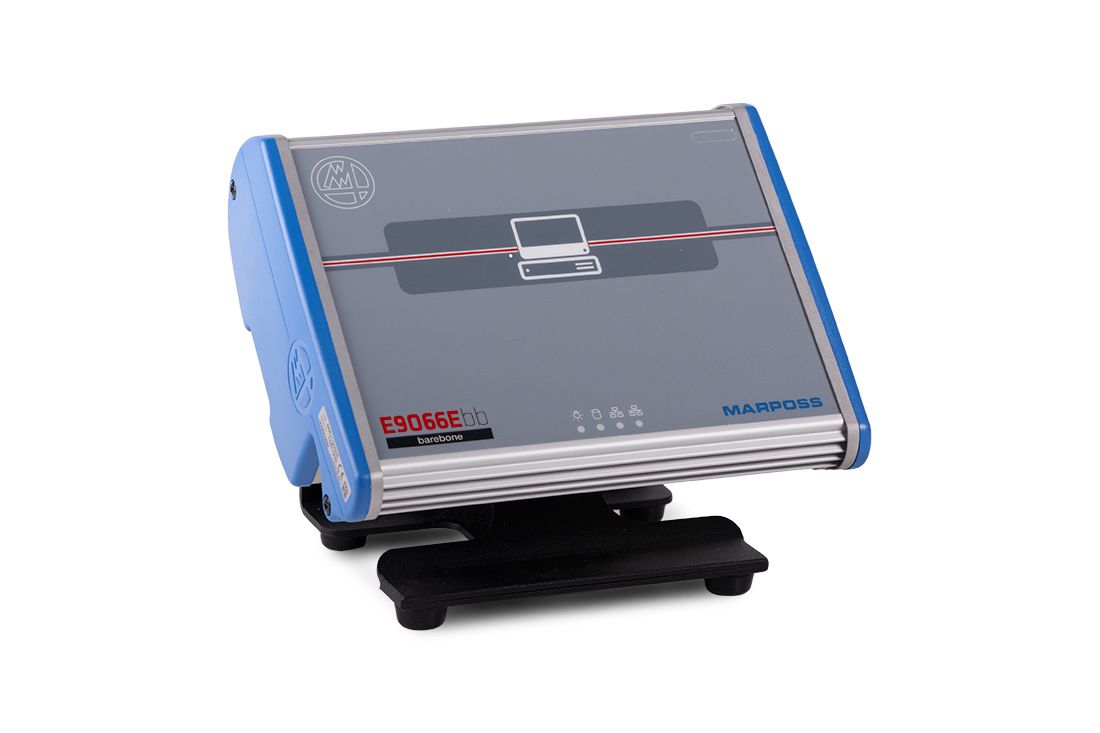 DESCRIPTION
Powerful, compact and versatile, the E9066E-bb provides total flexibility of deployment and interfacing options, and is available in two standard versions:
The E9066E-bb 'barebone' is a PC box, without display, connectable to any DVI or VGA-compatible screen
The E9066E-L7 PC box mounts a 7" wide, 15:9 true flat touchscreen, for tightly integrated applications requiring localized visualization of measurement and statistical results. Any DVI or VGA-compatible screen can also be connected contemporarily as well.
The E9066E-bb provides your gauging applications with several LAN, USB and legacy serial communication ports for any connectivity need:
6 USB ports
2 Ethernet Gigabit ports
1 RS232 port
and runs on Microsoft® Windows 10-IoT Enterprise
Marposs QuickSPC™ Measurement and SPC software suite and the Marposs GagePod™ Data Acquisition System complement your application, offering cost-effective solutions and performance for real-time data acquisition and measuring applications, industrial Process & Quality Control and real-time SPC.
BENEFITS
INNOVATION and DEPLOYMENT
E9066E-bb is a virtually maintenance-free PC system, eliminating all wear & tear parts like fans or traditional hard disks.
Its compact design supplies an efficient and cost-saving deployment, integrating more easily in the design of benches & machines alike: mounting solutions include an integrated DIN-rail attachment or an optional benchmount stand.
INDUSTRIAL DESIGN and RELIABILITY
Fanless industrial computers dissipate a fraction of the power of a standard office PC. The absence of moving parts assures extra endurance and long lasting reliability: no fans or bulky and expensive heat exchange devices needed.
Diskless technology and the use of solid-state, industrial-grade memory storage, extends the system's robustness even more, eliminating hard disk failures, and allowing for working temperatures up to 50°C.
Embedded operating systems provide resilience to system failures due to file corruption. Fast start-ups, no more downtimes for system reinstallation and setup, and no fear of abrupt power failures!
TECH SPECS
For all technical characteristics, please refer to the brochure in the DOWNLOAD section.
Download
BROCHURES AND MANUALS
DRAWINGS
| | - Drawing [PDF] - | - Drawing [STEP] - | - Drawing [DWG] - |
| --- | --- | --- | --- |
| - E9066E BB - EMBEDDED INDUSTRIAL PC - | E9066E-bb: (206.52kB) | E9066E-bb: (5.23MB) | E9066E-bb: (784.79kB) |