USB Data Acquisition System
EASY BOX™
The Marposs range of data acquisition devices is essential when connecting measurement devices to an electronic display unit or an industrial computer. Due to the wide variety of available versions, with the EasyBox system it is possible to use the same industrial computer with all Marposs gauges and components, constructing an application that is perfectly suited to your needs.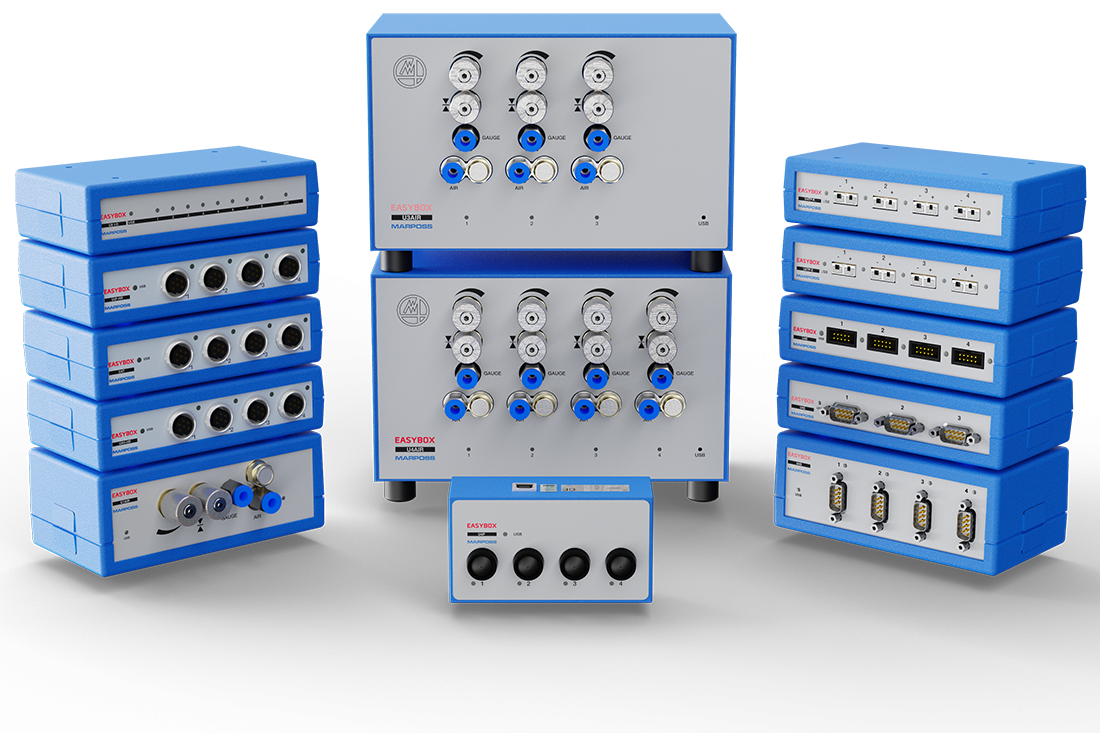 DESCRIPTION
EasyBox is the Marposs data acquisition system that is designed to provide simple and economic management of inductive and incremental transducers, air controlled measurement equipment, gauges with Digimatic or serial outputs, I/O signals and thermocouples. The system can be used with the Merlin compact gauge computer, the E9066T industrial PC, or any commercially available PC. EasyBox uses USB ports for its power supply and to transfer measurement values from transducers  connected to it to the PC. The system uses a single cable for both functions. 
BENEFITS
compact and modular
enormous variety of applications thanks to a wide range of products
designed and built for use in the workshop environment
intuitive and easy to install
TECH SPECS
For all technical characteristics, please refer to the brochure in the DOWNLOAD section.
SOFTWARE PACKAGES
MARPOSS Driver DLL package for Windows® operating systems: enables users to transfer the data to any software application, even with a minimum of programming knowledge.
Easy Acquisition TM data acquisition package, including SPC for Excel®: in addition to importing data, programming measurements, and collecting data, this package can also be used to perform statistical analysis on Excel spreadsheets.
Quick SPCTM software for Windows®: this product, which is used to carry out process and quality statistical checks, combines various software modules that  were designed to meet the requirements of every type of measurement, from the simplest to the most complex.
VERSIONS
with adjustable sensitivity and zeroing nozzles for connecting an air controlled measurement device
for use with up to 4 MARPOSS standard LVDT transducers
for use with up to 4 MARPOSS standard LVDT transducers, on applications requiring high levels of measurement resolution
for use with up to 4 MARPOSS standard HBT transducers
for use with up to 4 MARPOSS HBT transducers compatible with TESA amplifiers
for use with up to 3 incremental transducers, such as linear probes, linear and rotating encoders, etc.
for use with up to 4 gauges with Digimatic outputs, such as master gauges and Mitutoyo digital comparators.
for use with up to 4 gauges with RS232 serial outputs (the cable must be fitted with a Cannon, 9-way female connector)
for use with up to 4 type E, J and K type thermocouples, respectively
for managing up to 8 inputs/outputs powered at 24 Vdc