Reconfigurable Gauging Bench for Bottles
Semi-automatic gauging bench, based on contact technology (linear displacement sensors), suitable for measuring round bottles and  easily reconfigurable for different articles. The part is manually loaded/unloaded on the bench and the measuring cycle is fully automatic.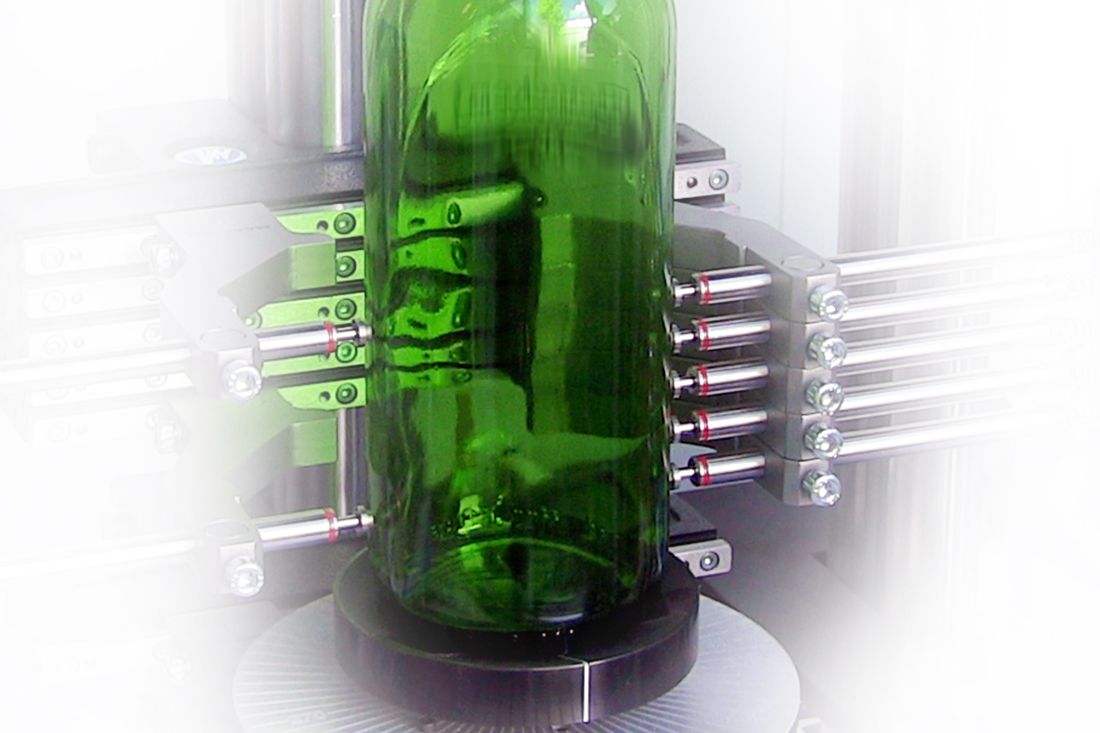 BENEFITS
Cost effective solution
Accuracy (using Marposs Red Crown 2™ displacement sensor)
Easy reconfigurable for bottles having different dimensions
DESCRIPTION
It is composed of:
• a mechanical system, to refer and rotate the bottle, with a motorized rotating plate and an idle tailstock
• one or more measuring sections, with Red Crown 2™ linear sensors, that can be quickly vertically repositioned and arranged for bottles having different external diameters
• a Gage Pod™ data acquisition system
• an E9066™ Industrial PC with Quick SPC™ software
• a push-button box for cycle management and emergency button.
It can be used, at the cold end, in the QC lab or near the manufacturing lines,  to measure the following characteristics:
• external diameters on neck and body
• straightness of the generatrix, on the body, in the labelling area
TECH SPECS
Dimensions of the measurable bottles

Total height = 200-345 mm

External diameter = 50-120 mm

Inside mouth diameter (to insert the idle tailstock) = 16-28 mm

Measurements

External diameter on body and neck

Generatrix straightness on the body in the labelling area

 

Cycle time
About 15 sec. including part loading/unloading
Repeatability

≤10% of the tolerance

Data output
.csv or .dfq (QDAS®)
Top
Contact us