Flexible Measuring System for Glass Containers Inspection
VISI QUICK™
Marposs provides and innovative camera based flexible measuring system to monitor the production lines of bottles, glasses or any glass container. This system measures samples from each production batch to provide feedback to the customer in order to verify, control and improve the status of the molds.
The Marposs VisiQuick is designed to provide maximum flexibility and precision with a combination of cameras, traditional bore gauges, scales and innovative confocal probes.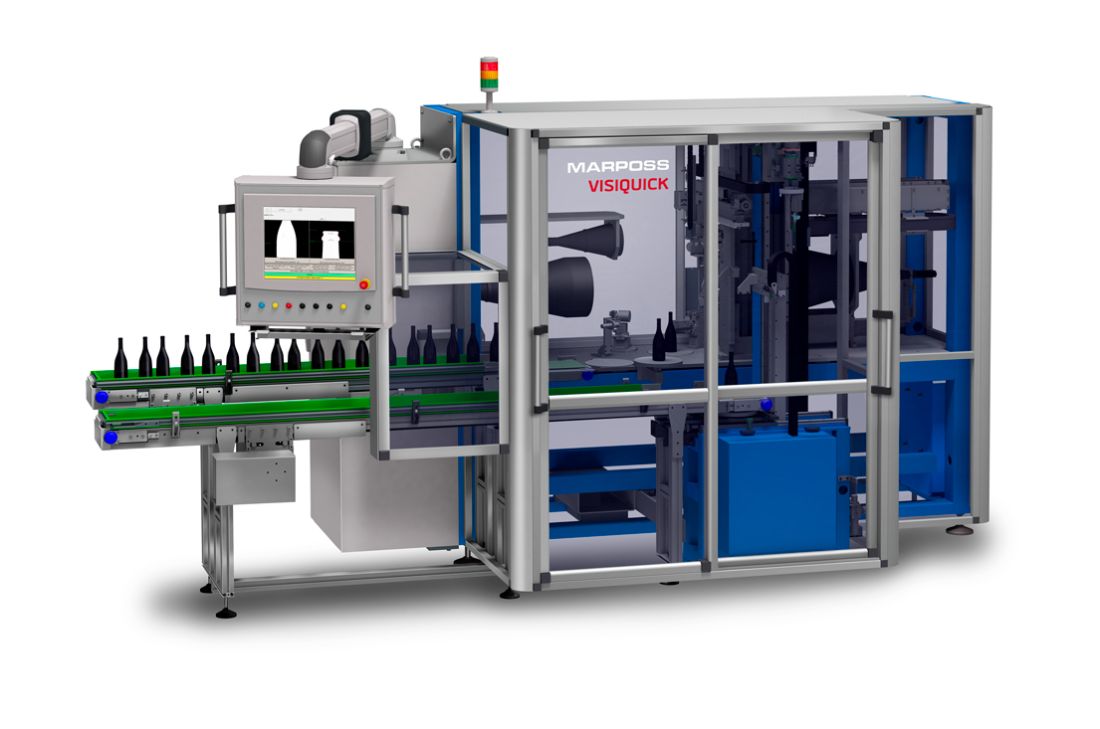 BENEFITS
strong mechanical structure:  made of steel (no aluminum profiles) to guarantee stability and good measurements results
flexibility: no retooling at all necessary to conveyors, pick & place, …. when the container to be measured changes
modularity and upgradability: possibility to add new measurements or measuring stations
customizable solutions: Marposs is not just providing an «as it is» standard product but is available to customize the VisiQuick based on customers' requirements/necessities
programmable Parts Program: Marposs can both provide an extensive library of parts measuring programs or prepare any dedicated one on customer request
full compatibility with Vertech: measurements programmed on Vertech SIL are used to automatically configure the VisiQuick and measurements results are compatible with Vertech
intuitive Human Interface: the VisiQuickTM software, installed in a powerful Industrial PC, provides a simple and intuitive user interface
DESCRIPTION
Visi QuickTM is a flexible measuring machine, using a high-resolution camera, suitable for dimensional and geometric inspection of a large variety of glass containers having different size, shape and color. The container to be measured is back-illuminated by a collimated light source. Its image is taken by a telecentric lens and focused on the camera's high-resolution CCD matrix sensor.
Visi QuickTM is available either in stand-alone configuration, with manual or automatic loading/unloading, or directly integrated in the production line for sample checking.
It can measure all the standard characteristics of glass containers, such as:
total and partial heights
external body dimensions (diameters, sides and diagonals of non-round containers) and shape (roundness, taper, straightness of the labelling area)
lean/bent neck
tilt
finish parameters (e.g. diameters heights, mouth parallelism) on different finish types (cork, crown cork, screw finish)
corkage inside diameter, roundness and taper (optional)
weight (optional)
push-up (optional)
TECH SPECS
| | |
| --- | --- |
| Total Height | ≤435mm |
| Body or Diagonal | ≤190mm |
| Internal Diameter | from 13 to 45mm (up to a depth=60mm from the top) |
| Push-up | ≤50mm |
| Weight | ≤2mm |
| Glass Thickness | ≤8mm |
| Cycle Time | depends on the measurements to be performed (eternal parameters, weight, push-up, internal diameter and profile, glass thickness). As an average, from 60 to 120 sec/container |
| Repeatability Master | <0,01mm |
| Accuracy | <10% of the tolerance |
Top
Contact us