Flexible Measuring Unit For The Shop Floor
OPTOQUICK™
Optoquick is the latest generation in Marposs' flexible solution, for high precision gauging controls on cam, crank, gear shafts and drive shafts.
Optoquick helps operators with fast and precise quality controls, while located directly at the side of the manufacturing machines. It speeds up the work-in-progress operations, and eliminates any time which can be wasted in handling the part across the shop floor.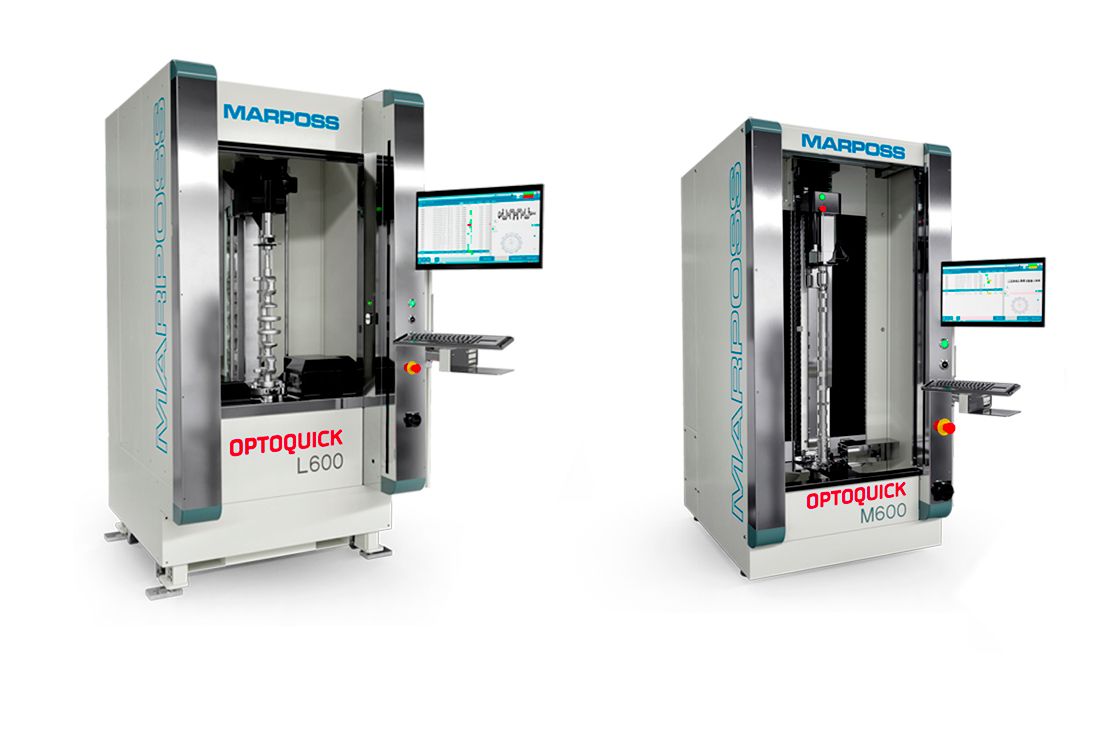 DESCRIPTION
The Optoquick is a perfect solution for high precision measurements of cylindrical parts on the shop floor. It gives unrivalled measurement performance in terms of accuracy, repeatability, and stability.
The Optoquick offers extended measurement capabilities beyond the industry standard. Its Image based technology assists in short cycle times; parts are measured in motion.
Using intelligent image processing, the Optoquick can inspect several different features, on the part, at the same time. Fast quality checks with the Optoquick results in higher productivity, which optimizes production capacity.
With its user-friendly setup, it requires minimal training. The Optoquicks' part-loading is ergonomically developed to grant an open and clear loading area with no obstructions.
The graphical interface is carefully designed to be user-friendly and to give clear measurement results that show all part non-conformances on a clear, visual part layout.
BENEFITS
FAST AND PRECISE: The Optoquick is designed to perform comprehensive quality controls on a part in seconds. The image-base technology and the shadow-casting inspection mode, grant the ability to achieve high precision measurements in a short cycle-time.
 
FLEXIBLE: One single Optoquick can be used to control several machines, manufacturing different parts, in the same production area.
 
MULTI-SENSOR: The combination of optical and tactile sensing technologies - (complete MARPOSS design) - allows the Optoquick to deliver extended gauging capabilities and flexibility, at the highest level of its category.

EASY TO USE: Efficient and fast for customer operations.
 
INDUSTRIAL: The Optoquick operates on the shop floor with the highest performance.
TECH SPECS
For all technical characteristics, please refer to the brochure in the DOWNLOAD section.
VERSIONS
For all technical characteristics, please refer to the brochure in the DOWNLOAD section.
APPLICATIONS
High precision gauging of:
- Cam shafts
- Crank shafts
- Drive shafts
- Gear shafts
Optoquick is capable of dimensional, position, and form measurements, for example:
Diameter

Length

Radius

Chamfer

Angle

Radial run-out

Axial run-out

Concentricity

Cylindricity

Coaxiality

Straightness

Roundness

Flatness

 

Symmetry

Parallelism

Perpendicularity

Cam profile

Stroke index     

 
Additionally, it's able to simply satisfy traditionally demanding cases, as for instance:
- Eccentric parts
- Out-of-focus items,Xcrankshaft pin journals
- Measurements at discontinuities, with relevant dimension variations
Video