Touch Probe Line
T25 - TL25 - TT25 - TT25H
The T and TT ranges of MIDA probes are high performance touch probes and cover every type of machine tool and application. Using these probes to define work-offset and to inspect work-piece on machine helps to reduce the quantity of rejected parts.
Thanks to them versatility, T and TT probes ca n be used on both lathes and machining centres.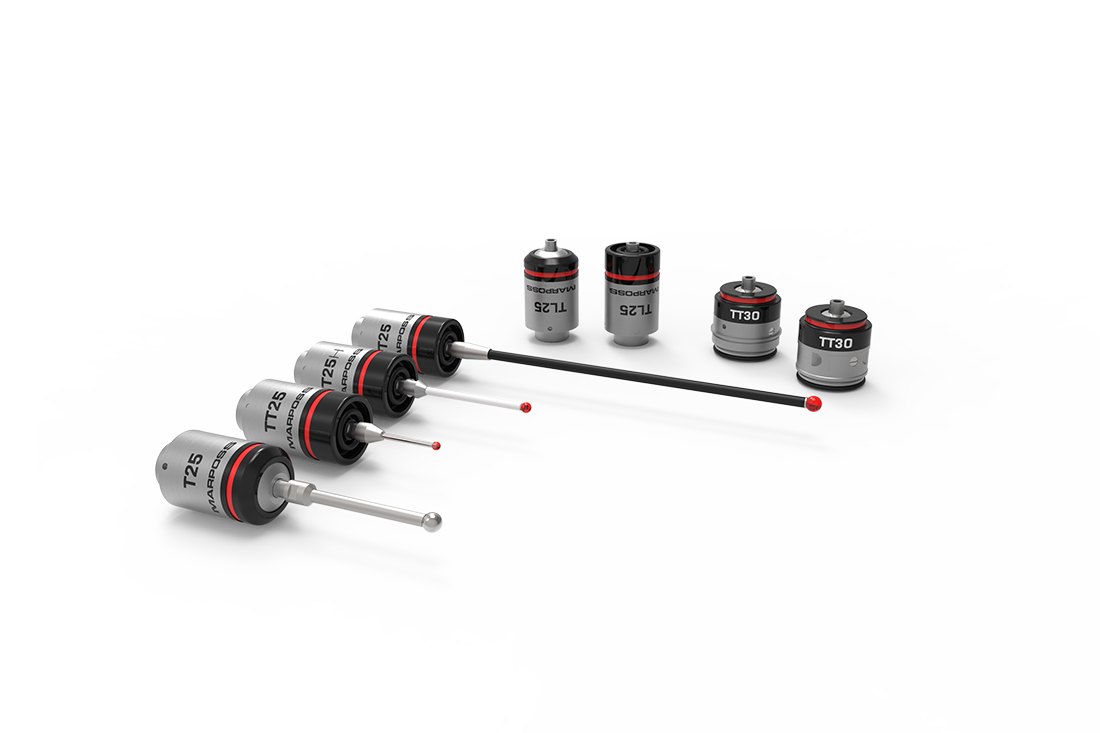 DESCRIPTION
The TT series probes offer optimum repeatability, they are perfect for use on sculptured surfaces. They also provide optimum levels of spatial isotropy, which, together with their high repeatability, means that they are ideal for performing accurate 3-D measurements on the typical complex surfaces produced when milling molds, shells and turbines, for example.
Thanks to their mechanical structure, they also provide excellent immunity to the effects of processing vibrations and machine axis acceleration. In fact, they are normally used during mechanical manufacturing processes on machining centres, lathes and turning centres. This line includes the high contact force probe, which enables the use of fingers with complex and/or heavy configuration settings, especially in the case of machines affected by high levels of vibration.
The T series probes offer exceptional unidirectional repeatability, and this makes them ideal for performing measurements on prismatic surfaces or surfaces with a low level of complexity.
Thanks to their mechanical structure, the probes aIso guarantee excellent immunity to the effects of processing vibrations and machine axis acceleration. They are reliable and resistant even in machining environments with high pressure coolants and where large quantities of chips are produced. In fact, the T series features a number of different models that vary according to the measurement force or type of protection structure, which may either be standard or steel in the case of lathe applications (S version).
BENEFITS
Increased production quality
Reduced cycle time
Accurate repeatable measurements
Flexible range of probes
Highly resistant to the ambient working conditions
Immunity to machine vibrations
TECH SPECS
For all technical characteristics, please refer to the table in the DOWNLOAD section.
VERSIONS
The new Mida probes are available in a range of different models:
T25 – compact, with rubberised fabric seal. Versatile, suitable for use when machining mechanical components on lathes, turning centres and milling machines where the available space is highly limited
T25S – with steel shield
TL25 – with rubberised fabric seal and low measurement force for probing parts manufactured from very soft materials or on very fine tools on the sharpeners
TL25S – with steel shield
TT25 – ideal for measuring complex surfaces, adaptable for use on every type of machine
TT25h – high measurement force version
Download
BROCHURES AND MANUALS
TECHNICAL DOCUMENTS