Optical Transmission System for Part Inspection and Tool Setting on Machining Centers
VOS
Optical transmission touch probes render machining centres more efficient, and increase automation, even in the most complex operations, thereby reducing cycle times and the percentage of rejects.
The part positioning and alignment operations no longer require any contribution on the part of the, which reduces the time necessary to perform these activities. In addition to automating the part dimensional checks, the Marposs SW also provides the machine CN with all the necessary feedback for the subsequent machining process.
The operator/machine integration process is immediate, thanks to the appropriately optimised software cycles and the easy to understand graphic interfaces.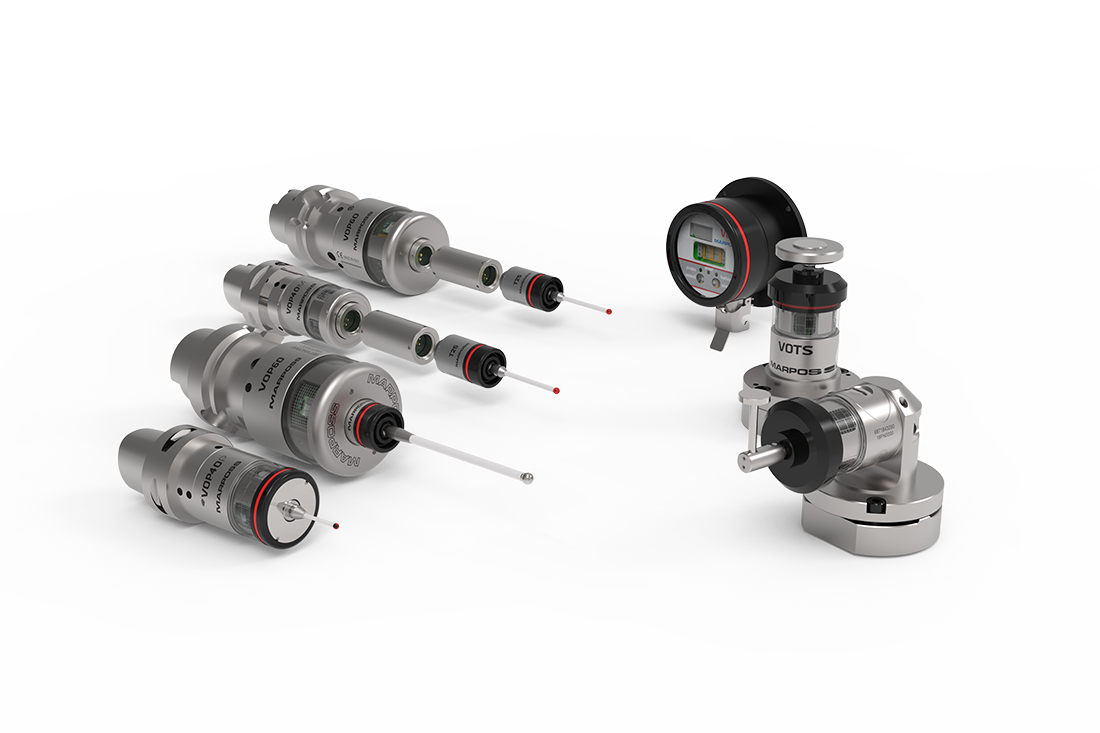 DESCRIPTION
The VOS system system has been designed to provide the machine tool with all the necessary feedback, in order to intervene directly on the part machining process and reduce the quantity of rejects. The system also monitors the wear on the tools in continuous mode in order to improve the machining efficiency.
The modulated optical transmission system guarantees a high level of immunity to interference and makes it possible to manage up to 4 probes in the same working area.
Hence, 3 or 5 axes machine tools represent the ideal environments for this system, where the part inspection and tool check can be performed simultaneously using the same receiver.
The Marposs software cycles have been designed to optimise the VOS system performance specifications and cycle times, while also eliminating the manual errors that may be introduced on machines the are not fitted with measurement equipment.
BENEFITS
Increased production quality
Simultaneous management of applications
Reduced rejects
Increased productivity
Reduced maintenance requirements
High immunity to optical interference
TECH SPECS
For all technical characteristics, please refer to the table in the DOWNLOAD section.
COMPONENTS
The VOS system is available in a wide variety of versions, in order to satisfy every type of application requirement.
VOP60 probe
The VOS system with VOP60 probe is ideal for applications on medium and large machining centres.
VOP40 compact probe
The VOP40 probe is ideal for use on small machining centres or milling machines. The high level of autonomy means that it is perfect for unmonitored production lines that are in operation 24 hours a day.
VOP40M-VOP60M modular probe
The system makes use of the VOP40M and VOP60M modular versions, so that it is compatible with all the various versions of the Mida Touch probes, depending on the measurement type and accuracy requested by the customer.
VOI receiver
The VOI receiver with integrated interface is installed directly in the machine environment and is capable of managing up to 4 transmitters in sequential mode. The receiver is easy to program either using the remove control unit or by means of the optical buttons. In addition, the practical, 4-digit display provides all the necessary information during the working cycle.
Download
BROCHURES AND MANUALS
TECHNICAL DOCUMENTS