Radio Transmission High Precision Touch Probes
WRP45P - WRP60P
WRP45P e WRP60P are Marposs high precision probes with radio transmission through which any user, through automatically detection of machine axis position, can achieve part positioning and accurate part measurement. Based on piezoelectric technology, it guarantees unbelievable accuracy and a repeatability value within 0.25 μm (2σ).
The radio transmission make WRP45P and WRP60P ideal for large-sized machines, given their wide operating range that reaches 15 meters. Moreover, thanks to their modular design, WRP45P e WRP60P have the possibility to inspect difficult to reach complex surfaces or parts presenting deep cavities using up to 1 meter length extensions.
WRP45P and WRP60P operates with the WRI receiver through 2.4 GHz radio transmission, designed to avoid any possible interference  thanks to 79 channels and DSSS (Direct Sequence Spread Spectrum) security system.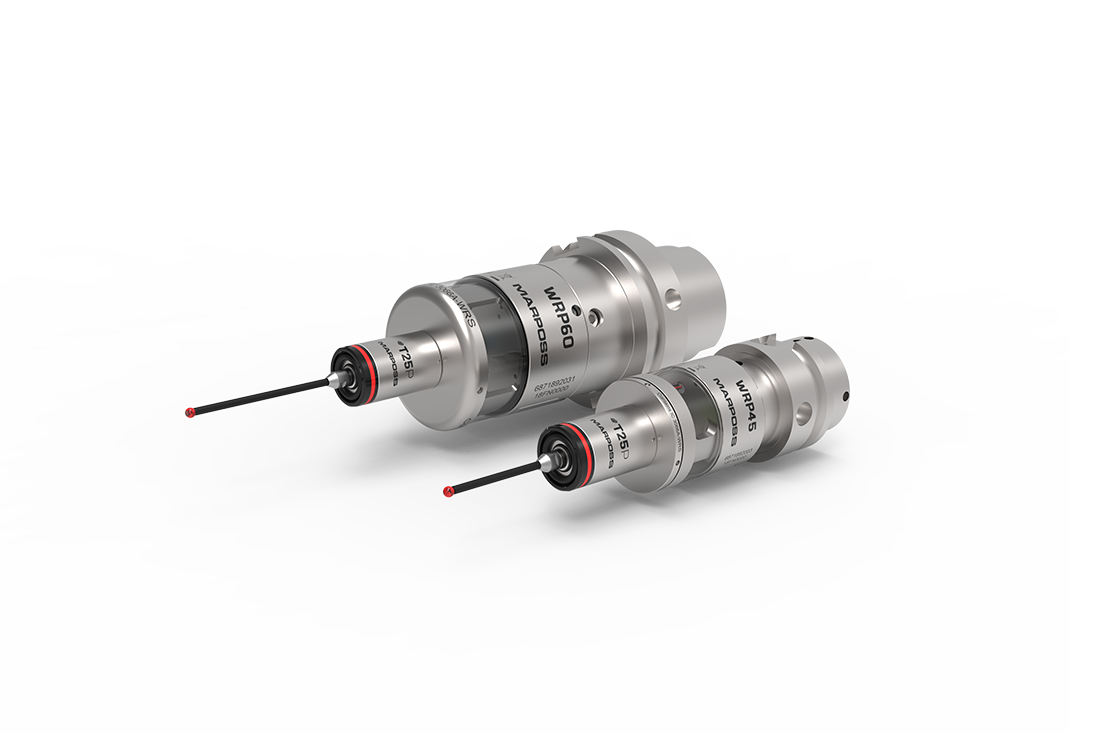 DESCRIPTION
As well as for on machine part check with standard solution, also WRP45P and WRP60P take advantage of automatically  detection of machine axis position on machining center and milling machine for part positioning and part control, main difference are the excellent metrological performances.
WRP45P and WRP60P have a modular design that can be both integrated or simplified depending on Customer application. Moreover the system allow to sequentially manage a WRTS radio transmission tool setter together with the part probing for twin applications with the same receiver.
Lastly, WRP45P and WRP60P probe programming resides in the WRI receiver and it is achieved through a digital display and a remote control, facilitating the installation and setting operations.
BENEFITS
Improved production quality
Increased Productivity
High accuracy that means sensitive scrap reduction
Incredible measurement performances on complex and sculptured surface too
High speed probing for a further cycle time reduction
Modular design customizable with extension up to 1 meter length
High immunity to interferences
Great battery life
TECH SPECS
For all technical characteristics, please refer to the table in the DOWNLOAD section.
VERSIONS
WRP45P and WRP60P mainly difference is in their dimensional envelope.
WRP45P
It is the compact version, very useful where the space inside machine working areas is reduced. It has a maximum diameter of 45 mm.
WRP60P
It is the bigger version. Useful where important extensions need an incredible mechanical robustness of the system. It has a maximum diameter  of 63 mm.