High Precision Touch Probe
T25P
T25P is a Marposs high precision hard-wired probe through which any user, through automatically detection of machine axis position, can achieve part positioning and accurate part measurement. Based on piezoelectric technology, it guarantees unbelievable accuracy and a repeatability value within 0.25 µm (2σ).
T25P has been designed to control complex surface part such as cutting edge and gear, its design and the incredible precision make it the right solution for part probing on sharpeners and grinding machines.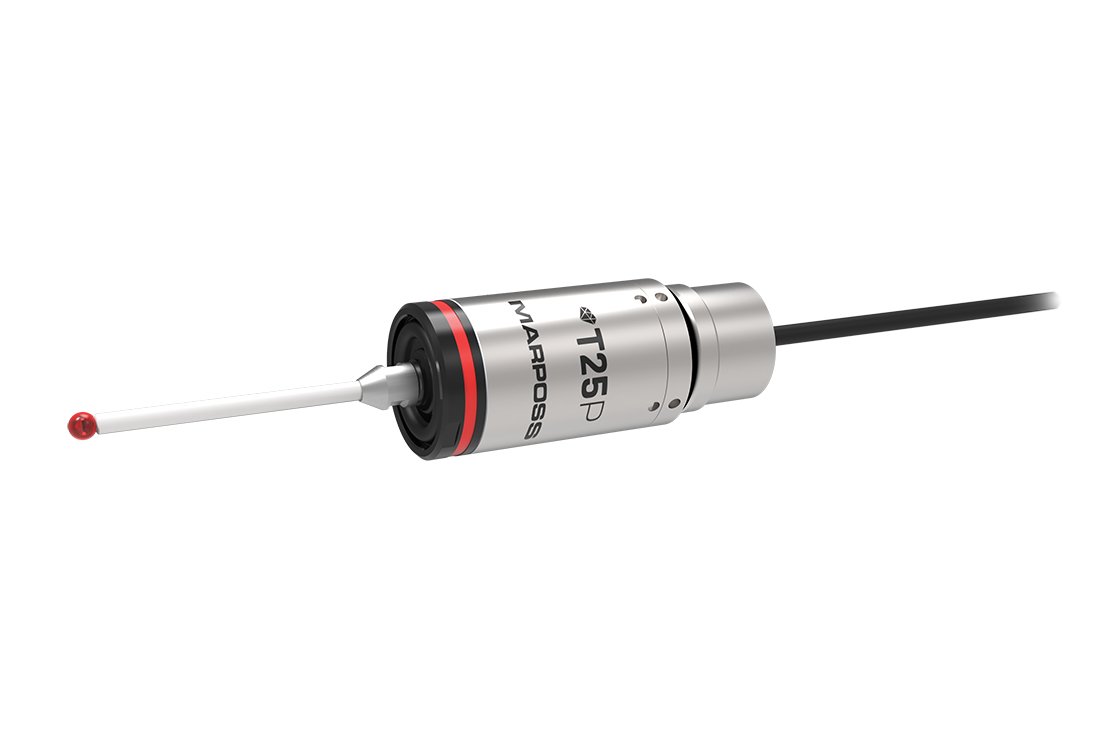 DESCRIPTION
As available space inside machine working areas is likely reduced in machines like sharpeners and grinding machines, Marposs has focused its attention on a compact designed probe. T25P is one of the smallest hard-wired touch probes, with its 40 mm of length and 25 mm of diameter. Nonetheless, the probe ensures robustness and reliability even in harshest working environments.
T25P operates with the dedicated interface, which receives and process the signal from the probe and relays it directly to the machine tool CNC.
To ease the setting of T25P operating modes, switches on the top panel of the interface can be used to select the proper set up.
BENEFITS
Improved production quality
Increased Productivity
High accuracy that means sensitive scrap reduction
Incredible measurement performances on complex and sculptured surface too
Compact dimensions and great mechanical robustness
High immunity to noise and vibration
TECH SPECS
For all technical characteristics, please refer to the table in the DOWNLOAD section
VERSIONS
T25P is available in two versions, both of them very small sized:
TL25P is the ideal solution for grinders and sharpeners
T25P has been designed to be use on machining center and milling machine even with horizontal spindle orientation
Download
BROCHURES AND MANUALS
TECHNICAL DOCUMENTS