High Precision Optical Transmission Probe
VOP40P
VOP40P is a Marposs high precision probe with optical transmission through which any user, through automatically detection of machine axis position, can achieve part positioning and accurate part measurement. Based on piezoelectric technology, it guarantees unbelievable accuracy and a repeatability value within 0.25 μm (2σ).
As available space inside machine working areas is generally reduced for industries like die and mold, Marposs has focused its attention on a compact designed probe.
VOP40P operates with the VOI receiver through optical modulated transmission which, over  an incredible immunity to light interference, It also introduces the multi-channel capability that allows the user to manually change the frequency channel, ideal solution when many system are nearly installed in the same plant.
For what concern the touch feed rate, VOP40P is able to work up to F5000 with a further reduction of machine cycle time.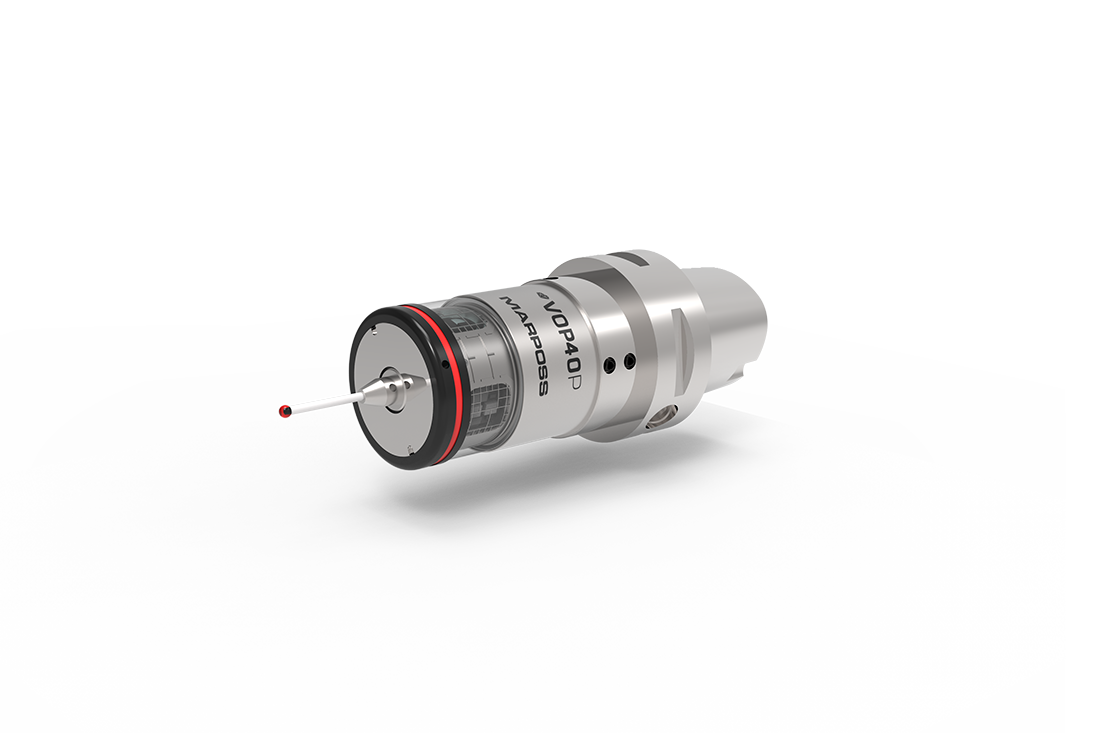 DESCRIPTION
As well as for on machine part check with standard solution, also VOP40P take advantage of automatically  detection of machine axis position on machining center and milling machine for part positioning and part control, main difference are the excellent metrological performances.
VOP40P is one of the smallest wireless touch probes, with its 50 mm of length and 40 mm of diameter. Nonetheless, the probe ensures robustness and reliability even in harshest working environments.
The modulated transmission and the possibility to choose the proper channel make each application able to support up to 4 probes, managed by the same VOI receiver. Furthermore, VOP40P and VOTS tool setting system can be used for twin applications allowing users to check the part and the tool using the same receiver.
Lastly, VOP40P probe programming resides in the VOI receiver and it is achieved through a digital display and a remote control, facilitating the installation and setting operations.
To know more read our case study
BENEFITS
Improved production quality
Increased Productivity
High accuracy that means sensitive scrap reduction
Incredible measurement performances on complex and sculptured surface too
High speed probing for a further cycle time reduction
Compact dimensions
Compatible with preinstalled system
High immunity to light interferences
Great battery life
TECH SPECS
For all technical characteristics, please refer to the table in the DOWNLOAD section.
VERSIONS
VOP40P is available in compact version with 50 mm length for 40 mm diameter.
Download
BROCHURES AND MANUALS
TECHNICAL DOCUMENTS