Radio Transmission System for Part Inspection and Tool Setting on Machining Centers
WRS
The WRS system is a high precision probing system designed for measuring and setting up parts on 5 axes machine tools and machining centres. The system represents a highly flexible solution that uses a spread spectrum radio signal transmission system to guarantee extremely reliable data communications.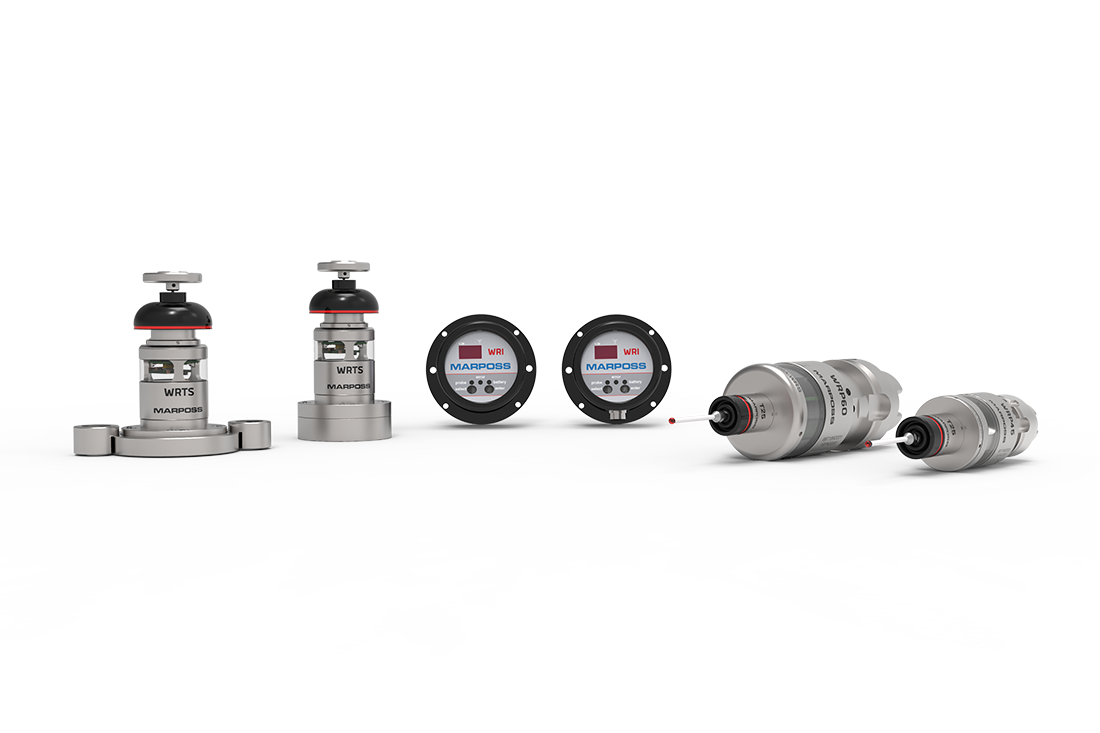 DESCRIPTION
The WRS system consists of a transmitter (WRP) and a receiver with a built-in interface (WRI). The system components communicate with each other by means of a spread spectrum radio transmission system, with automatic channel change and a working frequency of 2.4 GHz.
Thanks to this transmission technology, the system is immune to signal interference and features 79 channels, each with 4 sub-channels so that it is possible to use 4 probes on a single application, and up to 316 in the same production facility.
In addition, the intrinsic advantage of radio transmission lies in the fact that it is not necessary position the probe and interface so that they are in each other's line of sight; in fact, the system is capable of operating and transmitting the measurement information over distances of up to 15 m.
The data transmitted by the application at the moment of contact are processed instantaneously by the CN in order to identify, position and measure the part being processed, transforming the machine tool into an effective inspection and measurement environment.
The system is also capable of handling four MIDA transmitters in sequential mode, using single WRI interface.
With WRS it is possible to inspect the part and the tool using two probes, one for checking the part and the other for inspecting the tool, but both managed by the same receiver.
Thanks to its robust build, WRS is highly resistant, even in the most hostile machine conditions.
The WRS system offers immediate advantages, such as  reduction in the time necessary to perform normal machining operations, as well as in the quantity of rejects, thereby maximising production and producing significant savings from an economic point of view.
BENEFITS
Process and quality control
Reduced quantity of rejects and immediate savings
Compact design, ideal for use on medium-large machining centres
Robust build and resistance to ambient conditions
Immune to radio signal interference
Each application can handle up to 4 probes in sequential mode
Up to 316 probes in the same facility with interference-free transmissions
Repeatability 1 μm (2σ)
TECH SPECS
For all technical characteristics, please refer to the table in the DOWNLOAD section.
COMPONENTS
The WRS system is highly flexible since it is available with various types of  touch probes for work piece and tool controls:
WRP45 touch probe for parts with diameters of 45 mm: it is ideal for multiple-axis milling machines and machining centres because it combines compact size with radio transmission, which is advantageous since it guarantees communications even when the transmitter and receiver are not positioned in line of sight.
It is compatible with the Marposs T25, TT25 and TT30 probe ranges.
It is used together with the WRI integrated interface receiver.
 
WRP60 touch probe for parts with diameters of 60 mm: It is ideal for use on large scale work stations and vertical lathes. The probe unites an extremely robust build with extended operating autonomy.
It can be configured for use with Marposs T25 and T25 probes and with extensions up to one metre in length.
It is used together with the WRI integrated interface receiver.
 WRTS tool inspection probe: WRTS probes can be used on work stations for integrity controls, tool length and diameter measurements, and tool wear compensation.
The central part of the contact disk is manufactured in tungsten carbide in order to protect it from damage during the measurement phase. It is completely wireless, which means that it is very simple to install. The WRTS probe is available in a central mounting version, or a version with lateral mounting brackets.
The probe be used in TWIN applications: work piece and tool controls managed by the same receiver.
It is used together with the WRI integrated interface receiver.
WRI receiver with integrated interface:  WRI is equipped with a practical, 4-digit display that, together with the remote control unit, make it easy to program and to adjust in the event of a malfunction.
The receiver is secured using 4 x M4 screws; however it is also equipped with a magnetic mounting base, which makes it easier to install and position. The WRI receiver may also be positioned outside the machine tool.