Valve Seat Inspection Gauge
M9VG
The M9VG is the Marposs product line of motorized manual plugs, for valve seats inspection of cylinder head.
They were developed to measure form parameters and all profile features, thanks to an additional scanning system.
The gauges were specially designed for a hand-held application assuring robustness and easy handling over time. They are equipped with a high precision motion control and a special transmission joints, which guarantees excellent performance, minimizing the operator influence.
Upon request, it can work as a free-standing system due to an integration of special insertion guide.
A full application for a complete inspection of all valve seats includes two M9VG plugs (intake & exhaust).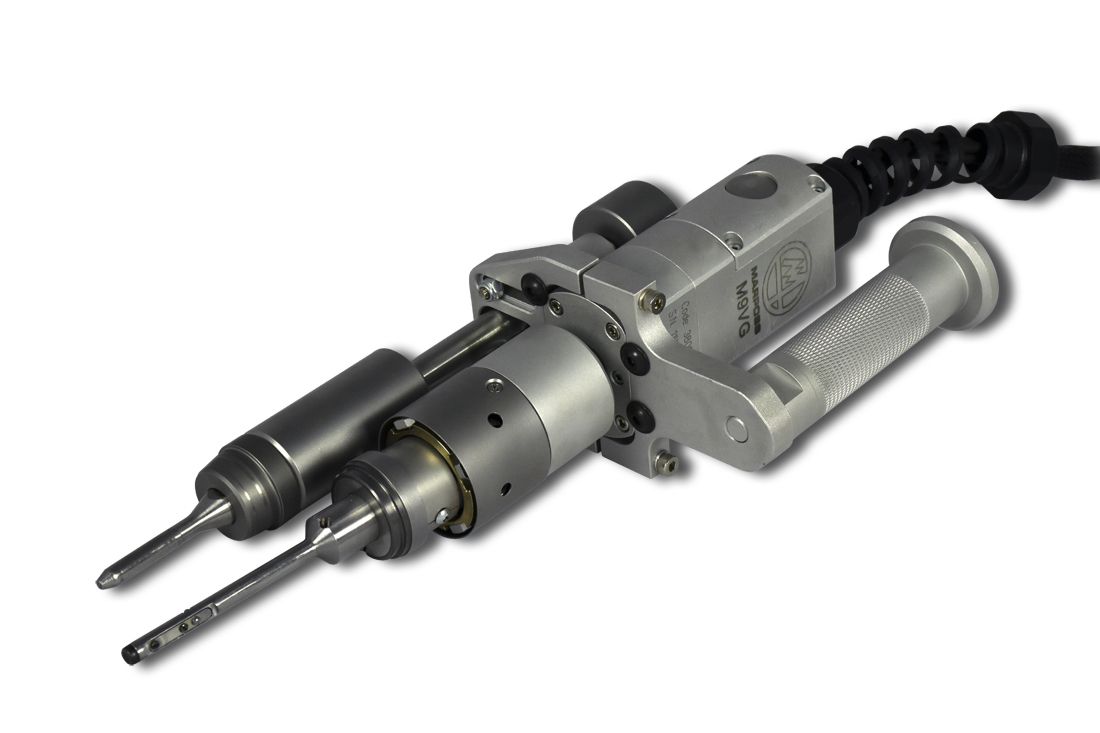 BENEFITS
Quick and extremely precise inspections to improve the production process
Robustness and reliability for excellent performances under continuous measuring operations
Hand-held design for better ease of use
DESCRIPTION
The M9VG, is a motorized manual plug, that offers an accurate solution to measure valve seats of cylinder heads.
It performs measures of run-out (between valve seat and guide) and roundness by the acquisition of two specifically designed probes.
Thanks to an additional scanning system, the M9VG Scan allows the full part inspection performing also the measures of angles, seat straightness and seat length.
Each probe is provided with tungsten carbide contacts as a standard.
The gauge is inserted into the valve guide by the operator, who starts the measuring cycle by pressing a button located on the plug handle or by external push-button.
The system rotates inside the valve seat with high precision and performs dynamic inspections; the effects of operator movements are fully minimized thanks to special transmission joint.
Upon request, it can work as a free-standing system due to an integration of special insertion guide which also improves the metrological performances.
The full application includes two M9VG plugs (one for the intake seat inspection and the other for the exhaust), the relevant masters and driver unit interface.
An industrial PC with Quick SPC installed is needed to run and manage the application.
TECH SPECS
Typical Valve Seat Features
Ø Valve guide min (mm): 5
Ø Valve seat min (mm): 20
Seat Length (mm): 1-2
Seat Cone Angle (°): 60-120
Deck and Throat Angles (°): 20-40
M9VG
Cycle time without insertion guide (s):  approx.4
Cycle time with insertion guide (s): approx. 6
M9VG SCAN
Cycle time with insertion guide (s): approx. 10
VERSIONS
M9VG
Measures performed: T.I.R. or concentricity and roundness
With or without insertion guide
M9VG SCAN
Measures performed: T.I.R. or concentricity, roundness, seat straightness, seat length, seat angle, deck angle, throat angle
With insertion guide
Top
Contact us