Wireless Handles for Manual Gauging
I-WAVE™ - M1WAVE - MINIWAVE - MINI I-WAVE - MULTIWAVE™
The Marposs wireless handles overcome cable management issues in manual measurement instruments with Bluetooth wireless technology. The signal is sent from an electronic or mechanical measurement gauge head to one of the Marposs data display and processing units.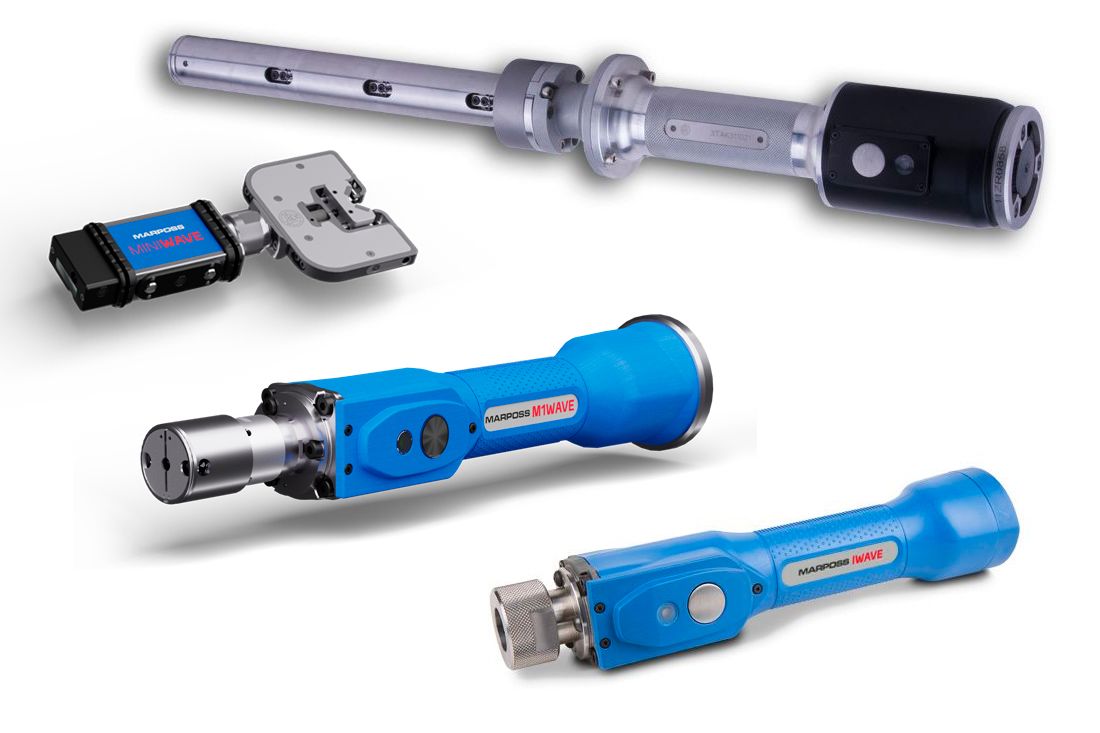 DESCRIPTION
The sturdy and reliable I-Wave handles, can be used for manual measurements by operators even in the most hostile environments. All gauge heads with M10, M6 or M3.5 thread can be easily mounted with an adaptor. The versatility of the handles is further increased by the Star Lock system that allows the gauge head to be quickly changed for utmost gauge head interchangeability.
The MultiWave handle uses Bluetooth technology, to manage multi-transducer electronic gauge heads for the simultaneous measurement of multiple sections, to check diameters and other geometries of a bore (ovality, taper, etc.) at different heights. It can program the number of transducers to be used (max 7) or to set other important parameters with a specific software. Once the configuration parameters have been defined they are sent to the handle via Bluetooth and then saved in the internal memory.
All the handles can transmit the measurements via Bluetooth to one of the Marposs electronic units, such as Nemo, Merlin, Merlin Plus, E9066 or any PC within a range of 10 m.
BENEFITS
the lack of cable overcomes entanglement and/or failure problems
ergonomic design
suitable for use in hostile and aggressive environments
easy interface with all wireless electronic devices
the sturdy and reliable Star-Lock system allows the gauge head to be changed in a few seconds, without any zero setting instrument
double recharge mode with portable "Clip On" charger and stand with battery charger
the MultiWave version allows for the simultaneous acquisition of multiple sections
TECH SPECS
GENERAL CHARACTERISTIC

I-Wave

I-Wave

M1Wave

M1Wave

Mini I-wave

Mini Wave

Multi Wave

Compatibility

MBG M10 M6 M3,5

(by means of an adapter)

EBG

MBG M10 M6 M3,5

(by means of an adapter)

EBG

Marposs electronic

transducers

Wireless transmission technology

BT 2.0

Communication distance

10m

Compatibility Marposs Electronic Display units

Nemo, Merlin line, E9066 line

Compatibility with SWs for PCs with Windows OS

Easy Acquisition, Melin Plus SW, QSPCW

Battery type

Li-ion Recharg.

Alcaline "C"

Li-ion Recharg.

Alcaline "C"

Li-ion Recharg.

Battery min. duration

40 hours

220 hours

40 hours

220 hours

36 hours

Time to reach the full charge of the battery

5-6 hours

N/A

5-6 hours

N/A

3 hours

5-6 hours

Weight

750g

730g

600g

580g

390g

340g

745g

Max. Number of manageable signals

N/A

1

N/A

1

7
VERSIONS
Wireless handles are the link between the solutions proposed by Marposs for the manual measurement of bores, diameters, slots, tapers, etc. and electronics for visualization and processing of results
I-Wave and Wave are robust and reliable without display handles that require the use of display electronics for programming and data acquisition.
Mini I-Wave and Mini Wave are the Wireless handles of reduced size that, thanks to the small weight, guarantee excellent performance even in case of difficult access or where an increase in ergonomics is required compared to traditional handles.
The MultiWave handle is the handle with 7 channels to collect multiple signals simultaneously, acquiring measurements on multiple sections and/ or carrying out geometric controls of components such as ovality, conicity etc...