Wireless Handles for Manual Gauging
I-WAVE™ - MULTIWAVE™
The Marposs wireless handles overcome cable management issues in manual measurement instruments with Bluetooth wireless technology. The signal is sent from an electronic or mechanical measurement gauge head to one of the Marposs data display and processing units.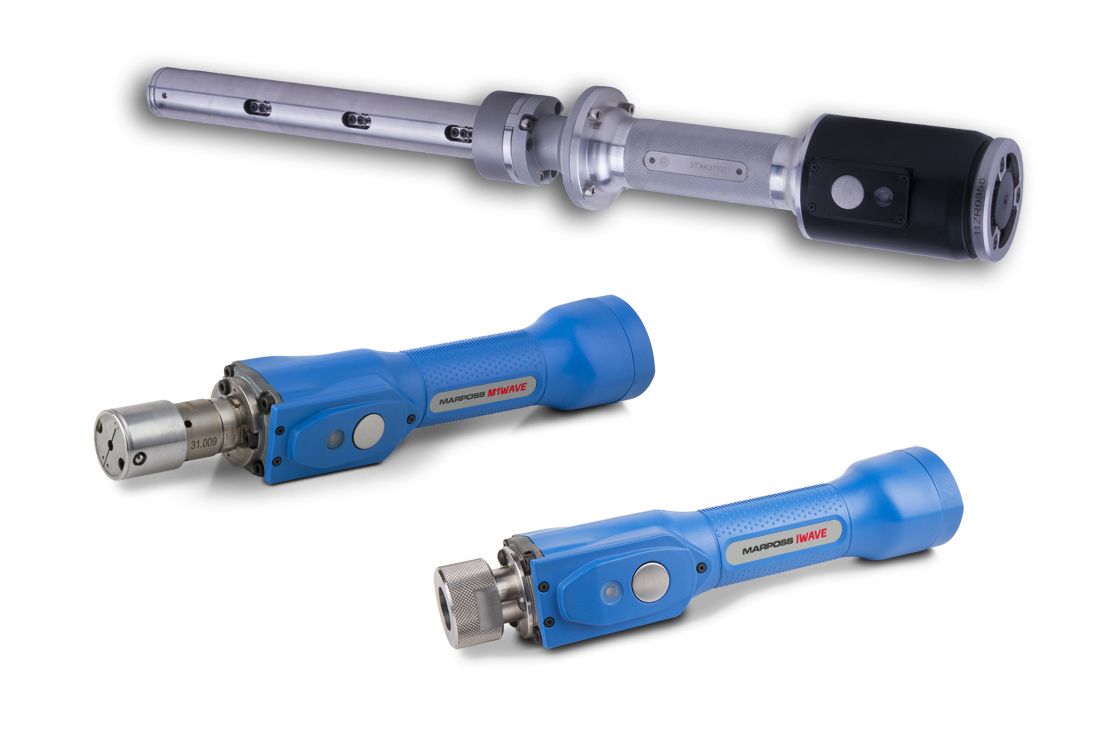 DESCRIPTION
The sturdy and reliable I-Wave handles, can be used for manual measurements by operators even in the most hostile environments. All gauge heads with M10, M6 or M3.5 thread can be easily mounted with an adaptor. The versatility of the handles is further increased by the Star Lock system that allows the gauge head to be quickly changed for utmost gauge head interchangeability.
The MultiWave handle uses Bluetooth technology, to manage multi-transducer electronic gauge heads for the simultaneous measurement of multiple sections, to check diameters and other geometries of a bore (ovality, taper, etc.) at different heights. It can program the number of transducers to be used (max 7) or to set other important parameters with a specific software. Once the configuration parameters have been defined they are sent to the handle via Bluetooth and then saved in the internal memory.
All the handles can transmit the measurements via Bluetooth to one of the Marposs electronic units, such as Nemo, Merlin, Merlin Plus, E9066 or any PC within a range of 10 m.
BENEFITS
the lack of cable overcomes entanglement and/or failure problems
ergonomic design
suitable for use in hostile and aggressive environments
easy interface with all wireless electronic devices
the sturdy and reliable Star-Lock system allows the gauge head to be changed in a few seconds, without any zero setting instrument
double recharge mode with portable "Clip On" charger and stand with battery charger 
the MultiWave version allows for the simultaneous acquisition of multiple sections 
TECH SPECS
the handles contain the Bluetooth transmitter and the power supply batteries
the I-Wave handle is available with standard alkaline type "C" batteries or inductive Li-ion batteries with a continuous operating time of, respectively, 220 and 40 hours
the MultiWave handles is fitted with rechargeable Li-ion batteries with a continuous operating time of, respectively, 8 and 36 hours
quick charge (80%): 2 hours
complete charge: 5/6 hours
max transmission distance: 10 m
IP protection rating: 67 (I-Wave,); 65 (MultiWave)
weight: 730 g (I-Wave); 730 g (MultiWave)
the I-Wave handles guarantee excellent repeatability of 1 µm or 0.000040 inches
for the MultiWave handles the repeatability error is considered the max between 10% of the tolerance and 1.5 µm
VERSIONS
Marposs provides its customers with wireless handles either compatible with mechanical transmission (I-Wave) or electronic transduction (M1Wave) gauge heads. Marposs supplies a version with alkaline batteries and a version with rechargeable Li-ion batteries.
The MultiWave handle manages multi-transducer gauge heads  and can be used to measure various sections and diameters at the same time inside the same bore.