Wireless Gauging Handle with Color Screen
I-WAVE2™
I-Wave2 is the most advanced and precise solution for manual off-line measurement. This smart gauge monitors and improves our customers' quality by providing the best measuring performance on the market (sub-micron precision), and, though Marposs Industrial computers, measurements storage  and statistical analysis. By connecting the gauge with a variety of gaging heads, the i-Wave2 can measure all kinds of internal diameters (from 3mm up), external diameters and gaps.
The I-Wave2 is an innovative rechargeable, wireless gauging handle with integrated 1.8" TFT color screen, able to display the measurement value directly in the operator's hand. By integrating a computer into the gauging handle, Marposs has achieved an unprecedented level of convenience and performance in manual gauging technology.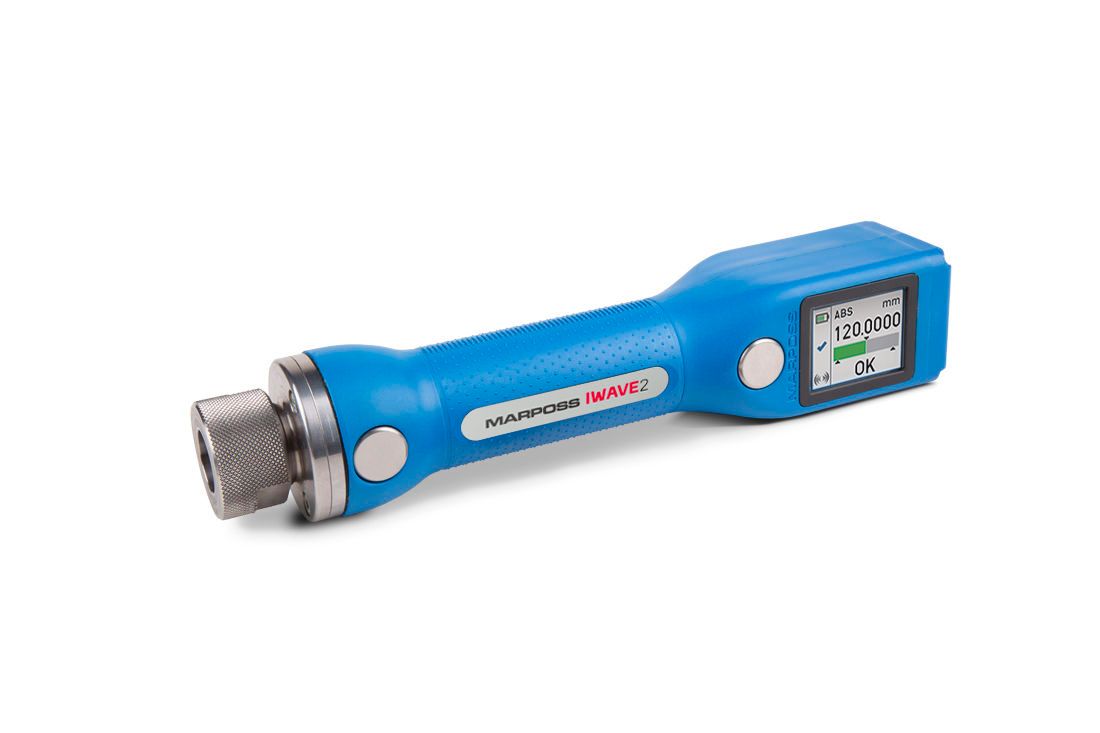 BENEFITS
Immediate and easy visualization of the measurement value;
Automatic display orientation;
Able to work stand alone, programmable by Android phone/tablet
Quick replacement of gauging head;
 It accepts any gauging head (plugs, snaps and depth both from Marposs and third party);
Possibility  to measure as a stand-alone gauge;
 Automatic measure upload to the gauge computer via  Bluetooth, up to 10m distance; memorization of the last measurement at bigger distance ;
24/7 use thanks to fast recharging Li-Ion battery;
No cable entanglement or breaks;
Ergonomic design for both left and right handed operators;
DESCRIPTION
I-Wave2 is the latest and most innovative gauging handle from Marposs. It can integrate either bore or snap gauging heads depending on the customers' needs and allows quick replacement of any gauging head. The I-Wave2 integrated 1.8" TFT color screen displays the measurement value and the measurement status directly in the operator's hand. ,
According to Marposs' tradition, the I-Wave2 is the ideal solution for dimensional inspection in the workshop environment thanks to its high protection degree against coolants and dust and its innovative magnetic buttons system.
The i-Wave2 handle automatically transmits via Bluetooth the measurement to any Marposs or commercial/industrial PC within 10 meters. When operated farther away, the handle holds the last measure until the operator returns in range and transmits it to the computer.
The ergonomic design, with twin push buttons, automatic display orientation and inductive recharging system makes the Marposs I-Wave2 extremely easy and comfortable to use for the operators.
TECH SPECS
Any mechanical gauge head, with M10, M6 or M3, 5 thread can be mounted very quickly by means of an adapter to convert the handle to a plug, snap or depth gauge. Customers can choose between two systems: Direct Lock and Star-Lock, to conveniently carry out gauge head changeover in a very short time.
Seamless synchronization with the gauge computer.
Communication software, developed by MARPOSS, gives users the opportunity to connect the I-Wave2 to any commercial computer.
Wireless trnsmission technology:  Bluetooth® Smart
Display 1.8" full color with automatic orientation
Auto switch-on by accelerometer
Display view aspect: Portrait / Landscape-selectable
Programmable auto-shutdown time    
Settable acoustic feedback       
Communication distance: 10 m
IP rating: 67
Weight : 540 gr
Resolution: 0.0001 mm
Linearity deviation: 0.0003 mm over 5 mm travel
Battery type: rechargeable Li-Ion
Wireless charging system 
Inductive charging stand available (separate order)
APPLICATIONS
 The Marposs I-Wave2 handle allows three levels of measurement process.
The handle can be used as a stand-alone gauge by assembling the required (and interchangeable) bore, snap or depth head. Programmability from Android tablet/smartphone makes it the state of the art for simple manual gauging.
Marposs can also provide full application, with its own Merlin and Merlin Plus gauge computers, allowing the management of multiple gauges and guided measurement sequence for complex parts (engine block, crankshaft and cylinder head).
The I-Wave2 handle is part of the Marposs Smart Solutions for Industry 4.0. The innovative guided sequence system of the Marposs gauging industrial computers directly turns on the screen of the I-Wave2 to be used for the next measurement. These innovative features, in combination with the ability to communicate and to provide feedback to the factory systems make the Marposs Smart Solution an ideal choice for dimensional inspection in mass production plant. In addition to an extremely accurate measurement, this system interacts with the factory management system providing information to increase the customer's ability to monitor, control and flexibly configure the production process.
Top
Contact us