DESCRIPTION
Dosaset is a dispenser for cyclohexanone or similar solvents, used for manual bonding of plastic components, disposables, tubes and joints.
It employs a new patented method, based on a rotating and vibrating system.
It does not use porous elements or capillary holes or fluid pumps. Its adapters are directly dipped into the solvent, avoiding blockage or obstructions. 
PERFORMANCE
This instrument is nearly essential in assembly procedures, due to its quick operations, its interface which is easily programmable even from a PLC or PC, and an efficient structure that avoid waste of solvent and possible obstruction problems.
In addition, the new method based on rotating and vibrating system allows a better spread of the solvent, and a continuous control of the liquid level.
Adapters are stainless steel with internal lining in closed-cell polyethylene foam, cut in special shapes according to the diameter of the specific part to be bonded.
Up to 4 adapters can be installed on the same instrument. They are easily removable and interchangeable, making this device one of the peak products in its branch.
CONNECTIVITY
This device is provided with a photocell that actuates the wheel rotation, and a PLC interface that allows the remotely device control. The keyboard on the instrument permits to program the work sequence in order to reduce waste of time. It is available a USB/RS485 communication interface for data transmission, to display and save bonding information on personal computer and IPC: production rate, units counter, sequences, alarms.
AST Combined Device for pipe blowing
This device is particularly suitable for the use of tubes with internal diameters of less than 3 mm and allows an air flow to pass through them, so that they can be introduced into the Dosaset solvent dosing bushings, without these filling up, thus avoiding possible occlusions.
The air outlet flow is limited by fixed bottlenecks inside the AST body and by the inlet pressure adjustment carried out by means of a reducer positioned at the rear: the outlet air adjustment pressure is displayed by the pointer pressure gauge positioned at the front of the device.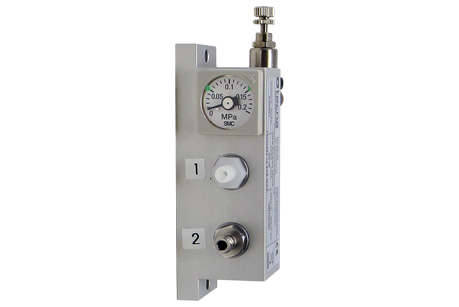 BENEFITS
Quick and ready new gluing
Clean applications: the sponges are dipped and washed in the solvent at every wheel turn, keeping them always clean and ready.
Vibration of the tube tip: helps the distribution of the solvent, compensates the tolerance on the tube diameter.
No solvent regulation or adjustment required: it depends on the geometrical properties of the dispensing cartridges.
No clogging risk: any part is clogged by the evaporation of the solvent with the deposition of plastic residuals.
TECH SPECS
SPECIFICATIONS

Power supply

12 Vdc, 1 A, jack diameter 2.1 mm

Option: 24 Vdc, M8 connector

Wheel Rotation

Electronic actuation via photocell or PC/PLC command

Keyboard

4 keys: [R] Reset, [S] Sequence, Back, Forward

Indicators

Green LED: power on, Red LEDs: level alarm / wheel alarm Yellow LEDs: sequence / photocell / wheel position

Audible alarm

Ultrasound sensor for solvent level

Programmable parameters

Repetitive sequence for bonding tubes of different diameters on the same assembled part  

Dimensions (HxWxD)

140 x 235 x 145 mm

Weight

4,00 kg
VIDEO
DOSASET
Dosaset is a dispenser for cyclohexanone or similar solvents, used for manual and automatic bonding of plastic components, disposables, tubes and joints.