描述
Dosaset是一种环己酮或类似溶剂的分配器,用于塑料组件、一次性用品、管道和接头的手工粘接。
它采用了一种新的专利方法,基于旋转和振动系统。它不使用多孔元件或毛细管孔或流体泵。其适配器直接浸入溶剂中,避免堵塞或阻塞。
性能
该仪器在装配过程中几乎是必不可少的,因为它的操作速度快,它的接口甚至可以从PLC或PC机方便地编程,以及一个有效的结构,避免浪费溶剂和可能的阻塞问题。
此外,新方法基于旋转和振动系统,可以更好地分散溶剂,并连续控制液位。
适配器是不锈钢,内部内衬闭孔聚乙烯泡沫塑料,根据要粘合的特定部件的直径切割成特殊形状。
同一台仪器最多可安装4个适配器。他们容易移动和互换,是这一系列产品中的明星产品之一。
连接
该设备具有驱动车轮旋转的光电管和允许远程设备控制的PLC接口。仪器上的键盘允许对工作顺序进行编程,以减少时间的浪费。可提供USB/RS485通讯接口进行数据传输,在个人电脑和IPC上显示和保存键合信息:产量、单位计数器、顺序、报警。
AST Combined Device for pipe blowing
This device is particularly suitable for the use of tubes with internal diameters of less than 3 mm and allows an air flow to pass through them, so that they can be introduced into the Dosaset solvent dosing bushings, without these filling up, thus avoiding possible occlusions.
The air outlet flow is limited by fixed bottlenecks inside the AST body and by the inlet pressure adjustment carried out by means of a reducer positioned at the rear: the outlet air adjustment pressure is displayed by the pointer pressure gauge positioned at the front of the device.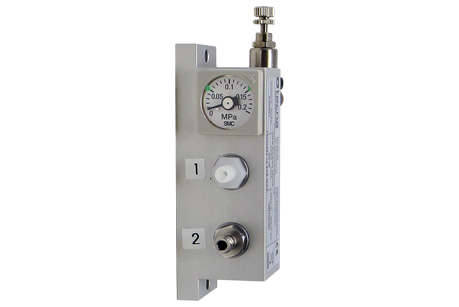 优势
快速准备新胶水
清洁用途:每轮转动时,海绵都要在溶剂中浸洗,保持清洁。
管尖振动:有利于溶剂的分布,补偿管径的公差。
不需要溶剂调节或调整: 这取决于分配筒的几何特性。
无堵塞风险: 任何部分都被溶剂的蒸发和塑料残渣的沉积所堵塞。
技术规格
SPECIFICATIONS 技术参数

Power supply

12 Vdc, 1 A, jack diameter 2.1 mm

Option: 24 Vdc, M8 connector

Wheel Rotation

Electronic actuation via photocell or PC/PLC command

Keyboard

4 keys: [R] Reset, [S] Sequence, Back, Forward

Indicators

Green LED: power on, Red LEDs: level alarm / wheel alarm Yellow LEDs: sequence / photocell / wheel position

Audible alarm

Ultrasound sensor for solvent level

Programmable parameters

Repetitive sequence for bonding tubes of different diameters on the same assembled part  

Dimensions (HxWxD)

140 x 235 x 145 mm

Weight

4,00 kg
VIDEO
DOSASET
Dosaset is a dispenser for cyclohexanone or similar solvents, used for manual and automatic bonding of plastic components, disposables, tubes and joints.