Manual Gauge Station to Check Connecting Rods
M31
M31 is a bench gauge developed to measure conrods; it checks all the typical characteristics of the part in a final or inter-operational inspection, accurately.
The gauging station, designed for the shop floor, performs sophisticated measurements both dimensional and geometrical.
It can be tailored to inspect a single part type or configured to be easily retooled for different part types.
The M31 bench gauge, is connected to an electronic unit and the gauging results are displayed with the help of the Marposs Quick SPC software package.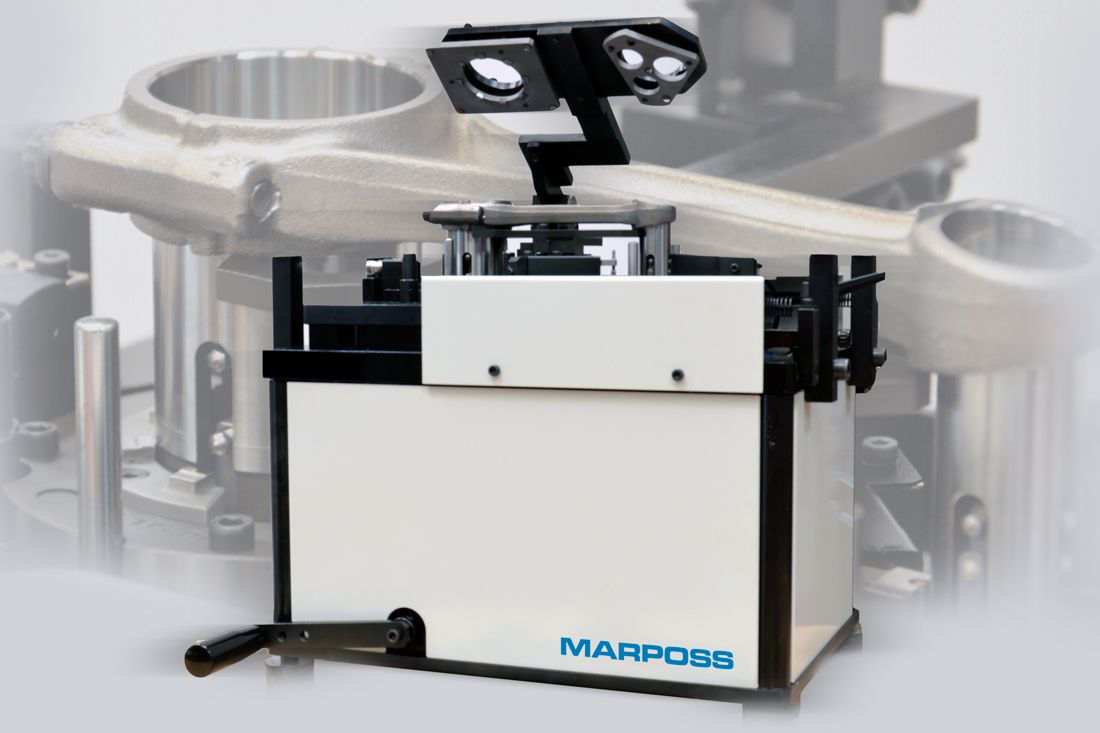 DESCRIPTION
M31 is a manual gauging station developed to measure automotive conrods on the shop floor.
The station performs sophisticated measurements by acquiring two measuring sections, both for the pin bore and the crank bore; each with four contacts placed 90° apart.
The gauging station performs the following checks:
Pin and crank bore internal diameters
Thickness
Ovality
Taper
Center distance
Squareness of bores to faces
Twist
Bend
Parallelism between crank bore faces
The gauging station works in harsh environments and it can be tailored to inspect a single part type, or can be configured to be retooled for different part types.
The workpiece can be moved to the measuring area through a mechanical elevator activated by manual or pneumatic system.
The standard bench for conrods comprises an ambient thermal probe.
As optional, it is possible to integrate a workpiece thermal probe and a laser marker.
BENEFITS
Extremely precise solution for a complete quality inspection of conrods
Robustness, which assures accurate checks under continuous measuring operations
Retoolable gauging station for different part types
Reliability, to ensure excellent performances over time
TECH SPECS
Standard application ranges for automotive conrods and retoolable station are:
Pin bore diameter - from 17 to 60 mm
Crank bore diameter - from 40 to 110 mm
Center distance – up to 300mm
Conrod thickness - from 15 to 50 mm
Inspection of parts outside the above ranges can be quoted upon request.
Bench dimensions:
| | |
| --- | --- |
| Length | 515 mm |
| Width | 410 mm |
| Height | 410mm |
for typical conrods (center distance 140/145mm)