Post-Process Solution for ID and OD Measurement on Machine Tool
P3D ME
The new electronic gauge P3Dme connected with Marposs measuring heads, represents an economic, compact, practical, and reliable solution for part dimension control, during the production process. By doing this, it gives immediate feedback to the machine tool.
P3dme is a compact gauge with a cover lens touchscreen that can be easily installed on any machine tool or dedicated measuring bench for part control; this is done immediately after its production. The human interface is intuitive and flexible in order to make the operators' daily work easier.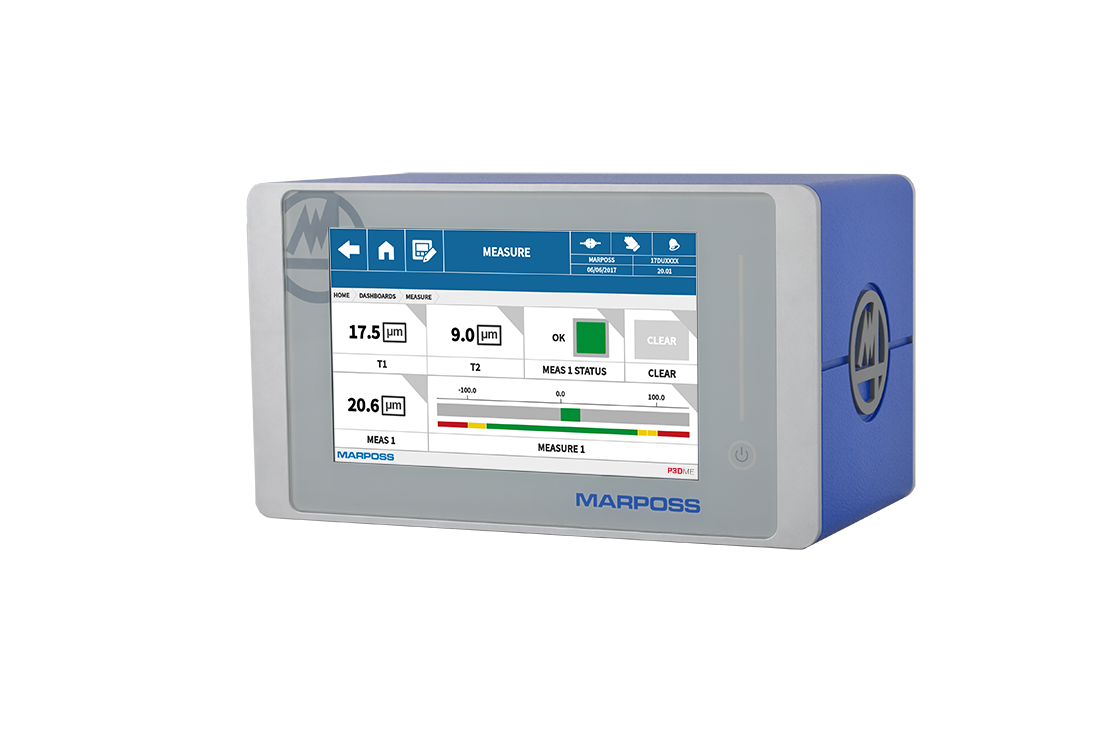 DESCRIPTION
Increased production and real-time quality control are key elements for any industrial process. P3dme electronic amplifiers, connected to the Marposs measurement heads, represent a flexible, practical, and reliable solution for checking parts immediately after being worked.
The P3dme gauge enables the users to check the state of the machining process and provides immediate compensation information to the machine tool. The P3Dme is an extremely compact gauge, equipped with a cover lens touch screen, that can be easily installed on a machine or on a dedicated measurement bench. The new user interface is designed to be intuitive and user friendly, in order to simplify the day-to-day production operations. Product flexibility is obtained from the different industrial protocols' available, which grants the possibility to install a human interface directly in the machines' pc and define the operators' display layout. 
The P3dme and Marposs measurement heads have been designed for use in working environments where contact with coolants, non-aggressive and aggressive, are present.
BENEFITS
Constant productivity is assured and maintained
Real-time part quality check
Immediate compensation of the machine drifts
Cycle-time optimization
Part production within tolerance
Operator influence minimized
Integration with machine logic (by digital I/O or fieldbus)
Touch screen monitor or human interface directly on machines' pc
TECH SPECS
For all technical characteristics, please refer to the table in the DOWNLOAD section.
VERSIONS
P3dme is a stand-alone unit that is placed on top of the machine or with a din rail for the cabinet installation. In this last case, it is possible to put the display on a remote panel, or install the human interface on the machines' pc. The gauge features can be easily adapted according to the application and part type.
Post-process measure of smooth or interrupted part surfaces
Static and dynamic control of the part
Head's finger retraction management (Marposs' head contacts are retracted to avoid any interference with the part during the head movement)
Through-feed part control
Measure of smooth workpieces or parts with interruptions on centerless and double disk machine
Automatic part detection
Upgrade of old E3M applications
P3dme can be configured to replace an old E3M application
The logic is pin-to-pin compatible with E3M
Download
BROCHURES AND MANUALS
TECHNICAL DOCUMENTS