Modular Sensors Network
SMARTNET™
SmartNet is the new fast, flexible and modular measurement system that is automatically configured to facilitate the acquisition of measurements.
Pencil probes, plug gauges, measuring cells, QuickBlocks and any other Marposs sensor can now be supplied with the SMART connector to be integrated in the SmartNet.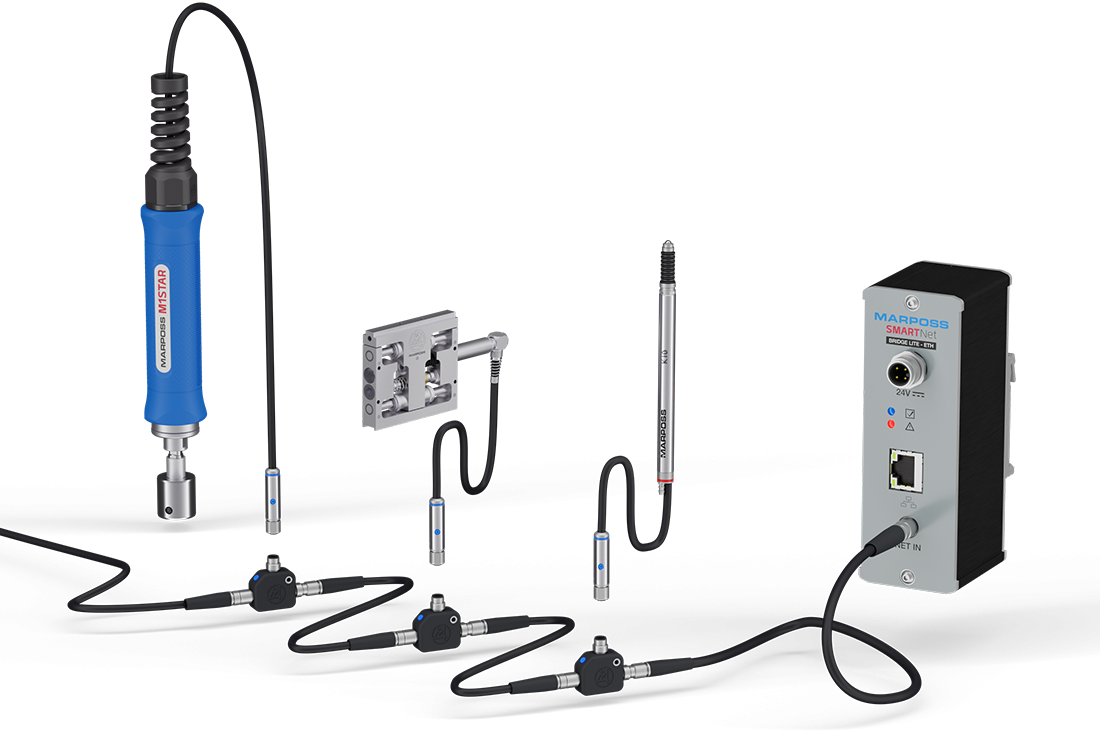 DESCRIPTION
SmartNet exploits single-cable Ethernet bus communication to connect sensors in a daisy-chain. It supports up to 250 sensors for each network and allows a distance of up to 20m between two successive sensors.
SmartNet automatically recognizes and configures all connected sensors, simplifying application layouts.
The digital communication bus combines performance (up to 32.000 synchronized measurements per second for each measuring point with 40 sensors connected simultaneously) and high reliability.
All sensors with the SMART connector, which integrates conditioning, digitization and linearization of the measurement signal, can be connected to the network. The SMART connector is equipped with a two-colour LED for quick and intuitive measurement feedback.
Thanks to its robustness (IP67) and flexibility, it is suitable for both manual and automatic applications. Using the Bridge module, SmartNet can interface PCs and PLCs through a high-speed Ethernet connection.
BENEFITS
Digitization and linearization across the entire measuring range make the Smart line sensors suitable for all types of applications
The high resolution allows accurate measurements
Modularity and robustness (IP67) make the network suitable for every application layout
Sensors self-recognition guarantee an high ease of use
The Ø8mm SMART connector simplifies installation and maintainability
The SMART connector integrates a two-colour LED allowing an immediate measurement feedback and guides the user in case of failure
SmartNet is easely integratable in third-party systems thanks to Driver Library
Measurements always synchronized
TECH SPECS
Up to 250 sensors connectable to a single network
The absence of analogue connections between the sensors guarantees a great robustness and allows 20 m connections between two successive sensors
Up to 32.000 synchronized measurements per second for a each measuring point with 40 measuring points simultaneously connected, 15.000 with 100 connected sensors.
Up to 1.5 million measurements per second on the communication bus
Download
BROCHURES AND MANUALS
DRAWINGS