Leak Testing Of Battery Tray With Sniffing System
Leak testing is a fundamental operation in the production process of the battery pack and its components such as tray, frame, housing, cover.
Due to the high cost of a battery pack, it's recommended to test the quality of its housing components during their manufacturing process and before proceeding with the next assembly operations.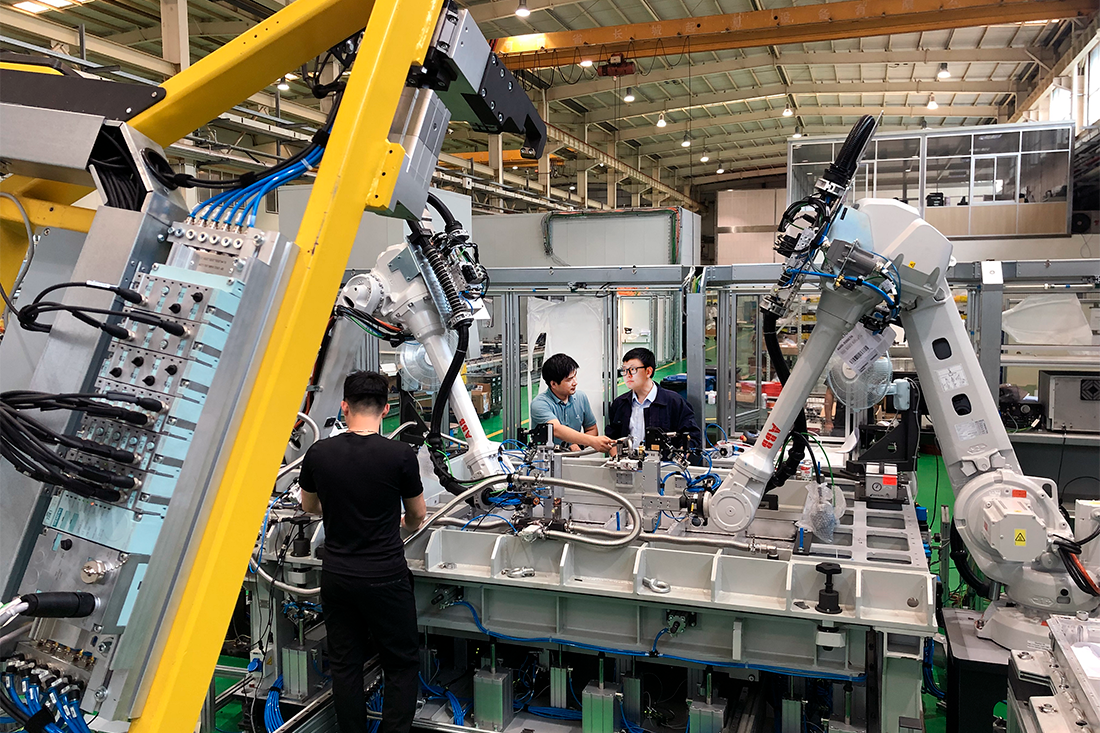 DESCRIPTION
Example of an automatic sniffing application of a battery tray, with helium as tracer gas. Three robots with sniffing probes are used to check the most critical sealing points, like welding's, clinched studs, bolts, and nuts.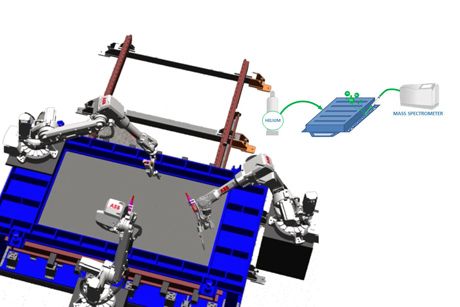 This technique of control on the battery pack components provides a reliable method to identify all the defects that could allow the entry of moisture and/or water inside the component under test.
Checking the pack components is an operation complicated by the large size and high deformability of the structure, even at low testing pressures. Marposs's long-term experience for this type of application always guarantees the best design and construction of the sealing lid, clamping systems, and sealing gaskets, which are used to isolate the test volume.
The testing method with tracer gas guarantees the maximum sensitivity and the possibility to identify extremely low leaks, also for big volumes of the part and in any environmental condition.
The possibility to identify the origin of the leak on parts that have been previously detected as scrap in a global testing, makes the method suitable for manual sniffing applications in repair station, in order to carry out corrective actions aimed at the recovery of the component.
Our helium leak test systems with sniffing are capable of testing leaks with thresholds in the range of 10-2 - 10-4 SCC/sec. This technology delivers great result in this range and makes the application simple and reliable.
BENEFITS
Detects leaks up to 10-4 SCC/sec
Tracer gas method independent on part and ambient temperature
Suitable for testing of parts with big volume and deformable housing
Identification of the position of the leak
Cycle time optimization, using multiple robot sniffers
Built according to customer's specifications
Dedicated or flexible solutions
Robust construction
Easy to maintain thanks to the  easy accessibility to their components
TECH SPECS
Manual or automatic solution
High reliability
Low running costs
Detected leaks up to 10-4 SCC/sec
Cycle time depending on the specific application requirements
VERSIONS
Fully automatic testing station, with one or more robot sniffing, for 100% in-line inspection
Manual sniffing station for off-line recheck of scrap parts in repair stations
Integrated air method (pressure decay or mass flow) can be used for gross leak pre-check