DESCRIPTION
The machine provides two vacuum chambers, with manual opening and closing, assembled on a welded and painted steel frame with movable panels. The chambers work alternatively: when one chamber is closed and it's running the test cycle, the other chamber is open for loading/unloading. The vacuum pumping system is placed behind the chambers. The cabinets containing the electric switchboard and the analysis systems are fixed to the frame, while the pneumatic boards for the distribution of the process gas are fixed to the vacuum chambers. Both chambers are opened automatically towards the centre of the machine, so that the loading/unloading position is the same for both of them and it is protected by optical safety barriers. HMI is made by a touch-screen colour monitor and two remote control boxes (one for each chamber) with the push-buttons and light signals for the operator. The equipment provides separate outlet ports for helium and air discharge and it is suitable to be connected to a helium recovery system.
BENEFITS
Dedicated pumping system for the analysis - Total flow
Pumping system placed on a cart for easy maintenance
Dedicated Electric and Pneumatic cabinet
Ventilation and Sound proofing of the pumping system
Totally customizable HMI interface
TECH SPECS
Productivity: 144 parts/h with semi-automatic tools (option), 120 parts/h with manual tools with n°1 part tested per chamber  - Reject threshold: 2,6 E-5 mbar*l/sec @ 20% of helium (and 80% Nitrogen) - Test Pressure (max): 20 bar
VERSIONS
Attached pictures of different layout versions described below:
Single Chamber machine for Evaporators. Productivity: 60 parts/h with n° 1 part per chamber  - Reject threshold: 3 gr/y, corresponding to 1,8 E-5 mbar*l/s of helium @ 10 bar - Test Pressure (max): 15 bar.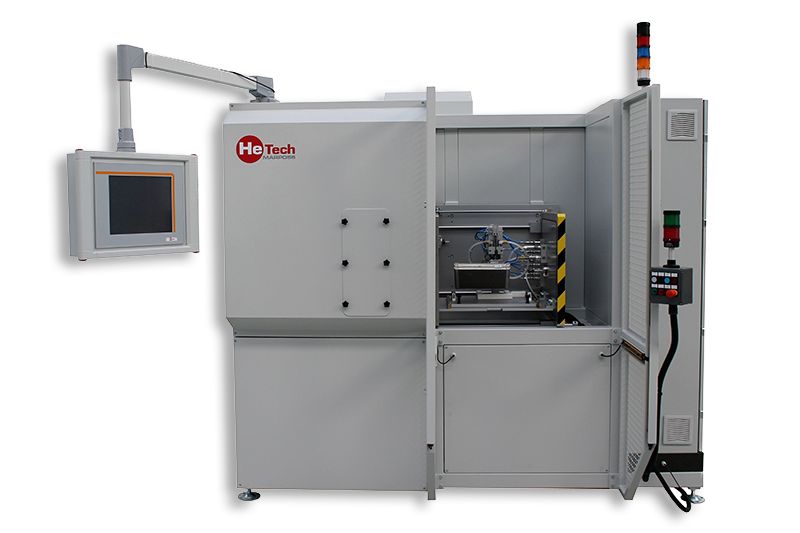 Semi-Automatic Assembly Line with 3 benches, each Double Chamber machine, with 3 mezzanines (Dry pumping system). Productivity: with n° 1 part per chamber tac-time for each chamber is 28 sec without considering pallet transition (total n° of chambers: 6) - Reject threshold: 3 gr/y, corresponding to 1,8 E-5 mbar*l/s of helium - Test Pressure (max): 30 bar.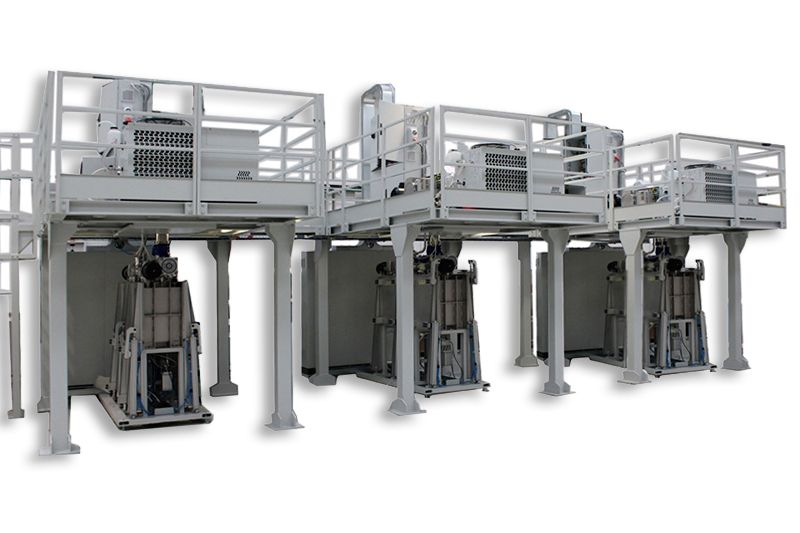 Top
Contact us