Flexible Semi-Automatic System for Glass Containers Measurement
VISIQUICK-MINI™
VisiQuick-mini™ is a compact, flexible, semi-automatic bench, based on optical technology, suitable for accurate dimensional and geometric measurement, on sample basis, of a large variety of glass containers having different size, shape and colour.
It can be installed, at the cold-end, in the laboratory or close to the manufacturing line, where it can profitably replace all go-no go gauges for external dimensions measurement.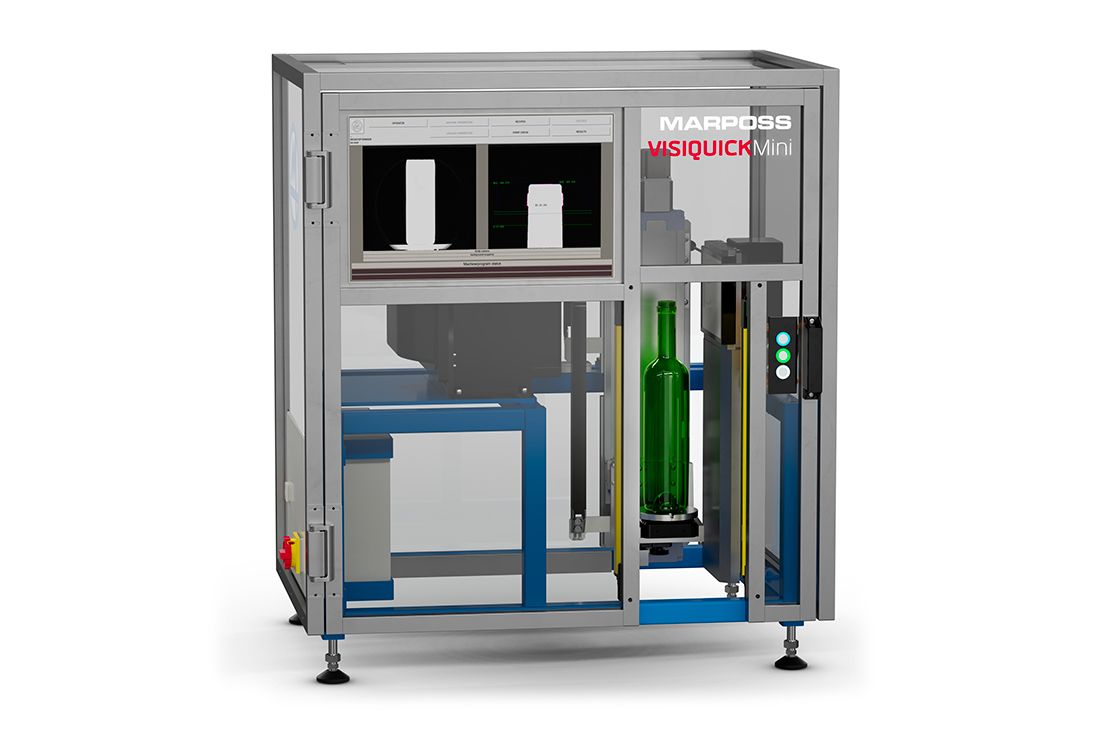 DESCRIPTION
The container to be measured is manually placed on a rotating plate, that can also travel along a vertical axis, in front of an optical measuring system based on camera (shadow casting technology).
An optional industrial scale can be integrated, under the plate, to measure the container's weight.
After Xing the recipe of the article to be measured and entering the mould numbers sequence, the measuring cycle is carried out automatically.
BENEFITS
Compact: Thanks to the use of a compact telecentric lense
Flexible: No job change required 
Cost effective solution
Extensive library of measurement algorithms including:
- Total height
- Verticality
- Bent neck
- Mouth parallelism
- Body parameters (e.g. diameters, long/short sides and diagonals on non-round containers, height of a given diameter, etc…)
- Finish parameters on any finish type (e.g. diameters, heights, angles, radiuses, etc…)
- Weight (optional)
Industry 4.0 ready: full compatibility with production monitoring systems (e.g.  Vertech SIL™)
Intuitive HMI: simple and intuitive user interface
TECH SPECS
VisiQuick-mini™ overall dimensions (mm)

1.000(l)x700(w)x1.000(h)

Power supply

220Vac

Measurable containers dimensions

Height ≤ 410mm

Body external diameter (or diagonal for non-round containers) ≤120mm

Weight ≤2Kg

Measurements repeatability (evaluated on the master)

≤+/-0,01mm

Industrial scale (optional) resolution

0,1g

Measurement time

30-60 sec.