Diamond Line for Ultra Precision Inspection
Marposs is a provider of precision probing solutions for machine tools, which have already reached brilliant levels of measure performance.
Today Marposs is going even further, focusing its attention on very demanding industries like die & mold, aerospace, aeronautics, and biomedical components; all industries where precision requirements are pushed daily, redefining the rules of, "on machine tool and part measurement."
Driven by its innovative philosophy and the desire to meet users' needs, Marposs introduces High Precision Probing, the new range of high precision products.
High Precision probing provides a tool, pre-setting, verification, work-piece set-up, and part inspection with increased accuracy.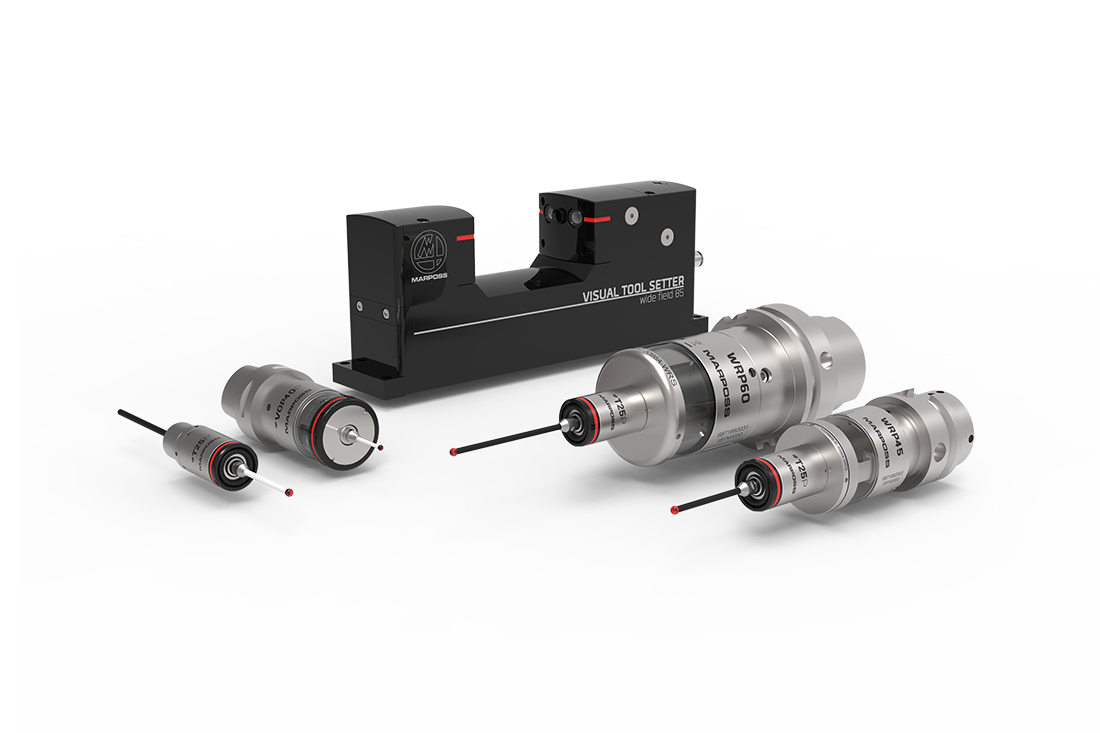 DESCRIPTION
Spindle Probe Description
Thanks to the piezo-electric technology, High precision spindle probes manage automatically, detection of machine axis position, guarantee excellent measurement performances for part control, and positioning on each size machining center or milling machine.
Furthermore, several versions are available that vary in dimensions, design, and transmission mode (hard wired, optical and radio).
Tool Setter Description
Visual Tool Setter (following VTS) is a tool setter that uses a camera to measure. VTS allows for surface integrity checks; which makes it the only visual tool setter that can check the entire tool, front to back, in order to scan for minor faults in the work tool. Checking the profile of a tool on the CNC machine is crucial to the quality of the work-piece and the overall production.
Dedicated CNC measurement cycles allows verification of the true diameter, which is significantly faster than any other non-contact tool setter. It's important to note, length, diameter, and single cutter integrity can be checked at the angle position of each cutter, for all the cutters using spindle indexing.
BENEFITS
Improved production quality
Increased Productivity
High accuracy that means sensitive scrap reduction
Incredible measurement performances on complex and sculptured surface too, being them parts or tools
High speed probing for a further cycle time reduction
Wide range of solution for each machine type and application
VERSIONS
T25P is a cable wired probe. It presents compact dimensions and it is a perfect solution to use on grinders and sharpeners
VOP40P is a compact probe with optical transmission. It is ideal for high precision small and medium-sized machining centers or milling machines. Main benefits are its incredible battery life, despite of small dimensions, along with its high-speed touch; which is up to F5000
WRP45P and WRP60P are radio transmission probes, based on modular design, ideal for high accuracy milling machines and 5 axes machining centers. The radio transmission makes them perfect for large-sized machines. It is also possible customize the solution with up to 1m probe extensions.
The VTS line covers a wide range of tool diameters, with different models:
VTS SF45, VTS SF45 Compact, and VTS SF85 (Small Field models) are able to measure tools down to a minimum of 0,01 mm and maximum 80 mm, with 0,0001 mm resolution
VTS WF45 and VTS WF85 (Wide Field models) have the ability to obtain a wider range of measurements from 0,04 mm up to 3 mm in diameter (double side) and 80 mm (single side)