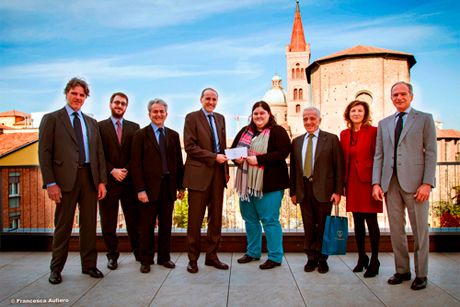 The "Mario Possati" Memorial Fellowship, which Unindustria Bologna and Marposs S.p.A. together have been endowing with an East European qualified student of SAIS Europe at Bologna since the middle of the 1990's, was assigned in its 25th edition to Ekaterina Soubeva, 28 years old, from Sofia, Bulgaria.
Ekaterina Soubeva obtained her Bachelor of Arts degree in International Affairs with a minor in Economics from Johns Cabot University in 2016. Her academic interests focus on Russia and Eurasia and in particular the role of Russia in the national politics on Central and Eastern European countries and also the former Soviet Republics. While in Rome she started the International Relations Society at John Cabot which has become an important and active association in the University community.
At SAIS she would like to concentrate in Russian and Eurasian Studies to prepare for a career in the World Bank or IMF and hopefully in the future go back to Bulgaria and become a politician.
Ekaterina Soubeva speaks fluent English and has basic command of Spanish, Italian and Russian; while at SAIS she is planning to become fluent in Russian as it will help her for her concentration and future plans.
The Memorial Fellowship dedicated to the founder of Marposs was formally handed out at Unindustria Bologna on March 29, 2017. The ceremony was hosted by Alberto Vacchi and Tiziana Ferrari (President and Director General of Unindustria Bologna respectively) and attended by Michael G. Plummer (Director of SAIS Europe at Bologna) and Stefano Possati, Edoardo Possati, Alberto Possati and Francesco Possati.
Who's who
of Mario Possati Memorial Fellowship
Top
Contact us