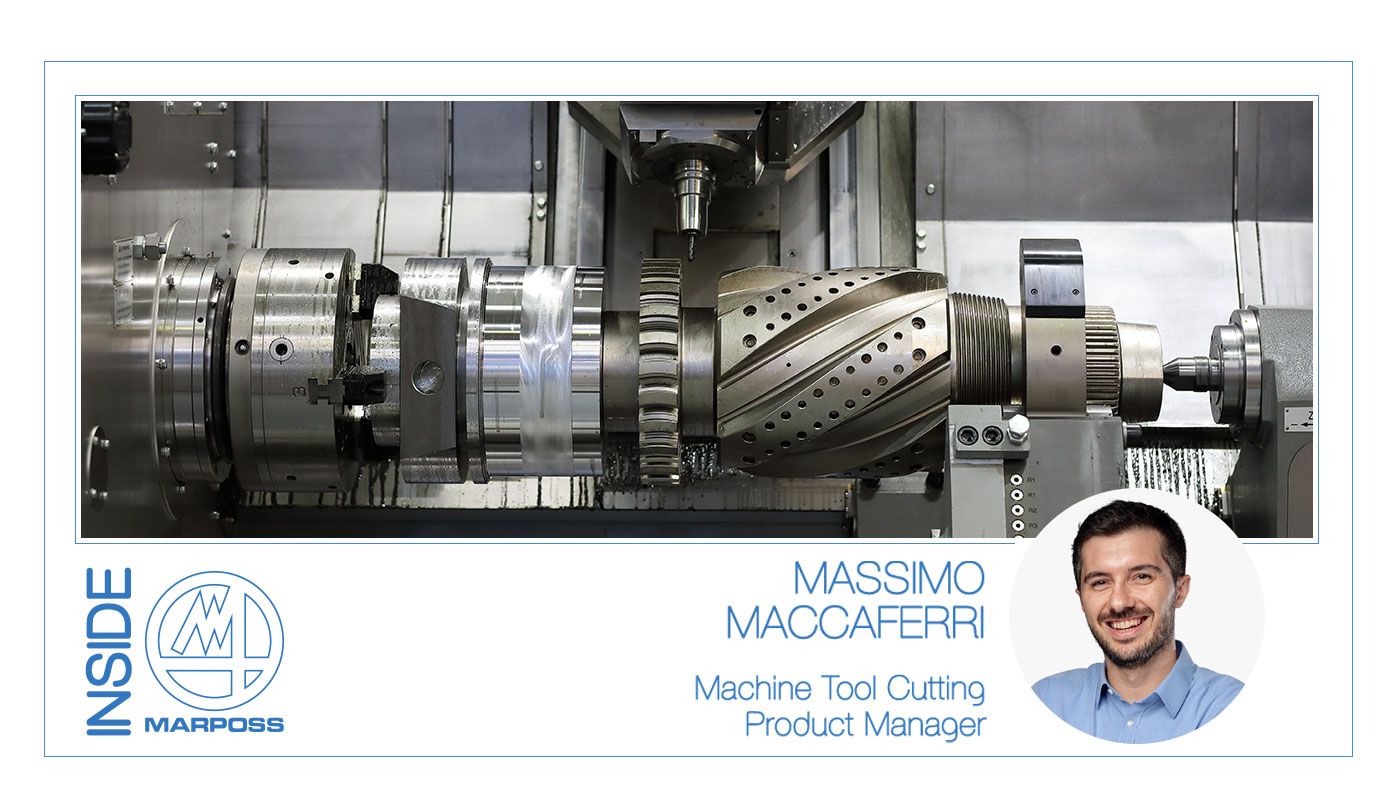 Today, cost savings and improvements in quality are crucial objectives for many industrial sectors. Probing is one of the best practice to prevent machine tools downtimes and ensure a reduction of production scraps.
Thanks to the automatic detection of machine axes position on machining center and milling machine, touch probes offer intrinsic advantages in terms of part positioning and part inspection. Indeed, the first step towards good production is part positioning through work-piece orientation and origin identification, while on-machine part inspection saves time and permits part re-working without additional work-piece positioning.
Marposs' WRSP60 scanning probe goes even further
Marposs' WRSP60 has been designed to perform profile and surface contact scans of the newly worked parts, rapidly and precisely.
With Marposs' WRSP60, the inspection of complex geometries is guaranteed directly inside the machine environment: the system has been specifically designed to provide an effective solution for those specific requests - such as circular and sculptured surface - that standard touch probes cannot satisfy or which would cause increased cycle time because of the amount of points needed.
Applications and Benefit
WRSP60 scanning probe with radio data transmission is designed to fit on lathes, turning centers and multitasking machines. WRSP60 is automatically able to define TIR, roundness and concentricity of rounded parts with a repeatability of 0,4 microns:
TIR: the total indicator reading, is the difference between minimum and maximum measurements found along the rotation;
ROUNDNESS: how closely the shape of the part approaches a perfect circle;
CONCENTRICITY: the distance between the center of the part and the center of the spindle axes rotation.
Marposs' WRSP60 is also useful for straight or complex profile. After the scan, the software can automatically provide:
COMPARISON WITH A MASTER PROFILE: calculates the maximum deviation (error) between actual and master profile;
LINEAR SCAN: shows the deviation of the actual profile respect a linear trajectory, giving maximum deviation and slope measurements.
WRSP60 system makes it possible to carry out complex measurements quickly and directly in the machine environment. That way, quality and productivity are substantially increased, and it is possible to have a real time monitoring of production processes quality. The set of benefits is complemented by the incredible battery operating life of the system and a user-friendly interface Software, easy to install and use.
Marposs Scan software: the detail that makes the difference
Respect a basic scanning probe, there is a specific feature of Marposs' WRSP60 probe which allows reaching all the results described above: the Marposs' Scan software. Beyond providing part shape measurements, it also gives an easy to use graphical representation of them so that the user is provided with an immediate and precise indication on the part conditions. The graphic interface changes depending on whether a rounded or squared component is being scanned.
Furthermore, through the machine communication protocol libraries, all results can be written into CNC variables.
Finally, to be mentioned, the wireless transmission allows using the system directly inside the machine: the WRSP60 probe works with a 2.4 GHz radio transmission designed to avoid any possible interference thanks to 79 channels and DSSS (Direct Sequence Spread Spectrum) security system. Given the wide operating range, that reaches 15 meters, it is ideal also for large-sized machines.
Discover Marposs' WRSP60 operations that would be impossible with standard touch probes