Leak Testing Of Battery Chillers And Ac Evaporators By Helium Detecting System
Leak testing is used to detect leaks of the Battery Chiller; the analysis is carried out on the Coolant and Refrigerant Flow Paths. In order to improve productivity, the machine is equipped with three Vacuum Chambers and it verifies that no leakage is associated to the circuits system, simulating real operating condition.
Before the assembly on the propulsion system, a crucial step is to verify the tightness of the battery chiller to ensure the efficiency and the long-term reliability of the global system.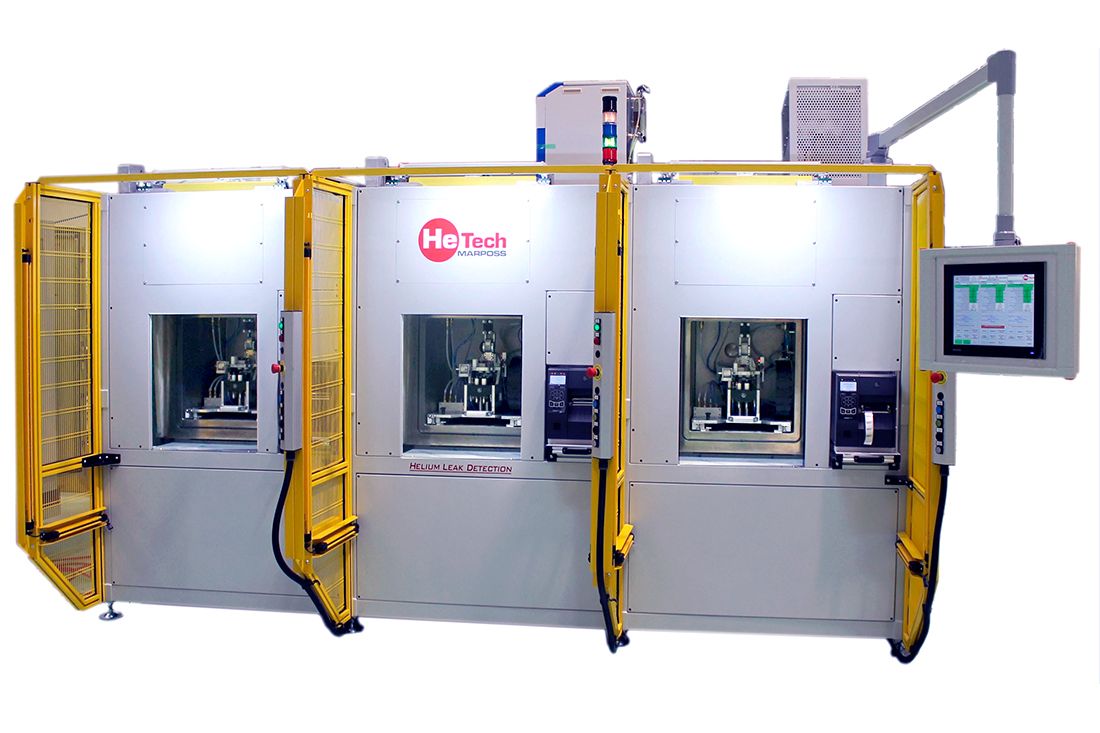 DESCRIPTION
The test fixture is of great importance and it is designed in strict cooperation with the customer in order to grant maximum performance and satisfy the customer needs and specifications.
The machine is provided with three vacuum chambers, automatic opening and closing lid, and a vertical movement, assembled on a welded and painted steel frame covered by removable panels. The loading/unloading area is protected by light curtains. One of the chambers is placed in the vacuum pumping system, the cabinets containing the electric switchboard and the analysis system which are fixed to the cabin, while the cabinets containing the distribution system of the process gas are fixed near to the vacuum chambers.
Both the analysis system and the vacuum pumping system, are shared among the chambers: when the machine is working on one chamber the operator is loading/unloading the other one, and vice-versa. HMI is made by a touch-screen colour monitor and two remote control boxes (one for each chamber) with the push-buttons and the light signals for the operator.
The machine is suitable to be connected to a helium recovery system.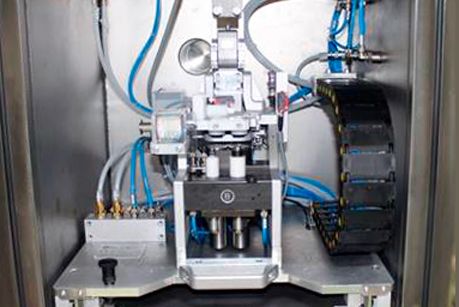 The test tooling is made by a nest where the part under test has to be placed and one coupler for connection to the process circuit of the machine.
The test tooling is equipped with 4 connections, 2 for the coolant circuit and other 2 for the refrigerant circuit.
Each tooling is equipped with a marking system to mark the part with a dot.
With this tooling, it is possible to test both circuits with helium, for external and also internal (between the two circuits) leakage.
The control system is made by an industrial PC with 15" touch-screen colour monitor joined to a PLC.
The PC is used for HMI functions and communication with the server (data transfer in both directions), while the PLC is used to manage the whole cycle (driving of all the electrical, mechanical and pneumatic devices) and to exchange signals with the external handling system.
BENEFITS
Test of all circuits: both external and internal leakage detection
High productivity
Configurable HMI touch screen interface
Push button panel and light signals for easiness of the operator
Fixture design suitable for future loading/unloading by automatic system
High accuracy of the system
TECH SPECS
| | |
| --- | --- |
| Test Pressure |  Refrigerant circuit 14,8 bar – Coolant circuit 3,1   bar |
| Max Test Pressure |  40 bar (air and Helium) |
| Battery Chiller output rate |  210 pieces/hour |
| Reject threshold refrigerant circuit  |  3,02E-5 mbar*l/s ( with Helium test and also Internal between refrigerant and coolant circuits) |
| Reject threshold coolant circuit  |   1,00E-3 mbar*l/s ( with Helium test ) |