Non Contact Measure With Chromapoint Long Working Distance Optical Heads
OP SERIES
The OP SERIES consist of 1-piece sensor Optical Head for dedicated applications (e.g. Long distance).
The Performance & Specifications are dedicated to Various Applications in Industry.
Generally integrated as OEM to measure 3D shape, Glass Thicknesses, Autofocus, OP SERIES correspond to a large range of applications.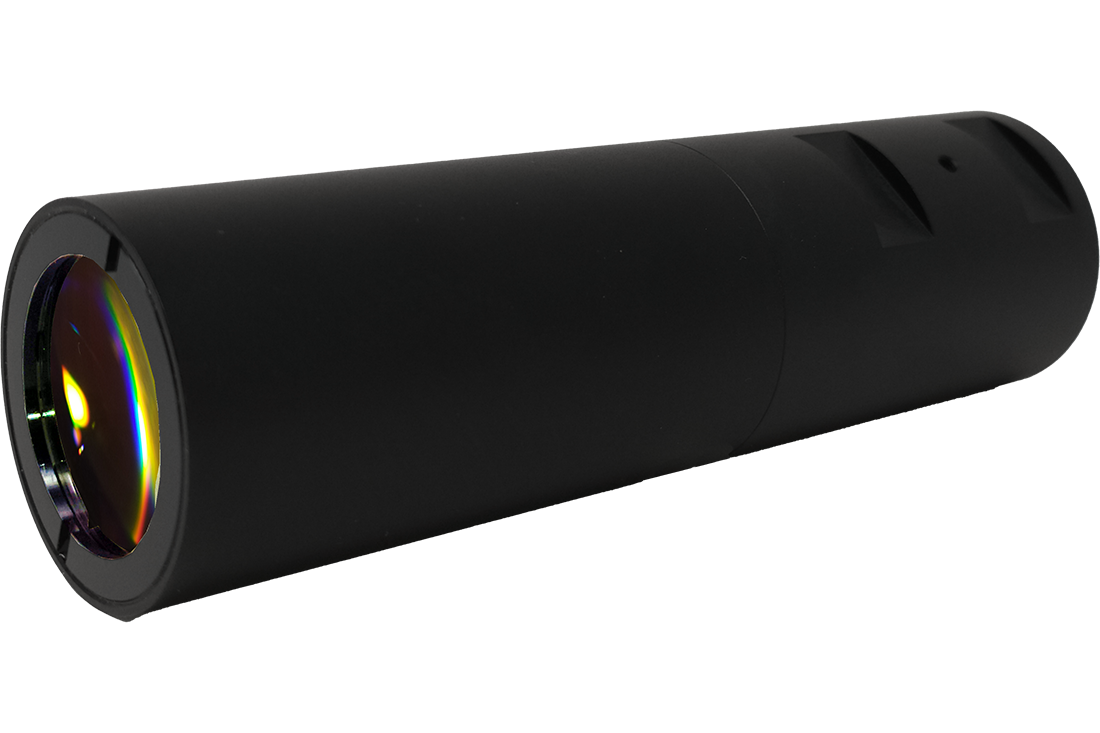 BESCHREIBUNG
The OP SERIES are designed according to specifications dedicated to identified applications
ROBOT Arm compatible with Long Working Distance and Extended Measuring Range
More than 10 references are optimized in Photometric Efficiency, Working Distance, Slope Angle Acceptance to measure Contactless Roughness, Multilayer Thickness, Curved Surfaces…
Usually implemented in OEM machine to work in industrial environment on-line, OP SERIE is the ideal compromised between Flexibility, Mechanical & Optical constraints, Performances & Prices.
Ideal for specific and dedicated application to acquire signal on-Line as on Dark Bottle Thickness Measurement.
Customized and Adaptable to the widest range of applications, composed of Passive Components, OP SERIES are robust and reliable, suitable for use with every STIL MARPOSS Controllers as ZENITH, CCS SERIES ; LIGHTMASTER or IRIX
NUTZEN
Exceptional Long Working Distance until more than half a meter
Ideal to implement a specific Optical Path in respect with mechanical constraints
Dedicated to industrial environment, independent from Ambiant Light
High Axial resolution : From Nanometer to Micrometer scale
High Photometric Efficiency
High signal to noise ratio
Works on all types of samples
Steep slope compatibility thanks to High Numerical Aperture
Coaxial : no Shadow Effect
« Speckle » free
TECHNISCHE DATEN
On CCS SERIES
| | | | | | | | | |
| --- | --- | --- | --- | --- | --- | --- | --- | --- |
| Part number |   | CHR-900-N4 | CHR-900-N1 | C102-000-N3 | PPS06-000-N1 | CR60-100-N1 | QUIN-100-N1 | CHR2-822-N2 |
| Model | unit | OP300VM | OP300VM-90° | OP1000 | CL4-LWD | OP6000 | OP8000 | OP10000 |
| Measuring range | µm | 220 | 220 | 1000 | 4000 | 6000 | 8000 | 10000 |
| Working distance | mm | 5 | 4,4 | 23,9 | 40 | 28 | 39 | 66,9 |
| Numerical aperture |   | 0,5 | 0,5 | 0,45 | 0,36 | 0,39 | 0,295 | 0,2 |
| Max. sample slope | ° | 25 | 25 | 24 | 21 | 22 | 16 | 11 |
| Protective window |   | no | no | yes | yes | no | yes | yes |
| Axial or folded model |   | axial | 90° folded | axial | axial | axial | axial | axial |
| Spot size | µm | 6,4 | 6,4 | 4,4 | 8,6 | 12,5 | 33 | 50 |
| Lateral resolution | µm | 3,2 | 3,2 | 2,2 | 4,3 | 6,25 | 16,5 | 25 |
| Photometric efficiency |   | 34 | 19 | 10 | 25 | 43 | 133 | 138 |
| Static noise | nm | 12 | 12 | 30 | 60 | 100 | 160 | 280 |
| Axial resolution | µm | 0,072 | 0,072 | 0,18 | 0,36 | 0,6 | 0,96 | 1,68 |
| Max. linearity error | nm | 40 | 40 | 150 | 200 | 300 | 350 | 510 |
| Min. measurable thickness | µm | 25 | 25 | 25 | 110 | 200 | 300 | 425 |
| Length | mm | 127 | 128 | 254,1 | 167,4 | 205,5 | 139 | 189 |
| Diameter | mm | 15 | 15 | 50 | 50 | 60 | 40 | 50 |
| Weight | g | 27 | 39 | 753 | 470 | 760 | 365 | 525 |
| | | | | | | | | | |
| --- | --- | --- | --- | --- | --- | --- | --- | --- | --- |
| Part number |   | CHR2-820-N2 | PPS001-100-N2 | C24SC-100-N1 | PPS05-100-N1 | PNCO-100-N3 | PNCO-100-N5 | PNCO-100-N4 | NCTP-100-N1 |
| Model | unit | OP10000-90° | OP12000 | OP30000 | OP35000 | OP42000 | OP60000 | OP100000 | NCTP |
| Measuring range | µm | 10000 | 12000 | 30000 | 35000 | 42000 | 60000 | 100000 | 20000 |
| Working distance | mm | 66,9 | 46 | 220 | 62 | 530 | 650 | 451 | 54,5 |
| Numerical aperture |   | 0,2 | 0,25 | 0,095 | 0,33 | 0,052 | 0,04 | 0,08 | 0,35/0,17 |
| Max. sample slope | ° | 11 | 14 | 5 | 17 | 2,5 | 2 | 5 | 18/9 |
| Protective window |   | yes | no | no | no | no | no | no | yes |
| Axial or folded model |   | 90° folded | axial | axial | axial | axial | axial | axial | axial |
| Spot size | µm | 50 | 32,5 | 96 | 26 | 106 | 142 | 110 | 30 |
| Lateral resolution | µm | 25 | 14 | 48 | 13 | 53 | 73 | 55 | 15 |
| Photometric efficiency |   | 138 | 100 | 75 | 30 | 90 | 90 | >150 | 73 |
| Static noise | nm | 280 | 225 | 750 | 600 | 6000 | 18000 | 5000 | 350 |
| Axial resolution | µm | 1,68 | 1,35 | 4,5 | 3,6 | 36 | 108 | 30 | 2,1 |
| Max. linearity error | nm | 510 | 400 | 1500 | 1650 | 30000 | 150000 | 16000 | 1400 |
| Min. measurable thickness | µm | 425 | 550 | 2000 | 1200 | 2500 | 6000 | 2500 | 500 |
| Length | mm | 152 | 58,3 | 168 | 300,3 | 327 | 305,5 | 348,9 | 210 |
| Diameter | mm | 50 | 36 | 59 | 80 | 85 | 85 | 120 | 80/35 |
| Weight | g | 674 | 130 | 405 | 2200 | 1700 | 1600 | 4200 | 1025 |
ANWENDUNGEN
The chromatic confocal technology of CCS Controllers is suitable for various applications in many application sectors:
Autofocus
ContactLess Roughness Measurement : ISO25178-602 norm
Thickness Measurement on Transparent Surfaces as Glass, Plastic
Automotive glass
Glass containers and packaging industry
Electronics Industry (PCB)
Semiconductor industry (silicon wafer)
Applications for measuring roll-to-roll, transparent and non-transparent films (e.g. EV battery covers)
CCC industry
Electrical Vehicle Industry (Batteries)
Robotics
Micromechanics
Medical & MicroFuidic
Aviation
Watchmaking
VERSIONEN
OP SERIES are available in more than ten versions in standard
Customization & OEM design are available in circular diameter, square mechanical design
Each OP Optical Head is compatible with every STIL MARPOSS ChromaPoint Controllers as ZENITH, CCS SERIES, IRIX, LIGHTMASTER via Optical Fibers connection