Sensors for Force Measuring
힘 감지 센서
Force sensors reliably detect events or changes in the machine environment. They are the best solution for monitoring even difficult processes, especially if they are mounted close to the action, the tool. They are used to measure tool-part contact, hard turning processes, thread cutting and finishing with small chips precisely and with high repeatability, but are also suitable for proving the forces in rolling processes or other machining operations in which the force is relevant. Artis force sensors offer the optimum monitoring solutions with different features for the variety of machine types and processes.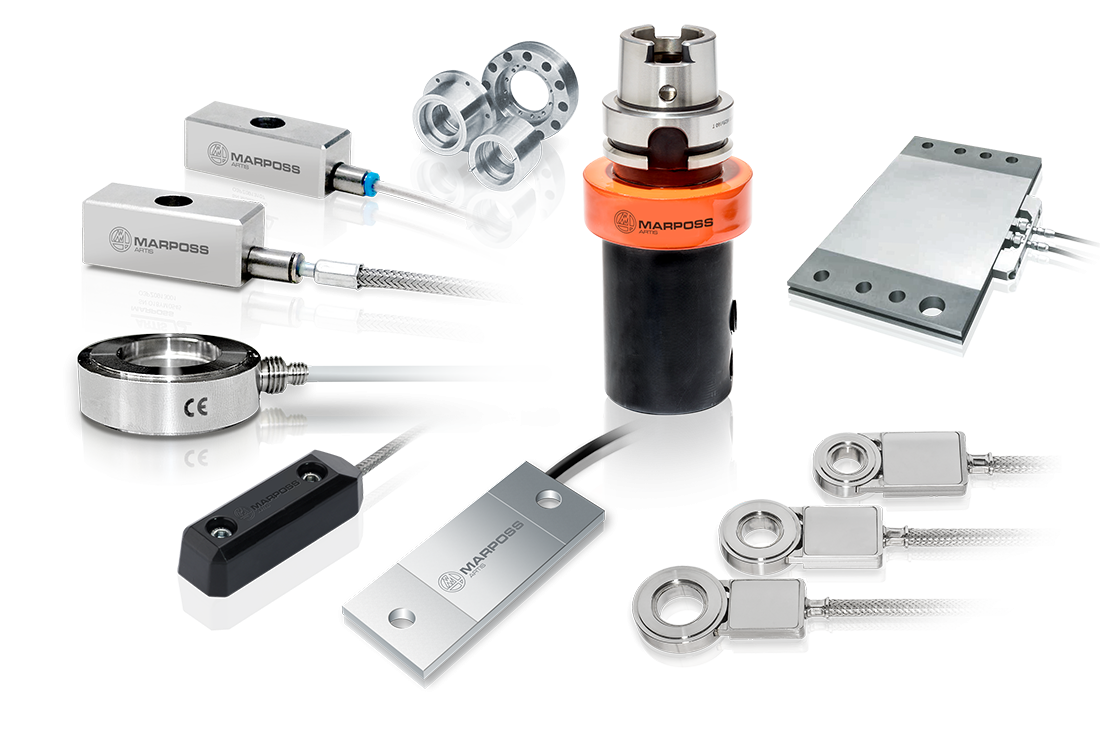 설명
Strain Gauge based Sensors:
Sensors based on strain gauges are suitable for all cases, which involve any elastic deformation, like torsion, feed force or surface strein. They achieve an excellent linearity and repeatability over extended periods of time. Three variants are available:
FFR (Feed-Force-Ring / Wheatstone) for integration into spindles and feed axis
FFP (Feed-Force-Plate / Wheatstone) for integration below turrets
STS-11/STS-17/STS-23 (surface strain / strain gauge technology) for mounting with 2 screws on suitable machine parts for detection of elasticity and mechanical stress
The sensor are connected to a measuring amplifier for strain gauges (BA-01) or direct to a GENIOR MODULAR module (GEMGP). These combinations achieve a high sensitivity for the detection of small force and strain variations (tool contact, rolling, finishing and hard turning) so that deviations are indicated early.
The DDU rotor is another strain gauge application that provides long-term signal stability and is used to calibrate the force and torque ranges during threading and finishing.
Piezoelectric Force Sensors:
Piezoelectric sensors are typically used to detect dynamic forces, e.g. collisions. They are even more powerful than strain gauge sensors, but only suitable for short cutting cycles. Ring-shaped sensors are used on revolvers or spindles:
RS-M10/RS-M12/RS-M16: these ring-shaped force sensor with integrated charge amplifier are typically fitted under M10, M12 or M16 screws directly to the turret or the spindle
CFW: force sensor similar to the RS-series, but without integrated charge amplifier. In this case a digital charge amplifier needs to be connected: CMD-600 (IP65)
ADS-31: a sensor for measuring the surface tension of metal constructions. This sensor needs to be connected to a measuring transducer (CFM-4 or FM-01)
장점
High sensitivity to detect smallest process force variations
Simple mounting
Suitable for all Artis monitoring systems
버전
All force sensors are suitable for CTM (with measuring transducer CFM-4) and GENIOR MODULAR (with measuring transducer FM-01) Process Monitoring Systems.
ADS-31
CFW
DDU-Rotor
FFR
FFP
RS-M10/RS-M12/RS-M16
STS-11/STS-17/STS-23
STS-11/STS-17/STS-23