Bore diameter and internal profile measurement of glass bottles
ID SCAN™
ID SCAN™ is a semi-automatic bench for measuring, automatically and without any mechanical retooling, bore diameter and internal profile of glass bottles, on sample basis.
Available in two versions:
IDSCAN™ CE to be used at the cold-end, in the QC lab or in production environment
ID SCAN™ HE to be used at the hot-end, before annealing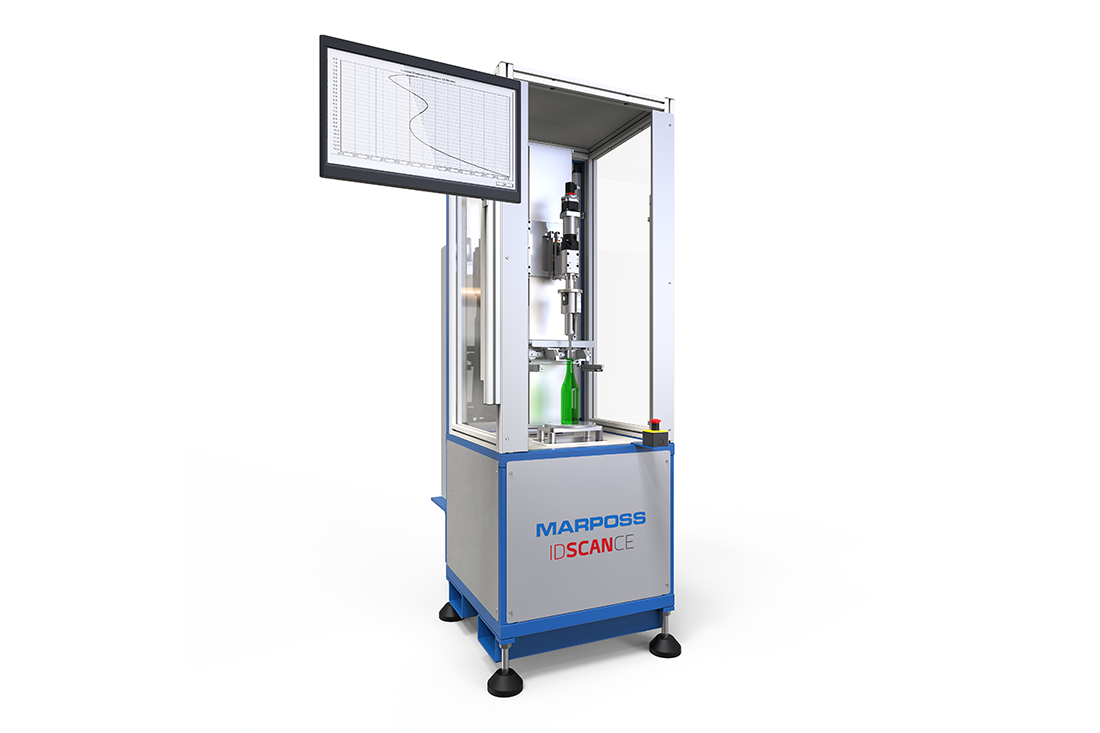 설명
The bottle to be measured is manually loaded and the measurement cycle is managed fully automatically.
Measurements are carried out by a single contact tactile bore gauge, mounted on a rotating stage that can also travel in vertical direction.
Measurable characteristics include:
bore diameter at one or more programmable depths (no limit to the number of bore diameters to be measured)
internal profile in vertical direction
ID SCAN™ HE, for use at the hot-end, integrates some additional features to withstand hot-end ambient conditions, and to allow the measurement of non-tempered glass bottles
장점
accurate: to achieve accurate measurements, ID SCAN™ uses a single contact tactile bore gauge
comprehensive: it can measure

bore diameter, at different depths, also providing a visual representation of the bore real shape at each measured section
internal profile with a graphic representation of the diameter variation in the scanned area

flexible: no mechanical retooling required
compatible with Manufacturing Execution Softwares (MES): ID SCAN™ is fully integrated with the most popular MES (e.g. Vertech SIL™ and others). ID SCAN™ receives from the MES  all the information required to automatically generate the recipe related to the article to be measured. No programming is required by the operator on ID SCAN™. After the measurement of each container, results related to the mould, are sent to the MES.
simple to use
기술 사양
Power supply

220 -240V AC

Measurable containers overall dimensions

Height 70-435mm

Body external diameter (or diagonal for non round containers) ≤ 190mm

Range of measurable bore diameters and profile

13-45mm (max depth 70mm)

Measurement repeatability (evaluated on the master)

≤ +/-0,01mm

Measurement time

From 30 sec. (depending on the number of bore diameters and profiles to be measured)

Ambient working temperature

ID SCAN™CE: <40°C

ID SCAN™HE: <50°C