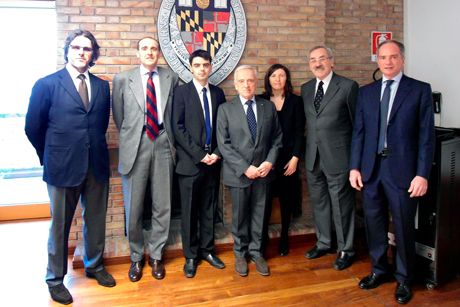 Since 1991 Unindustria and Marposs have been jointly promoting international education in the name of Mario Possati, thus contributing to integration and enhancement of young talents who now hold positions of responsibility in key roles of international relations, world economy and world finance.

The "Mario Possati" Memorial Fellowship, which Unindustria Bologna and Marposs S.p.A. together endow with an East European qualified student of the Bologna Center of the Johns Hopkins University, has been assigned this year to Martin Vladimirov, 24 years old, from Bulgaria. Martin Vladimirov obtained his Honors Bachelor of Arts degree from Adelphi University in New York in 2011 with a double major concentration in Economics and Political Science. He then completed his first year of the M.A. degree in the Diplomatic Academy of Wien focusing on issues of the international political economy. In attempt to keep his professional involvement in Bulgaria, he formed the think-tank, EKIP, which aims at fostering a more profound debate on international economics and politics in Bulgaria; currently he is engaged with a study of the domestic gas markets in the Middle East, as well as a paper on the economic development of Black Sea countries. At School of Advanced International Studies of Johns Hopkins University he would like to deepen his focus on global energy issues, as well as international security in order to improve his research skills on the subject. In the future, he would like to pursue career in political consultancy with a special focus on energy issues.
The Memorial Fellowship dedicated to the Founder of Marposs was formally handed out at the Bologna Center of the Johns Hopkins University on February 20, 2013. The ceremony was attended by: Alberto Vacchi and Tiziana Ferrari (president and director general of Unindustria Bologna respectively), Kenneth H. Keller (director of the Bologna Center of the Johns Hopkins University), Stefano Possati (president of Marposs S.p.A.) together with his brothers Edoardo (vice president) and Alberto (member of the board).


Who's who
of Mario Possati Memorial Fellowship
Top
お問い合わせ