외경 측정용 매뉴얼 게이지
M1 STAR™ OD - M3 STAR™ - M4 - M4 STAR™ - QUICKSNAP™
Marposs offers a complete range of manual measurement gauges for variables, available with mechanical and electronic measurement transducers, for high-precision control of external diameters, pins and between shoulders or close to shims on crankshafts, drive shafts etc. The Marposs range of products for external diameters represents the most advanced and reliable solution currently available on the market.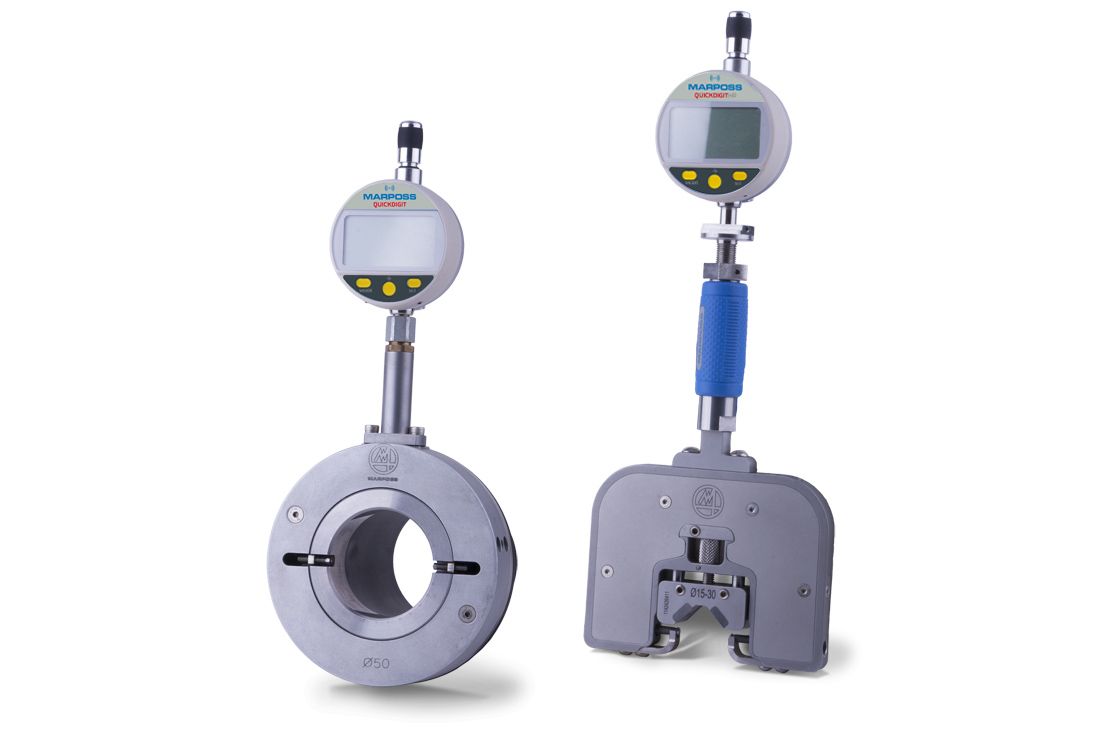 장점
best metrological guarantee when performing manual checks on any measurable diameter
intuitive and easy to use: due to a design, that guarantees linearity throughout the measurement range and can be zeroed using a single master
designed and built to withstand impacts
can be connected (hard-wired or wireless) to any type of processing or display device (comparator or indicator, analogue or digital, commercial PCs or Marposs industrial computers) in order to satisfy every customer requirement
can be used to transmit and save measurement data to an industrial pc for subsequent statistical analysis
components were designed to guarantee serviceability and  reparability in the event of wear or failure 
wide range of options for optimum measurement ergonomics
설명
M4 and M4Star are the ideal solutions for external diameter measurements, with both mechanical measurement with use of an indicator, and electronic measuring, using hard-wired or wireless transmission systems. Using the customisable measurement depth, the system may be used to measure diameters in the vicinity of shoulders. The gauges, which consist of a ring body and a sturdy nosepiece, were designed to maintain their technical specifications, even under the severest operating conditions.
M3Star and QuickSnap are manual snap gauges designed for measuring external diameters between shoulders on crankshafts, camshafts and similar components. These gauge models are simple to retool, so that it is possible to measure different diameters using the same device, and  are available in indicator, hard-wired and wireless versions.
M1Star OD is the external diameter measurement solution designed for compatibility with the M1Star range of accessories.
기술 사양
repeatability: <1 micron
application range: 4 mm to 125 mm for M4, M4Star and M1Star OD
application range: 3 mm to 150 mm for M3Star and QuickSnap
the contacts are available in a variety of different materials and with various degrees of rounding, depending on the material and the roughness of the  diameter to be measured
only one master  is required for zero-setting
Lumberg SV50/6 connector
compatible with Marposs and other manufacturers' electronic units
the electronic gauges can be supplied with LVDT or HBT transducers
M4Star  allows the user to customize the measurement depth between 1 mm and 6 mm
버전
The M4Star external diameter gauges can be equipped with comparators or indicators, either analogue or digital, and hard-wired or Bluetooth® wireless transmission systems, whereas the M4 gauges are available in hard-wired and LVDT signal versions.
The M3Star and QuickSnap gauges can be equipped with comparators or indicators, either analogue or digital, and hard-wired or Bluetooth® wireless transmission systems.
M1StarOD was designed to be compatible with the M1Star range of accessories, i.e. handles for comparators or linear probes, handles with cables, or the innovative i-Wave2 handle, complete with colour screen for displaying measurements in real time and Bluetooth® transmission system.
Top
문의하기