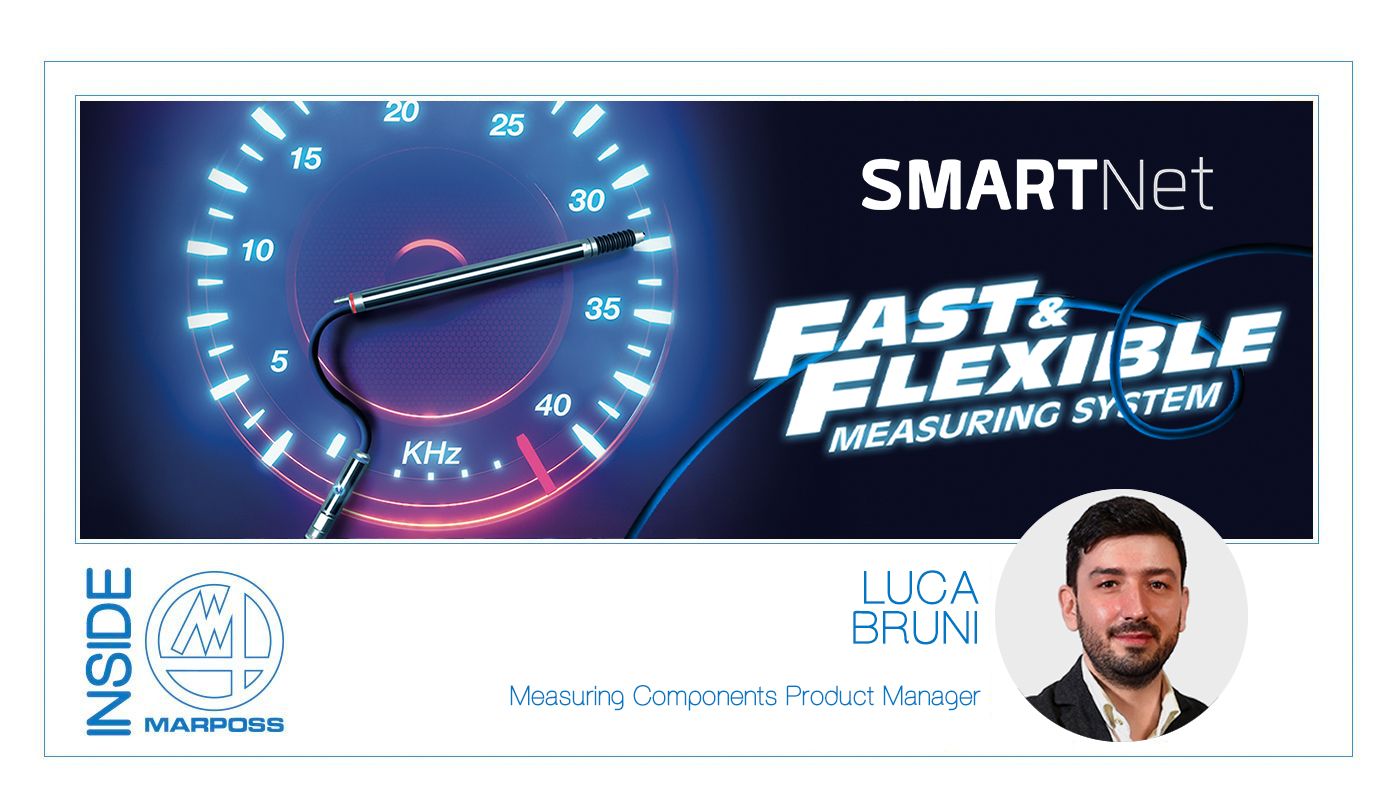 FAST, FLEXIBLE AND DIGITAL: SmartNet
Today more than ever we cannot stop innovating. To a world that is constantly demanding speed, flexibility and highly miniaturised devices, Marposs answers with a new, proprietary network of sensors, capable of acquiring measures over 50 times faster compared to any other solution on the market, combining innovation and efficiency.
We designed a system adopting a cutting edge technology provide our customers top-level performances. Up to 32.000 measures per second for a single measuring point and up to 1.500.000 measures per second on the bus, SmartNet is ready to break down the limits.
The technology adopted in our new system allows an extreme miniaturisation of the transducer signal-conditioning electronics, providing a digital, fully linear and thermally compensated measurement, granting high accuracy standards in a tiny space.
Thanks to an extremely fast Ethernet based connection, a daisy-chain network can link any Marposs sensor to create a common system suitable for every kind of application and market with a special care to automation.
Performance, ease of use and integration deliver today the future of measurement.

AN EXCELLENT MEASURING SYSTEM TO ENSURE HIGH-QUALITY PRODUCTION
With more than 15.000 synchronised measures per second on 100 sensors simultaneously connected, the network throughput guarantees top level performance for static and dynamic measurements. The communication interface (Bridge) can connect up to 250 measuring points to any PC and PLC through Ethernet or fieldbus.
The absence of analog connections provides high signal robustness, while zero electrical noise in every condition guarantees up to twenty metres between two subsequent measuring points, adapting this network to your own specific need. All the elements of the network have been designed to resist aggressive industrial environments.
Are you looking for a system that gives you flexibility and scalability?
SmartNet adapts easily to your production changes. Adding or removing elements from the network is extremely simple. Each sensor can be disconnected from the bus through the custom Ø8mm connector and the network reconfigures itself immediately. Wiring and maintenance are always under control with simplified application layouts.
Each element of the system integrates an LED to provide immediate network status and feedback. During set-up it helps to rapidly perform zeroing operations and in case of failure will guide you, without using other tools, to detect the problem saving time.
SmartNet – EVERYTHING YOU'VE EVER APPRECIATED, BUT BETTER!
Our history is a guarantee: 70 years from foundation means experience, quality and reliability. These qualities have made possible the design of an innovative product. SmartNet is a step in the future. From now on all Marposs's sensors will be able to integrate the SMART connector to digitalize, linearize errors and improve the thermal response of each transducer. More accurate measures means better overall production quality.

SmartNet is suitable for all kinds of applications and contexts, it can integrate in-process and pre/post-process sensors like pencil probes, cells or plug gauges. With this revolutionary network your measuring system is always ready to use.
SmartNet exploits single-cable Ethernet bus communication to collect an impressive quantity of data in a short time. This keeps the process continuously under control and in combination with Marposs Quick SPC, Merlin Plus Software or 3rd-party measuring software performing real-time statistical analysis. The system, thanks to its modularity and bus connection, can easily fit any application layout.

Are you ready to catch this "bus" for the future? We've got your back!
Discover more about SmartNet
Top
CONTACTS