P7
MULTIFUNCTION AMPLIFIER FOR PROCESS CONTROL ON GRINDERS AND OTHER MACHINE TOOLS
P7 electronic system is a unique multifunction process control device capable of managing the complete machine tool by means of Pre-Process, In-Process, and Post-Process measurement controls; machine vibration monitoring and automatic wheel balancing; optimizing the working and wheel dressing cycles.
IN-PROCESS
The workpiece is continuously measured during the grinding process and the machine cycle is adjusted based on the amount of stock to be removed. Marposs In-Process systems optimize feed rates to produce parts with excellent surface finishes, very tight dimensional tolerances and maintain the best cycle time.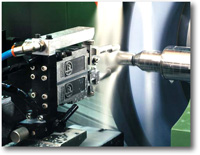 POST-PROCESS
Marposs Post-Process measurement systems measure critical dimensions on ground or turned parts and is able to generate compensation signals to the machine tool control.
WHEEL BALANCING
A properly balanced grinding wheel can improve the surface quality of individual workpieces and extend spindle life. Marposs Wheel Balancer line is the best solution to continuously monitor the grinding wheel condition and compensate the detected imbalance condition of the grinding wheel.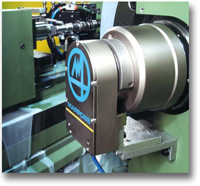 MONITORING
Acoustic technology, to detect subtle changes in sounds produced while grinding, can be used for extremely precise machine control when the wheel is touching the part or the dresser. Acoustic systems are particularly useful for preventing collisions and detecting machine and tool abnormalities, such as chipped grinding wheels and dresser faults.