BOX PC FOR CONTROL CABINET MOUNTING
GEMBOX / GEMBOXHP
SAVE THE DATA - Ideal for simple Industry 4.0 applications. Process monitoring data is stored reliably on the compact BOX-PC. This enables the necessary WINDOWS applications to be executed independently of the control system and network. With appropriate Artis software tools, recorded data from sensors and the connected machine controls can be used to generate evaluations, reports, and other customer-specific information on site in the production field.
Advanced production and monitoring data that needs to be included to predict events and enable appropriate interventions and planning at an early stage. The previously unused data from sensors and modules are now making a valuable contribution to maintenance and production planning, as they can be used to identify trends that can show changes in spindles, axes and tools with the use of optional ARTIS software tools. A comparison of live with historical data can be the basis for predictive maintenance and allows early reaction to minimize unplanned damage and associated downtime.
Optional Artis software tools on the GEMBOX record, analyse and document this process data for preparing meaningful error and event analyses. Via data evaluation, each individual processing step can be tracked in detail and comprehensively on a machine or via network from the office.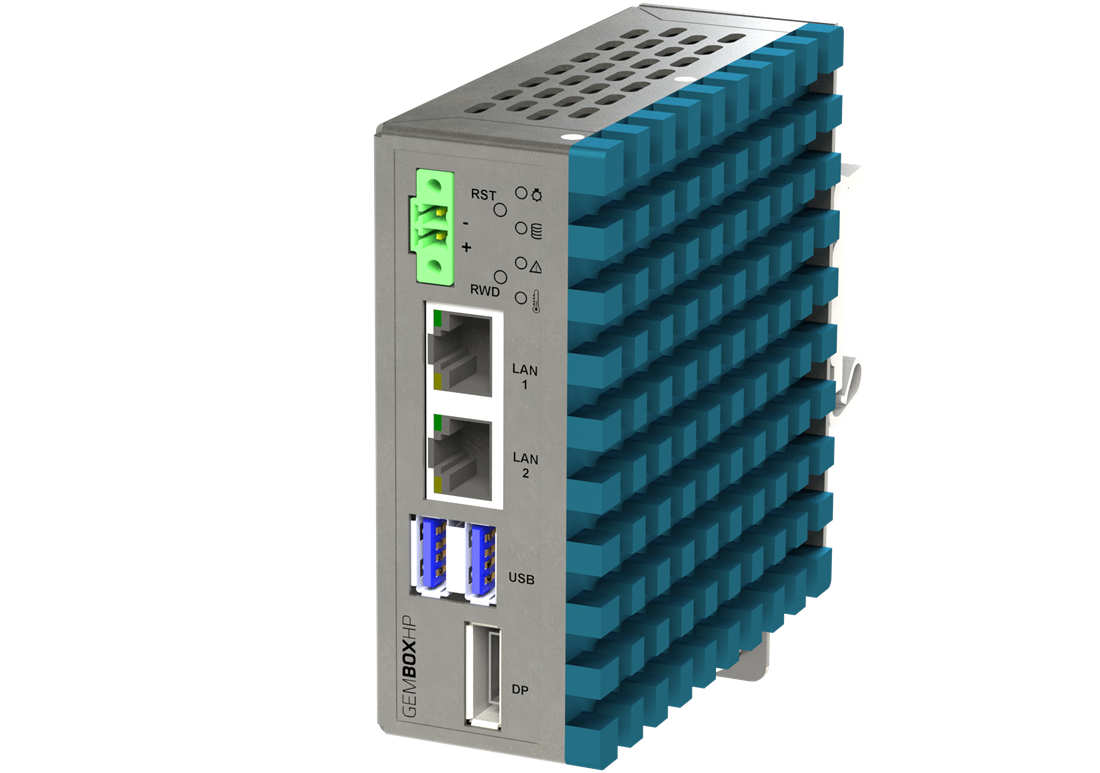 DESCRIPTION
The GEMBOX, which measures only approx. 10x10 cm, has almost the same dimensions as the Artis GENIOR MODULAR series and is also easily installed on a standard mounting rail in the control cabinet. Integrated standard interfaces are used to exchange data with a machine control (e.g. via FANUC FOCAS) and the Artis process monitoring and standalone modules. Depending on performance and data volume, one machine or one machine line can usually equipped with one system for data collection. A solution for "island operation" or integration into an on-site network is possible in each case.
The powerful Artis GEMBOXHP is suitable for installing and operating the software of a database management system (e.g. C-THRU4.0). All relevant collected data are then stored in an SQL database. The CTM and GENIOR MODULAR process monitoring systems in the machine tool remain autonomous and active in real time.
AVANTAGES
Easy networking and data collection from Artis monitoring systems and machine controllers
Fits in any control cabinet because it's compact and for rough environment
No wear parts because it has no fan
Extensive interfaces for data transfer from and to most systems:

2 x Ethernet 10/100/1000 Mbps
2 x USB 3.0 /Typ A
1 x display port
Input for isolated power supply 24 V DC
CARACTÉRISTIQUES TECHNIQUES
Operating system  Microsoft Windows 10 IoT Enterprise
Intel® HD Graphics 500, integrated
VERSIONS
GEMBOXHP:
Intel® Atom® quad core x7-E3950, 1,6 GHz (2,00 GHz Turbo)
8 GB LP-DDR4 RAM
480 GB M.2 2242 SSD
GEMBOX (ideal for FANUC FOCAS applications):
Intel® Atom® dual core x5-E3930, 1,3 GHz (1,8 GHz Turbo
4 GB LP-DDR4 RAM
32 GB M.2 2242 SSD