USB INTERFACE
ENCODERS AND I/O
The Marposs USB interface family includes useful devices that simplify the integration of incremental type sensors and Input/Output signals used in measuring applications.
This new generation of devices includes:
U1-E The versatile and multi-function encoder interface
U2-I/O Able to drive industrial digital I/O
U1-FS Traditional switch that makes it easy to acquire measurement following a manual input.
Easy Configuration:
The Marposs USB interfaces can be directly connected to any USB host device and appear as virtual serial ports via the RS232 standard com protocol.
Plug & Gauge:
All the interface electronics are integrated in the standard USB connector. Just plug into to any personal computer or industrial PC, with USB interface, make a few key strokes and you'll be able to use your devices immediately.
The U2-I/O, U1-E and U1-F are plug and play for Marposs data acquisition systems, such as Nemo, Merlin and Merlin Plus.
Accurate:
An embedded 16bit A/D converter in all units can offer a high level of accuracy.
The resolution will depend on the total measuring travel of the sensor.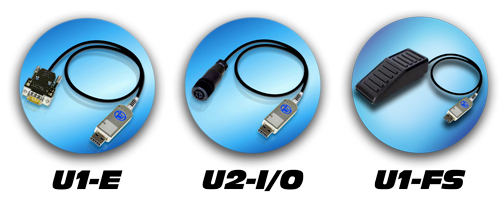 U1-E
U1-E is a versatile and multi-function encoder input interface, able to connect to digital or analogue, linear or rotary encoders. It can be connected directly to a digital or voltage analogue encoder. Otherwise, it needs a Marposs adapter to interface with current analogue encoder.
All parameters are easily programmed from a specific menu.
Measurements can be presented as single values or continuous values with 1ms resolution.
Electrical supply is directly provided by the USB bus.
U2-I/O

The U2-I/O interface is a device able to drive two industrial digital I/O with galvanic isolation according to CEI EN 61131-2 specification.
The two channels can be set up to work independently as input or output.
Furthermore, a PWM output can be implemented too, and they can also work together in a trigger mode.
With the new U2-I/O it is possible to interface to source or sink devices.
Set up is done with dedicated commands directly on the terminal. The selection between source or sink behaviour can be saved.
U1-FS
The U1-FS interface provides a manual input, from a footswitch, making it easy to acquire measurements for the user's application.
FOR TECHNICAL SPECIFICATIONS AND ORDER CODES, SEE ATTACHED .PDF PRODUCT BROCHURE.


The technology used in the USB connector can be extended to others Marposs product that can be used in combination with USB INTERFACE, integrated in the same way, with the same tools or software acquisition.
Visit our web page Red Crown2 (for Red Cronw2 UBS) and Quick Block (for Quick Block USB) to know other products of the Marposs USB family.


This equipment is used along with E9066 family, Nemo, Merlin or any PC Windows based system.