QUICK READ™
COMPACT ELECTRONIC DISPLAY UNIT (MICROCOLUMN)
Quick Read™ family is made up of three slim, compact versions, each complete with analog and digital displays, and easily programmed via local keypad.

UNIQUE CLEAR DISPLAY
The 3-colour (green, yellow and red) analog display and 8-digit alphanumeric display provide clear definition and easy reading of the measurement results.

PROGRAMMABLE PARAMETERS
Using the local keypad, the Quick Read™ can be easily programmed to set the digital display resolution, measuring unit, tolerance limits, master deviation, full scale, measurement multiplying coefficient, absolute or comparative reading of the measurement result and the data format for serial transmission.

SERIAL OUTPUT
The RS232 output port allows for connection to a PC, statistical printer or data collector for SPC purposes and to a PLC (data can be sent in ASCII or binary format).
BUILT-IN PROBE VERSION
Having the measuring probe directly integrated into the main structure makes it suitable for single, simple implementation and multi-dimensional applications where the measuring locations are close to each other.

REMOTE PROBE VERSION
The pencil probe in this version is attached to the main structure by means of a standard 2 m (78.7") cable.This allows location of the display away from the measuring device.In multi-dimensional applications, all the Quick Read™ displays can be mounted to a standard base structure so that they are located in one common area.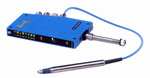 MICROCOLUMN VERSION
This version incorporates half-bridge technology (HBT) and allows to connect TESTAR/MARPOSS standard sensors with half-bridge transducer ranging from ± 0,25 mm (.01") to ± 5 mm (.2").
Two versions are available:
For connection of one sensor to carry out one static measurement.
For connection of one or two sensors to carry out one static or dynamic measurement [Hold, Max, min, Max-min, (Max-min)/2, (Max+min)/2]. To connect two sensors the specific Y-cable is needed.

Download
You may click here to download Adobe® Reader®